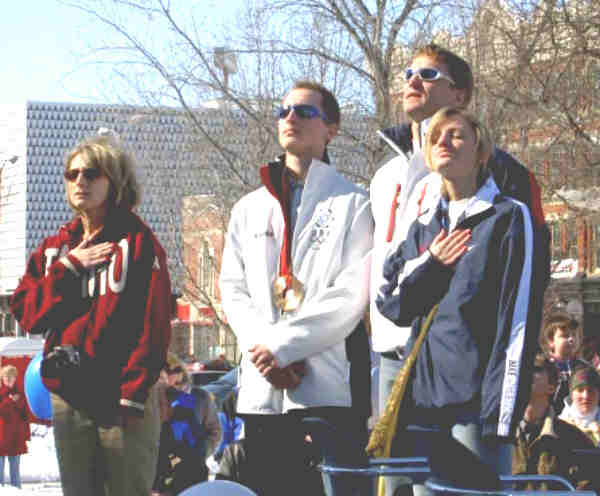 The Izykowski family during Saturday's National Anthem
---
Crowds Laud Izy on Triumphant Return with Olympic Bronze Speedskating Medal
Back to the Grind Monday, Says Izy, Still Uncertain About Vancouver Bid
As the cheers subsided, the grim reality of training crept back into the slim, mild-mannered skater's mind Saturday.
You could see it in his eyes, suddenly wandering far away, off into the blue-gray infinity of sky high over the rostrum at thecommunity gathering for him at the new Alice and Jack Wirt Library.
His immediate plans? Back on the plane Sunday to the U.S. Olympic Training Center in Colorado Springs, Colorado, and back on the ice Monday morning is the drill for Alex "Izy"Izykowski.
He'll soon be back skating up to six hours a day of grueling, body wracking laps and adding heart-pounding aerobic exercises.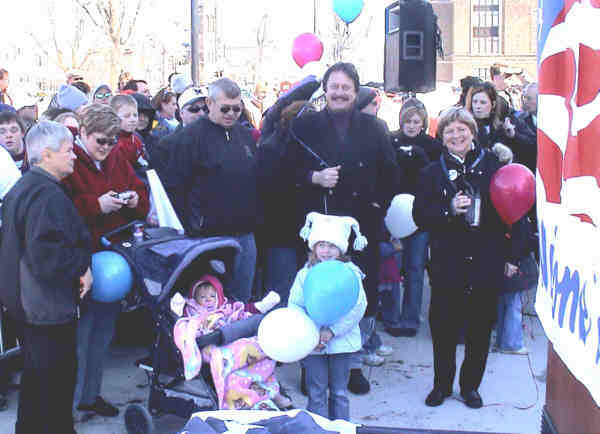 Friends and family were on hand to cheer Alex Izykowski
---
--- Advertisements ---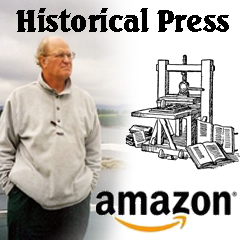 ---
A series of events loom with possibilities for Izy to add to his speedskating laurels: U.S. National Short Track Championships March 16-19 in Verona, Wisconsin; World Allround Championships Mar. 18-19 in Calgary, Alberta, Canada; North American Short Track Championships March 24-26 in Kamloops, British Columbia, Canada; world Short Track Team Championships March 25-26 in Montreal; and World Short Track Championships March 31-April 2 in Minneapolis.
An American eagle patriotically circled overhead as the festivities went on for over an hour under the skillful microphone handling of Eric Jylha, WNEM-TV Channel 5 personality and community spokesman.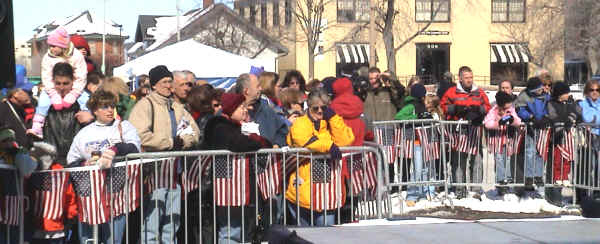 Hundreds of Izzy fans pressed against the barriers at the Wirt Library on Saturday
---
--- Advertisements ---

---
"You're part of U.S. history now," exclaimed U.S. Senator Debbie Stabenow, leading the parade of political figures on hand to clap theskater on the back and hand him proclamations.
Among them were State Sen. James A. Barcia and Jim Lewis, representing U.S. Rep. Dale Kildee, D-Flint. Mayor Robert Katt proferred the traditional "key to the city."
Venue for the laudatory festivities ended up in the plaza in front of the sparkling new library instead of at Wenonah Park or City Hall, the two other potential choices.
Izy's training grind resumes Monday at 7 a.m. in preparation for the upcoming world championships.
Saturday's speakers asked: Is another bid for a gold medal in his future for the 2010 Vancouver Games? That's as far up in the air as the eagle.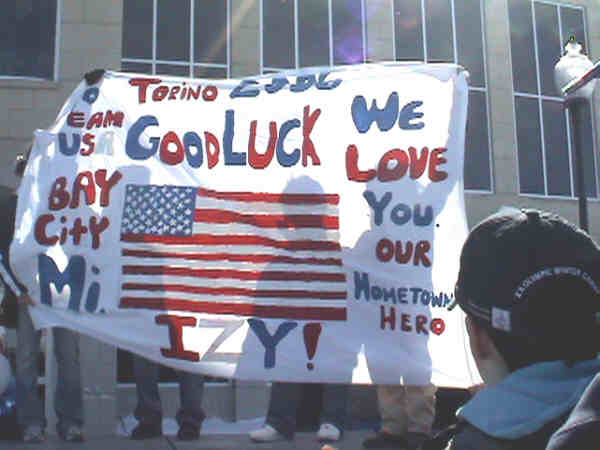 The Olympic Sign that we all saw on TV from Turin was displayed
"I'm just going to take it day by day," said the bashful blond hero from the podium Saturday.
Alex, the kid from Bay City everybody seems to love, did his best tojustify the affection as he unselfishly donated $2,500, his four-way share of the $10,000 Olympic Bronze medal prize money, to the Bay Area Community Foundation.
Dressed in a simple white shell jacket with "USA" emblazoned on the back, Izy wasthe antithesis of the type of sports hero who pumps his fist and thumps his chest after every run or catch.
The money goes to seed an endowment for expenses of speedskating competitors above the state level, according to Dick Somalski, longtime Bay County Speedskating Association and International Olympic Committee official.
"We need skaters," Somalski pleaded to the crowd. "This is an expensive sport but the benefits to the youngsters are great."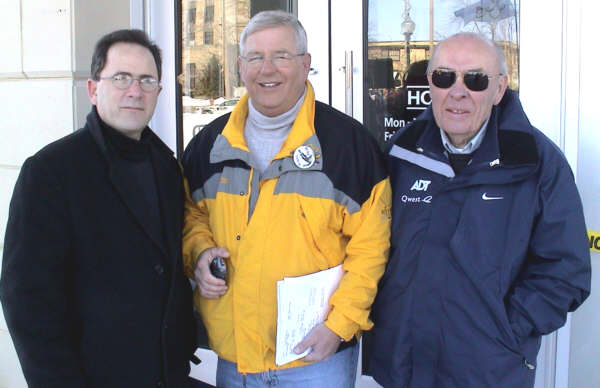 Tom Hickner (Left), Terry Watson (Center) and Dick Somalski played a big part in the festivities.
---
--- Advertisements ---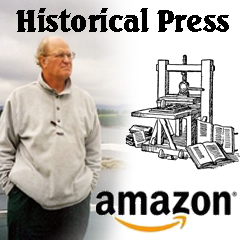 ---
County Executive Thomas L. Hickner noted the key role played in Izy's success by the Bay County Civic Arena, a speedskating hotbed.
"We hope you will train and compete again," urged Mayor Robert Katt. Somalski added: "Let's hope you can add a couple more golds to the gold, silver and bronze our speedskaters already have won." He referred to the gold and silver won by Terry McDermott in the 1964 and 1968 winter games in the 500 meter speedskating, and, of course, Izy's recent bronze in the relay.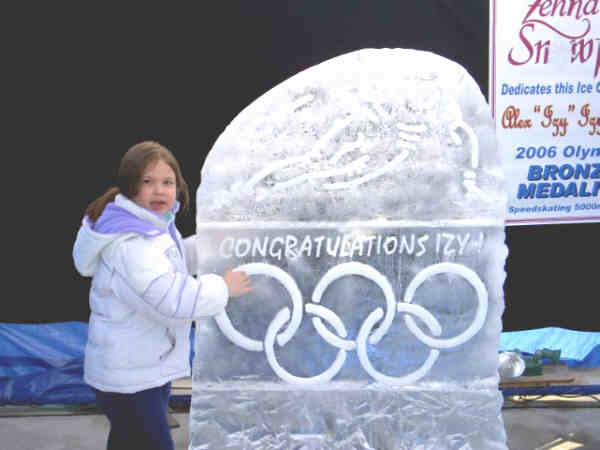 An ice-sculpture, dedicated by Frankenmuth ice carvers was displayed and admired by all.
Izykowski's father, Alan, noted that the Olympic odyssey started 11 years ago when Alex, a fifth grader, wrote about his dream to become an Olympic medal winning speedskater. He thanked his wife, JoAnn, family and several religious teaching sisters from St. James Elementary School for their educational support of the young skater.
Mr. Hickner also credited Terry Watson, Bangor Township supervisor, for heading the community effort to pay tribute to Izykowski.###
---
---

Dave Rogers




Dave Rogers is a former editorial writer for the Bay City Times and a widely read,
respected journalist/writer in and around Bay City.
(Contact Dave Via Email at carraroe@aol.com)

More from Dave Rogers
---
Send This Story to a Friend!
Letter to the editor
Link to this Story
Printer-Friendly Story View
---
--- Advertisments ---