Rotary Holds Vocational Day For 40th+ Year
November 1, 2016 Leave a Comment
By: Stephen Kent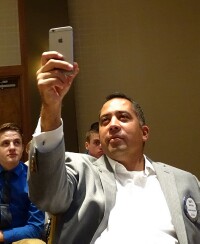 Matt Felan live-streamed the
event on Facebook
Speaking on behalf of the Club,
Rotarian Matt Felan
welcomed some 150 students to the meeting. These students had participated in the annual
Rotary Vocational Day
, a program that's been an annual event for over 40 years. The students, representing all seven high schools in Bay County, job shadowed professions around the community.
Health Care is the largest employer in the region and the largest group of students visited the McLaren Bay Region medical facilities. They observed any number of professions and some even watched a cesarean birth. Another large group visited various departments at Delta College. The rest were placed with businesses and professional services around the community.
"We know that some of you decided to do this today because you're really interested in a career field, some of you did it because your counselor said you should, and we know that some of you did it because you thought you'd get off school for a couple of hours", said Felan. "But look around at yourselves and look at the Rotarians. And you better have an understanding that you are the future of our economy. You are the future of the prosperity in this community we love so much. Soon enough we will be retired and you will be following in our footsteps. It's important that you are successful and follow a career that you love."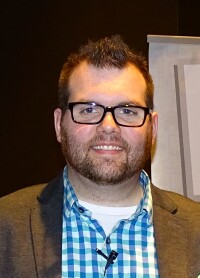 Jeff Dehaven
The speaker for the day was
Jeff DeHaven
, a social media specialist for
Blue Thumb
, a Social Media and Web Site design company from Saginaw. Jeff has been in the business for thirteen years and, after quickly gliding in a door and across the large room on a hoverboard, spoke to a subject far more familiar to the visiting students than to the older Rotarians.
Starting from the story of how he arranged for his wedding to be free, paid for by sponsors and presented on-line, Jeff went on to describe how he started small "making my own stuff". He networked and partnered "like crazy" and never stopped moving forward.
"Times have changed, " Jeff said. He showed a picture of an audience politely sitting at a large event in 2005. Below that was a 2013 picture where, in a similar audience, almost everyone was holding up a phone or tablet computer. The point? "It's everywhere".
Current trends show that 93% of buying decisions are influenced by social media. The average American spends 40 minutes a day on Facebook and 1.13 billion people log in daily.
For people wanting to make an impression, Jeff noted that Facebook (and similar services) is no longer free. You get the basics, but the really effective sites, posts, and tweets are actually being done professionally and cost actual money.
Even with the reach of social media, only 2% of the potential audience is reached. In that environment, it's important to talk the language, know the landscape, and target well-developed objectives. After all that, "experiment!". See what works.
For more information visit
bluethumbdigital.com

Roomfull of Vocational Bay students joined Rotary for luncheon
---
CLUB NEWS and ANNOUNCEMENTS
The board meets this week
November 8 at 11:00 before the regular meeting.
Everyone is welcomed.
Due to the extended Vocational Day program, announcements were limited and the Sargent At Arms segment was skipped for the day.
Current and past
DISTRICT DISPATCH
newsletters are available on the District site shown in the LINKS section below.
---
DATES TO REMEMBER
Board Meeting
-
November 8
- 11:00 am before regular meeting. - Everyone invited.
June 10-14, 2017 Rotary International Convention - Atlanta, Georgia, USA
www.RotaryConvention2017.org
OR
www.RIConvention.org
Dee Dee Wacksman, District Chair
---
Upcoming Programs
(See the official schedule at RotaryBayCity.org )
Nov 8, 2016
Jenifer Acosta of The Neighborhood Development Co.
will talk about her company's efforts to keep the historical buildings alive and prospering in Bay City and the work that they are doing to revitalize some of the historical buildings in Bay City and partnerships that they are developing in the community.
Nov 15, 2016
Randy Ettema, Rotary's district Water & Sanitation Committee chair,
has made several trips to the Dominican Republic including one at the beginning of November 2016. Clubs in our district have made a strong effort to impact several communities in the DR with improved water and sanitation infrastructure. Randy will tell us what he learned on his most recent trip.
Nov 22, 2016
Lynne Greathouse
will speak about the
Bay City All Saints Robotic Team's
participation in the First Robotics competition.
Nov 29, 2016
Misty Janks, YWCA Executive Director
, will discuss the 125th birthday of the YWCA and the events surrounding the anniversary.

Rotary
is an intimate affiliation of carefully selected business and professional people,
having as its objective the promotion of high ethical standards in private, commercial
and civic life, and dedicated to the ideal that the basis of all worthy endeavor is unselfish service.
---
Current and past
DISTRICT DISPATCH
newsletters are available on the District site shown in the LINKS section below.


Rotary Bay City on Facebook!
Click on the Blue Facebook to visit us there.

Remember! Check attendance sheets at the front desk.
---
LINKS
---
---

Stephen Kent




Steve Kent and his family have lived in Bay City for 40 years. He is VP of Technical Services at MMCC which produces MyBayCity.Com. Kent is active in many Bay City civic organizations.

More from Stephen Kent
---
Send This Story to a Friend!
Letter to the editor
Link to this Story
Printer-Friendly Story View
---
--- Advertisments ---