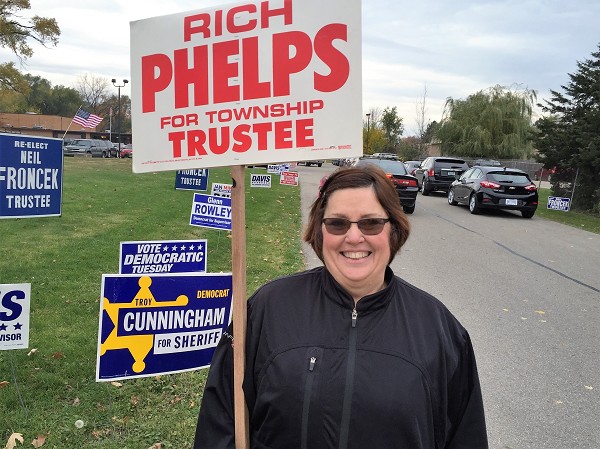 Joette Phelps stands with her husband Rich's sign outside the busy Bangor Township polling place on Midland Road on Tuesday. Phelps won one of four trustee posts.
---
COMING TOGETHER? President Trump Faces Tests on Unity, Jobs
Bay County Backs Donald as More Than 2/3rds of Electorate Turns Out
November 10, 2016 1 Comments
By: Dave Rogers
Nearly 54,000 Bay County voters streamed to the polls Tuesday, giving maverick Republican Donald Trump more than 28,000 votes over the Democratic nominee Hillary Clinton who got 21,641.
Turnout was 53,926, according to County Clerk Cindy Luczak, the total amounting to 67.22 percent of the 80,219 registered voters.
Full results are posted on the Bay County website at http://www.baycounty-mi.gov/Docs/Clerk/Summary%2016.pdf
With a startlingly brilliant and vigorous campaign, controversial neophyte tv star Trump snatched the mantle away from Hillary, who had hoped to be America's first female chief executive.
The consensus is that voters here, as elsewhere in the nation, were frustrated by the lack of well-paying jobs and the hollow promises of the political leaders in Washington, including Mrs. Clinton. President Trump has promised on the campaign trail to reverse the trend of foreign trade deals that have caused unemployment and most voters appear willing to give him a chance to succeed. Others are determined to block his agenda that includes building a wall on our border with Mexico and deport about 11 million illegal immigrants.
Other Dems kept their support here, including U.S. Rep. Daniel Kildee with 56 percent of the vote over Republican challenger Al Hardwick, with nearly 37 percent.
A new face entered the statewide scene as attorney Brian Elder swept to Lansing with nearly 23,000 votes over the GOP hopeful David Scholl in the 96th District, with 16,664 votes.
Incumbent Rep. Gary Glenn of Midland, a Republican, won the Bay County portion of the 98th state representative district over Democratic challenger Geoff Mailcoat.
After 23 years with Tom Hickner at the helm, Jim Barcia will take over Jan. 1 as county executive. Former Democratic congressman Barcia faced no Republican opposition in this election after besting Hickner in the August primary, a victory considered an upset by local political observers.
Barcia made an appearance at the county commission meeting in early November, pushing for the expansion of the Valley Center Technology Park that was sunsetted by commissioners a couple of years ago. The Tech Park is populated by more than 30 industries with about 1,300 jobs and was developed by former banker Cliff Van Dyke and Monitor Township supervisor Gary Brandt mainly during Hickner's tenure as executive.
We have a new prosecutor, Nancy Borushko, a new sheriff, Troy Cunningham, and a new Bangor Township supervisor, Glenn Rowley, all Democrats. Borushko got 36,017 votes while there were 857 write-in votes for Democrat Ed Czuprynski, Cunningham won 31,735 over Jason Holsapple, and Rowley bested Republican Joe Davis 4,217 to 2,650 and Dem Colleen Maillette with 348 write-ins.
In an upset over incumbent Probate Judge John Keuevellar, attorney Jan Miner took a four-year term replacing the Gov. Rick Snyder appointee despite his commendable work with new programs for young people at risk. Keuevellar served as an assistant prosecuting attorney for 30 years before his appointment in March 2015 to fill the unexpired term of Probate Judge Karen Tighe, who retired.
A trial vote by Bay County Bar Association attorneys that was given wide publicity was considered by observers to be a key to Miner's win.
County commissioner retaining their seats were Democrats Michael Duranczyk in an eight-vote squeaker over Brandon DeFrain, Republican Vaughn Begick who defeated Democrat Abel Torres, Kim Coonan with a solid win over Republican Chad Sibley, a former city commissioner, Thomas M. Herek, who bested Republican Randy Badgerow and Bruce Lee Eckhart, and Tom Ryder, Democrat, who topped Republican Christopher J. Shannon, former city commissioner, 60 percent to 39 percent.
Eckhart notably ran with the designation NPA (no party affiliation).
Democrats Mike Lutz and Ernie Krygier Jr., were unopposed for new two-year terms on the county commission while Brandon Krause, Register of Deeds, running unopposed, was elected to his first full term. Bay County Treasurer Rick Brzezinski also running unopposed was elected to his fourth four year term.
Popular drain commissioner Joe Rivet, a Democrat, won another term by besting Republican Nelson Hans Niederer, 28,984 to 19,591. Republican Mike Rivard retained his road commission seat over Democratic challenger and former county commissioner Pat Beson, and hard-campaigning Kenneth M. Malkin won the Monitor Township supervisor's post over Republican challenger Don Jacobs 3,098 to 2,884.
###
---
"The BUZZ" - Read Feedback From Readers!
rbreez Says: On November 11, 2016 at 06:26 PM

Brandon Krause Register of Deeds running unopposed was elected to his first full term. Bay County Treasurer Rick Brzezinski also running unopposed was elected to his fourth four year term.
---

Dave Rogers




Dave Rogers is a former editorial writer for the Bay City Times and a widely read,
respected journalist/writer in and around Bay City.
(Contact Dave Via Email at carraroe@aol.com)

More from Dave Rogers
---
Send This Story to a Friend!
Letter to the editor
Link to this Story
Printer-Friendly Story View
---
--- Advertisments ---