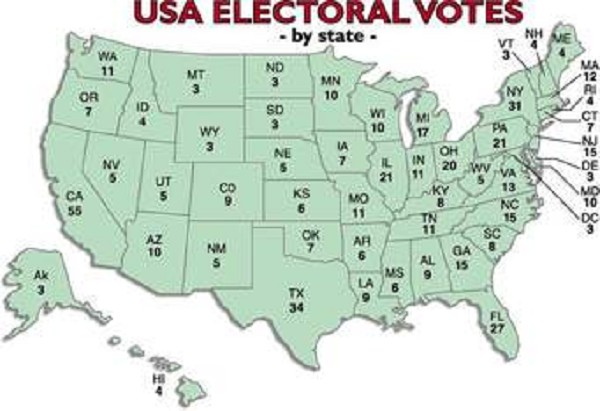 Electoral College -- Map
---
FORGOTTEN CLASS: Donald Trump's Historic Win, Future Analyzed
Constitutional Crisis May Arise Over Income Tax Returns
November 15, 2016 Leave a Comment
By: Dave Rogers
Donald Trump won Michigan in a stunning election victory now being called "the Revenge of the Forgotten Class."
Rust Belt bastion Michigan, along with Pennsylvania, were the key to the win. A reversal of 60,000 votes in those two states would have put Mrs. Clinton in the Electoral College lead.
The Michigan Secretary of State's official election results website shows Donald Trump with a 13,107 vote lead over Hillary Clinton, with 100 percent of precincts reporting.
The Republican nominee got 2,277,914 votes (47.60%);
Democrat Clinton got 2,264,807 votes (47.33%)
Michigan members of the Electoral College meet Dec. 19 in Lansing to confirm the Trump victory.
No matter what Trump may have done in the past or what he is likely to do after taking office that is deplorable is likely to bump the orange sensation from the Oval Office.
Why? Because the Supreme Court in 1982, in a prior case involving Richard Nixon, gave the President immunity from any and all crimes, an immunity still in place today.
Of course, in 1974 Nixon had been so embarrassed by his misdeeds revolving around Watergate and campaign finance shenanigans he was forced to resign under threat of impeachment.
This reporter was there Oct. 30, 1973 -- observing for the Booth Newspapers Washington Bureau -- the day the House Judiciary Committee launched its impeachment proceedings, an unforgettable moment in any newspersons' career.
Although Democrats from Barack Obama to Howard Dean are urging "give him a chance," a smooth first 100 days doesn't appear to be likely for President Trump.

Wrote William Samson in 2005 about the Nixon debacle: "The scandal grew to involve a slew of additional allegations against the President, ranging from the improper use of government agencies to accepting gifts in office and his personal finances and taxes; Nixon repeatedly stated his willingness to pay any outstanding taxes due and paid $465,000 in back taxes in 1974."

If Trump is found by an investigation to have fudged on his income tax returns or failed to pay what is due, the ballgame is likely to change. Like Al Capone, he may be toppled because he tried messing with the IRS.

Lots of talk on the TwitterNet and Facebook about a reversal of the winner in the Presidential election is just that--talk.

So far, that is.

His checkered past hangs over the new President like the proverbial Sword of Damocles.

But news is hitting the fan almost hourly, news alleging Donald Trump's ties to Russia and Kremlin interference in the U.S. election.

The allegation that Trump has received or is receiving vast sums from Russian sources may ignite the wrath of the Forgotten Class and create a Constitutional crisis, some pundits predict.

Rioters in the streets of major cities, and those hanging the new President in effigy in front of his palace, Trump Tower in New York, signal a rocky start to his Presidency.

The undisclosed income tax reports may rise up out of the swamp to bite the Donald where it hurts.

Past misdeeds aside, rumors abound that conservative Republicans, who can be a little sticky at times over legal points, are waiting for an illegal Trump move after he takes office to pounce. They would love to impeach him and install one of their own, the ultra-conservative Mike Pence, in the White House and wave goodbye to Trump and his crowd, according to numerous reports.

The "forgotten class" is said to be willing to give Trump 18 months to fulfill some of his promises, like "jobs, so many jobs, incredible numbers of jobs" before they revolt openly.

Alan Dershowitz, emeritus Harvard professor who became famous during the OJ trial, writes on Fox.com:

"This is not the time for liberals or Democrats to become immobilized with despair, nor is it the time for violence or unlawful actions. It is a time to become energized and proactive.

"In the meantime, the loyal opposition must remain both loyal and opposed to policies and appointments that are inconsistent with our values.

"We must cooperate when cooperation is warranted, but when it is not, we must use all available lawful options -- political, judicial, media, academic and economic -- to serve as checks and balances on a president who tries to exceed his authority."

Fox News 17 in Grand Rapids tackled the ticklish topic of the Electoral College over the weekend that included interviews with a Republican elector, Hank Fuhs, and a man who would have been a Democratic elector, had his candidate won the electoral vote -- Mark Schauer, onetime candidate for governor.

Not surprisingly, the two disagreed on what the future of the Electoral College should be.

Hillary Clinton is the fifth presidential candidate to win the popular vote but lose the election. According to the New York Times, Clinton is projected to win by more than two million votes and by more than 1.5 percent.

"This begs the question," said a Fox commentator, "why do the 128 million who voted Tuesday not technically elect the president?"

Obviously, because we still have the archaic Electoral College system.

Mr. Fuhs, Michigan Republican Party secretary and elector, will cast his vote Dec. 19 in Lansing alongside 16 Michigan electors chosen by the state's Republican party at the state convention that took place Aug. 27.

Fuhs says we should keep the Electoral College, Schauer does not.

"I fully support a change, not just because of the outcome of this election, to a national popular vote, but it doesn't make sense anymore," said Mr. Schauer, 2014 Michigan gubernatorial candidate and elector.

Schauer was chosen by the Michigan Democratic Party at the state convention to be an elector to represent the state's electoral college this year. He would have voted alongside 16 Democratic electors had the majority of Michigan voters chose Clinton, following the state's track record since 1988.

"It brings into focus the fact that she won the national popular vote, that it's a system that's really no longer relevant," said Schauer. Schauer agrees with the viewpoint of many Americans signing more than six petitions nationwide calling to end the Electoral College. Written into the United States Constitution in 1787, he calls is antiquated and no longer relevant.

The Fox commentator muses:

"For instance, the system as is allowed presidential candidates to take votes in deep red or blue states for granted and typically not campaign on their soil. The electoral college was also ratified 229 years ago on many different terms historically."

"The electoral college is not relevant anymore," said Schauer. "It's interesting if you look at the history, it was built around a group of elites that didn't think the rank and file citizens of the country would have the wisdom to select our president."

I humbly beg to differ, Mr. Schauer, certainly you know that Alexander Hamilton was clear on the reason for the Electoral College, according to the Huffington Post: "Alexander Hamilton was explicit: this mechanism was designed to ensure that 'the office of president will never fall to the lot of any man who is not in an eminent degree endowed with the requisite qualifications.' In short, it was designed to prevent just this situation: the rise of an unqualified demagogue like Donald Trump."

Fuhs and Schauer agree that it is a privilege and an honor to be selected as an elector. They also both believe it is unlikely an elector will go rogue this election, saying it is their moral obligation to vote for the candidate the state did.

Fuhs believes the electoral college makes sense and is a fair determination of an election.

"It's pretty black and white," said Fuhs. "So am I going to tell 750,000 people [of the congressional district], 'well, I think my judgment is better?' No, come on."

Plus, Michigan law provides that if an elector violates his oath to vote for his party, he is replaced.

Most states have that same provision, so the chances of an Electoral College repudiation of the winner under that system are slim and none.

###

---
---

Dave Rogers




Dave Rogers is a former editorial writer for the Bay City Times and a widely read,
respected journalist/writer in and around Bay City.
(Contact Dave Via Email at carraroe@aol.com)

More from Dave Rogers
---
Send This Story to a Friend!
Letter to the editor
Link to this Story
Printer-Friendly Story View
---
--- Advertisments ---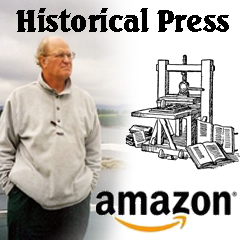 0200 Nd: 04-18-2019 d 4 cpr 0






SPONSORED LINKS
---
LOCAL LINKS
(Ads not affiliated with Google)
---
---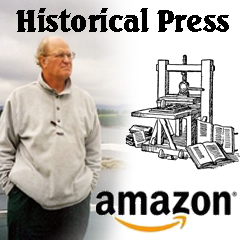 ---
Ads By MyBayCity.com
Bay Area Chamber of Commerce
Click Here to Visit Our Site!


Improving The Economic Climate, Business Environment & Quality of Living Throughout The Bay Area
---
Ads By MyBayCity.com
Bay Area Chamber of Commerce
Click Here to Visit Our Site!


Improving The Economic Climate, Business Environment & Quality of Living Throughout The Bay Area
---
Ads By MyBayCity.com
Rotary Club of Bay City
rotary.org


Click Here To Join Today
---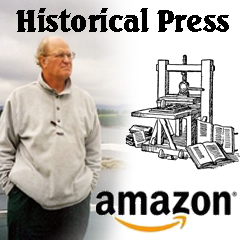 ---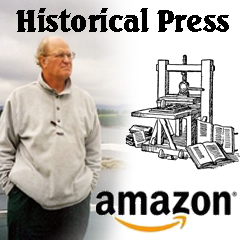 ---