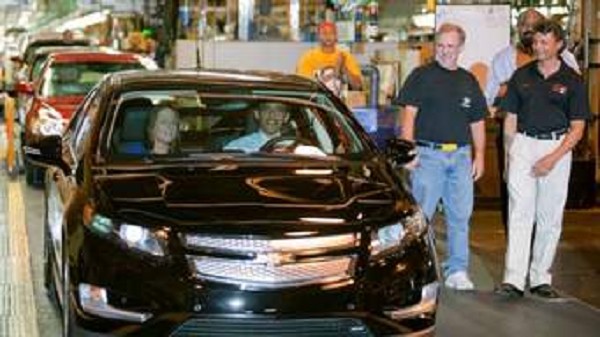 President Obama grins at the wheel of a new Chevy coming off the line during the auto industry bailout days.
---
AUTO WE WORRY? U-M Economic Report Boosts Obama Bailout Success
Despite Fake News, Michigan Rolling Along as GM Remains International Force
November 20, 2016 Leave a Comment
By: Dave Rogers
Did President Obama "save" the auto industry?
That's a much-debated question that no doubt will be a hot topic for historians as time passes and new Presidents trumpet their successes.
But a report last week from the University of Michigan and other research seems to bear out the 'Obama as savior' narrative.
Among the "fake news" coming mainly out of Russia during the Presidential election campaign was the report that 70 percent of U.S. autos are now made in Communist countries.
No -- wrong, says factcheck.org: "The restructured GM is still based in Detroit and is still one-third owned by the U.S. government. But it sells nearly as many cars in China as in the U.S. and has continued expanding operations there."
According to the Annenburg Public Policy Center, GM is still a U.S.-based multinational auto company, incorporated in Delaware and headquartered in Detroit. According to the Congressional Budget Office, about 33 percent of the stock in GM is still owned by the U.S. Treasury as a result of a taxpayer-assisted bankruptcy and downsizing in 2009.
The company sells cars in more than 120 countries and accounted for nearly 12 percent of all car and truck sales worldwide last year (11.9 percent, according to GM's annual report). It's also true that China is now the largest market for car sales on earth. Total car sales in China surpassed those in the U.S. in 2009. China retained the lead in 2011, and that lead is expected to grow in the future.
Even better economic news emerges in Michigan as 2017 looms.
The University of Michigan sees an economic silver lining in labor market and wage growth despite weak output growth performance.
"Payroll job gains so far this year averaged 180,000 jobs per month, which is only slightly behind the 2011-2015 average of 202,000 jobs," according to the much-watched Research Seminar in Quantitative Economics (RSQE) at U-M.
Michigan's economy "has been on a bit of a roll for the past five or six years," George Fulton, who is director of U-M's RSQE, said in a statement. "And the state appears to be poised to continue the ride for a while longer, although perhaps not at the same pace."
In their annual forecast of Michigan's economy, Fulton and colleagues Joan Crary, Gabriel Ehrlich, and Donald Grimes said they expect Michigan to have gained more than 586,000 jobs during the economic recovery from summer 2009 through the end of 2017, according to The Detroit Free Press.
Initial claims for unemployment insurance are still edging down, setting record lows relative to the size of the labor force, the report stated.
The U-6 unemployment rate, which adds the marginally attached and employed part-time for economic reasons to the headline number, continues to decrease slowly as the economy gets closer to the natural rate of unemployment, with about 4 percent generally considered as "full employment."
A tightening labor market seems finally to have started putting upward pressure on wages. Average hourly earnings of private-sector employees stood 2.8 percent higher in October than a year earlier, the fastest growth during the current economic expansion.
The state's sustained recovery will help lower the state's unemployment rate from the current 5% to 4.8% at the end of next year and 4.5% at the end of 2017, they said.
Sales of cars and light trucks, averaging about 17.4 million this year, should reach 18 million next year and 18.1 million the year after, the U-M economists said. If achieved, those sales levels would mark one of the most sustained robust periods in history for the auto industry.
In the U-M forecast released Friday, the sector including trade, transportation, and utilities will account for 22,000 job gains through 2017.
The construction industry will add 22,000 jobs over the next two years. Leisure and hospitality jobs will grow by about 20,000 while manufacturing is expected to rise by about 10,000 jobs. That's down from an annual average of about 20,000 job gains over the previous four years when auto plants rejuvenated after a moribund period.
###
---
---

Dave Rogers




Dave Rogers is a former editorial writer for the Bay City Times and a widely read,
respected journalist/writer in and around Bay City.
(Contact Dave Via Email at carraroe@aol.com)

More from Dave Rogers
---
Send This Story to a Friend!
Letter to the editor
Link to this Story
Printer-Friendly Story View
---
--- Advertisments ---