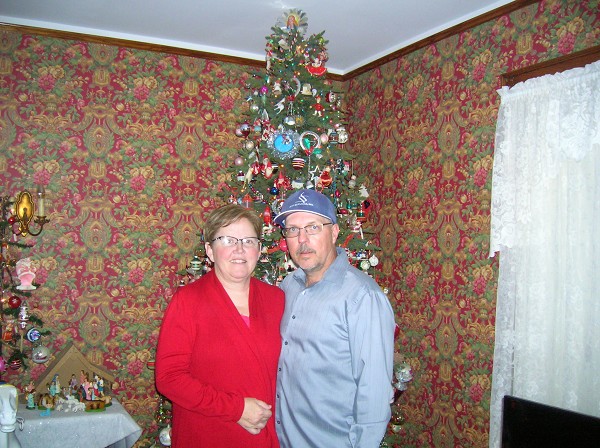 Mike and Linda Zuraw stand in front of the "main" tree. Some lucky person guessing the number of ornaments on the tree will go home with a poinsettia.
(MyBayCity Photo by Pati LaLonde)
---
Zuraws once again open their home for a good cause and lots of fun
November 29, 2016 Leave a Comment
By: Pati LaLonde
Those attending Mike and Linda Zuraw's 10th annual Toys for Tots open house fundraiser this weekend shouldn't miss the large carousel in an upstairs bedroom - it has quite a story behind it.
Long know as a collector of toys, especially those from the early 1900s up to 1950, Zuraw has a new passion - carnival memorabilia.
Checking out eBay, she noticed a carnival was selling off its carousel animals. There had been an accident with a truck that damaged the carousel, leaving the animals in good shape.
Hoping in a car the day after Christmas, the couple headed to Marceliene, Mo., where the carnival was located. And if the road trip wasn't enough from Bay City wasn't enough, reaching Marceliene after dark, the couple then hooked up with a man from the carnival who led them out of town to a field of travel trailers housing the carnival workers.
As Mike Zuraw walked around the area, Linda Zuraw followed the man into a large semi filled with the animals. Not only did she get the horse, but a monkey as well, and a great story to tell.
"I was little scared," she admits. "Surrounded by a bunch of people in the dark that I didn't know."
Both pieces will be front and center for this annual event that has collected almost $20,000 and hundreds of toys in its 10-year existence.
Although the couple is excited to celebrate 10 years, this event began as a one-shot deal. It's the community that keeps it going.
"We started it to give back to the community," said Linda Zuraw. "We put a lot of time into decorating (and restoring their Victorian home), we want to share it with people. People began calling (after that first year) asking when we were going to do it again. I have regulars and they call every year. They give me in the incentive to keep going."
The Zuraws begin getting ready for the two-day event in September when they start putting up and decorating the 20 trees that grace the living room, dining room, kitchen, and bedrooms of this two story home located at 1710 Sixth St.
Each tree is covered in hundreds or perhaps thousands of vintage ornaments and underneath each tree Zuraw's collection of toys - many from her childhood growing up in the 1950s and 1960s.
Guests should pay particular attention to the large tree in the living room - there is a prize to be had. The person guessing the number of ornaments on the tree receives a poinsettia.
Going up for raffle this year are American Girl dolls, a reproduction of a Red Lion Speedway Special pedal car in mint condition, a Stingray girl's bike, two of Zuraw's handmade quilts and a $200 gift card from Walmart. Tickets for this bucket raffle are $1 each.
Once a winner is drawn from each bucket, entries will be put into a bowl and names will be drawn for smaller prizes, such as five free haircuts at The Hair Shop, and a pizza from Eudici's Pizza.
There is also a 50/50 raffle for $1, white elephants in the basement and a bake sale. Cookies are $5 a dozen and pies are $7 each.
The open house runs from 10 a.m. to 8 p.m. Saturday and Sunday, and Santa visits from 1 p.m. to at least 3 p.m. both days.
While admission is free, Zuraw hopes everyone stopping by will bring a new unwrapped toy or a cash donation to Toys for Tots.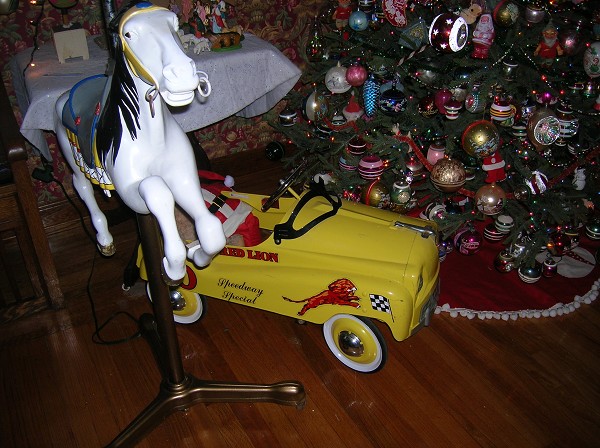 This reproduction Red Lion Speedway Special pedal car is just one of the prizes to be won.
Photo by Pati LaLonde
© MyBayCity.com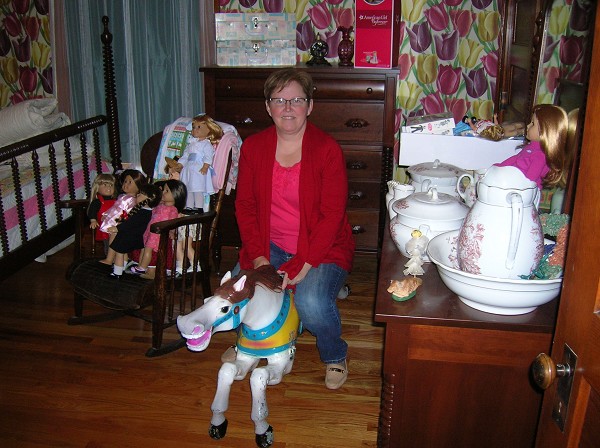 Linda Zuraw sits atop a carousel horse - a new addition - with a story - to her annual open house.
Photo by Pati LaLonde
© MyBayCity.com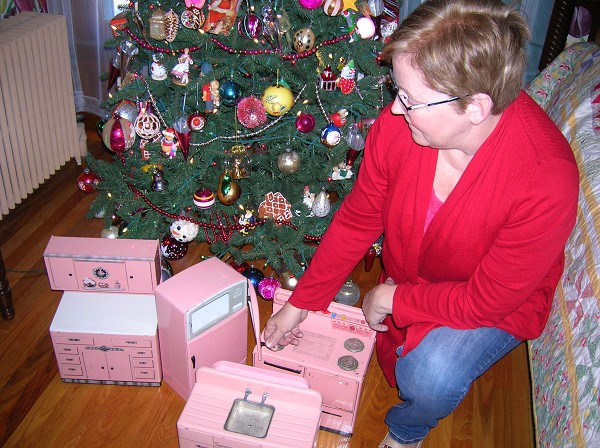 A Wolverine kitchen set, just like this one, was part of Linda Zuraw's childhood.
Photo by Pati LaLonde
© MyBayCity.com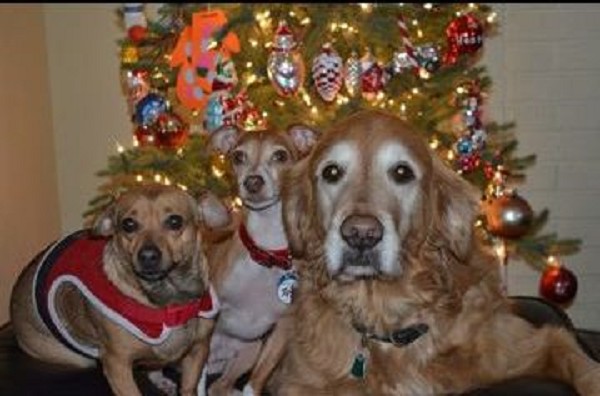 Unfortunately, Dash, Buddy and Jake, the Christmas dogs won't be on hand for the party.
Photo by Pati LaLonde
© MyBayCity.com
---
---

Pati LaLonde




Pati is a freelance writer with experience in all things pertaining to Bay County, Michigan.

More from Pati LaLonde
---
Send This Story to a Friend!
Letter to the editor
Link to this Story
Printer-Friendly Story View
---
--- Advertisments ---