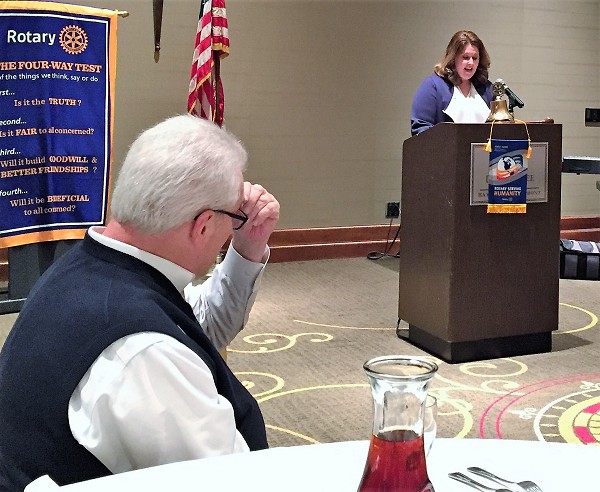 Dow Chemical assistant director of community affairs Heather Gallegos enlightens Rotarians, including Eric Jylha, left, on a pending merger with DuPont.
---
ONE NEW DOW: Coming Together With DuPont, Absorbing Dow Corning
December 16, 2016 Leave a Comment
By: Dave Rogers
It is happening right before our eyes -- the historic "merger of equals," of Dow Chemical and DuPont de Nemours, and the phase-out of Dow Corning -- and the result eventually will be great additional value.
Like a glacier where movement is slow but inevitable, the huge global corporations are coming together and three new firms will be formed, said Dow assistant director of community affairs Heather Gallegos, at the Rotary Club of Bay City on Tuesday at the DoubleTree.
Despite the glacial pace, the merger is expected to be completed in about two years. The new firms will be agricultural science, materials science and the third that embraces all functions that don't fit in the first two.
Dow CEO Andrew Liveris will be chairman of the newly merged company and DuPont's Ed Breen will be CEO. The DuPont headquarters in Wilmington, Delaware is expected to have about $35 billion a year in business while Midland will have about $55 billion, she said, quoting industry estimates. Despite myriad rumors, Dow will remain in Midland, she said, noting "you can't move a chemical plant."
"Although the headquarters are "essentially the same size," she said, "we will unlock a lot of value by coming together." She used the term "One New Dow" to describe the merged firms.
The merger awaits regulatory approval from the top four national entities: the U.S., the European Union, China, and Brazil. The main issue is concern over monopoly aspects on the agriculture side, she said. She noted MSNBC guru Jim Kramer's prediction of a 70 percent chance of approval of the merger in the first quarter of 2017.
For Bay City, the most important statement made by Ms. Gallegos was: "We are committed to Uptown," referring to the much-touted Dow Corning center there. The workforce of 400 there has shrunk to 80, she confirmed a report from Rotarian Chuck Cusick, while assuring the audience the firm is there to stay.
"Uptown will remain open with employee growth in some type of service function and will be there for a long time," she said. "I wish my office was there." New groups will be moving into Uptown, she said.
She also noted the recent announcement of a new research and development center, with 200 employees, including 100 new ones, in Midland, announced recently with President-elect Donald Trump standing by, helping offset the loss of jobs from employees displaced in the merger. "It does speak volumes about the fact that Dow cares," she commented.
The Warren Buffett allotment of shares and a deal allowing him to convert preferred stock to common stock is "very, very close," said Ms. Gallegos, with a multi-million impact on the bottom line at stake.
Insiders like Rotarian Matt Felan, of the Great Lakes Bay Regional Alliance, are fixated on the $53.72 per share amount that is key to the Buffett deal. The share price today was $53.65, short of the goal.
The deal is explained by Fortune magazine: "The famed investor has been collecting roughly $225 million a year (or $8 a second) in interest from his Dow Chemical stake since 2009. That year, Buffett provided Dow with $3 billion to help finance its purchase of chemical maker Rohm and Haas. As part of the agreement, the industrials giant gave the investor preferred stock and slapped on a hefty 8.5% annual payment on top of it.
"But the contract came with a back door for Dow. Starting in April 2014, should shares of Dow Chemical close above $53.72 for 20 days in any consecutive 30-day trading period, Dow can convert Buffett's preferred shares into common stock-canceling the Oracle's $8-a-second payout. Each of Dow's common shares pays a mere 3.4% annual regular dividend, so it's little surprise that Dow Chemical has indicated that it fully intends to convert Buffett's stake should the conditions be met."
Today (Thursday, Dec. 15) Dow announced it had met a pre-determined goal and was implementing the conversion, explained this way:
"The Dow Chemical Company DOW, +1.20% announced today its intention to provide notice to its holders of Series A Convertible Preferred Stock that the Company will exercise its option to convert all of the Series A preferred stock into shares of common stock, having met the requirements for conversion at the option of the Company. The effective date of the conversion will be December 30, 2016 (the "Company will exercise its option to convert all of the Series A preferred stock into shares of common stock, having met the requirements for conversion at the option of the Company. The effective date of the conversion will be December 30, 2016 (the "Conversion Date").
"This milestone is the latest proof point of the strength, resilience and value creation of Dow's business model -- a narrower and deeper focus in attractive, consumer-driven end markets, compelling strategic growth investments, and continuous self-help productivity actions," said Andrew Liveris, Dow's chairman and chief executive officer. "It is also a clear illustration of our owners' recognition and support of the Company's consistent earnings and cash flow growth, as well as our potential to deliver even greater shareholder value in both the near- and long-term."
The announcement did not indicate if the Buffett allocation was involved in the conversion.
"On the Conversion Date, holders of Series A preferred stock will be entitled to receive 24.2010 shares of common stock for each share of preferred stock, reflecting an approximate conversion price of $41.32 per share. The conversion of all four million shares of Series A preferred stock will result in an additional 96.804 million shares of outstanding Dow common stock."
Some analysts indicated the Dow conversion may be calculated to spur the stock price above the Buffett target and reach the goal set in that deal. If the so-called "Trump Rally" keeps rolling on, the conditions for the Buffett deal could be reached early next year.
Meanwhile, Dow's 300 plus ambassadors will address "intolerant behavior" that has cropped up recently in area schools, through mentorship, noting, "Dow doesn't stand for that."
BREAKING NEWS NOTE: Bloomberg announced at 9:29 p.m. 12/15: "Warren Buffett's era of collecting $255 million a year on his Dow Chemical Co. investment is coming to an end.
"Dow will convert his $3 billion preferred stake to common stock after the shares finally sustained a rally long enough to allow the company to force the swap under terms of a 2008 deal. Buffett's Berkshire Hathaway Inc. will get 72.6 million shares of common stock, valued at about $4.2 billion based on Thursday's closing share price. Dow also will convert a $1 billion preferred stake that was held by the Kuwait Investment Authority. The conversion date was set for Dec. 30, Dow said in a statement Thursday.
"This milestone is the latest proof point of the strength, resilience and value creation of Dow's business mode," Dow Chief Executive Officer Andrew Liveris said in the statement."
Reduction of Dow's costs will result from the end of the Buffett deal, analysts said.
###
---
---

Dave Rogers




Dave Rogers is a former editorial writer for the Bay City Times and a widely read,
respected journalist/writer in and around Bay City.
(Contact Dave Via Email at carraroe@aol.com)

More from Dave Rogers
---
Send This Story to a Friend!
Letter to the editor
Link to this Story
Printer-Friendly Story View
---
--- Advertisments ---