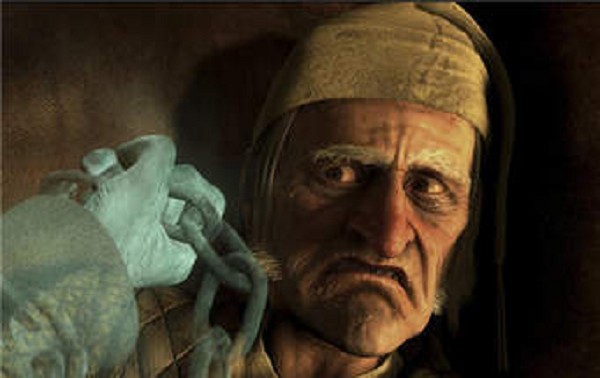 EBENEZER SCROOGE'S DILEMMA:Lock 'Em Up vs. Save Big Bucks
New Academic Report Says Nearly 40% of Inmates Don't Pose Societal Risk
December 20, 2016 Leave a Comment
By: Dave Rogers
On the one hand, Scrooge -- who memorably is quoted as saying about the poor: Are there no prisons? are there no workhouses? -- would be appalled.
On the other hand, Mr. Ebenezer Scrooge the skinflint would be overjoyed at the tax money that could be saved if a new public policy prescription could be fulfilled.
Nearly 40 percent of the U.S. prison population -- 576,000 people -- are behind bars with no compelling public safety reason, according to a new report from the Brennan Center for Justice at NYU School of Law.
The first-of-its-kind analysis provides a blueprint for how the country can drastically cut its prison population while still keeping crime rates near historic lows.
We have long felt instinctively that our prisons, especially in Michigan, have become part of the prison-industrial complex. Crime has become a self-fulfilling prophecy. Build them (prisons, that is) and they will come (prisoners).
After lo these many years, scholars have come to embrace Charles Dickens' Christmas masterpiece, Scrooge, as not only a great story but a scathing commentary on public attitudes of the Victorian Age.
Has public policy -- Scrooge's attitude prior to his epiphany -- used the "lock 'em up" mentality of some legislators and judges to perpetuate -- and to grow -- prisons, guards, etc.? Some reformers call it Mass Incarceration, notably the highest rate in the world.
In Michigan, we have saddled our state budget with about $2 billion in prison costs, much of which is desperately needed to fund social services, K-12 schools, and higher education.
Legislators have gone blindly on shooting the state in the foot with this hyper-hysterical approach, funding prisons to the detriment of the rest of society.
The Obama Administration, to its credit, already has released thousands of lower-level offenders who pose little if any risk to society, thus saving millions of dollars. Now we risk that wisdom being squandered by a conservative dictated prison mentality, reversing the gains of the past eight years.
Among the report's key findings:
**25 percent of the country's prisoners -- 364,000 inmates who are nearly all non-violent, lower-level offenders -- would be better served by alternatives to incarceration such as treatment, community service, or probation.
**Another 14 percent (212,000 prisoners) have served sufficiently long sentences and could be released within the year with little to no risk to public safety.
If these prisoners were released, it could save nearly $20 billion annually. The savings could employ 270,000 new police officers, 360,000 probation officers, or 327,000 school teachers.
The report is the product of three years of research conducted by Dr. James Austin, president of the JFA Institute and one of the nation's leading criminologists who has four decades of experience working with prison officials to reduce their incarcerated populations, Brennan Center Senior Counsel Lauren-Brooke Eisen, and a team of statistical researchers.
The authors conducted an in-depth examination of the federal and state criminal codes, as well as the convictions and sentences of the nationwide prison population (1.46 million prisoners serving time for 370 different crime categories) to estimate how many people are currently incarcerated without a sufficient public safety rationale.
"Mass incarceration has huge social, racial, and economic costs," said Inimai Chettiar, director of the Brennan Center's Justice Program. "As a result, there is intriguing, bipartisan consensus that we need to fix our broken criminal justice system. This is the first detailed, granular look at precisely how we can achieve this by significantly and safely cutting the prison population.? ?Too many people end up in prison in the first place, when alternatives like treatment would work much better. Still, others are locked up for too long and research shows those sentences are ineffective," added Lauren-Brooke Eisen. "When what you're doing isn't working, it's time to rethink it. We hope our recommendations will jump-start a conversation."
America has less than 5 percent of the world's population but nearly 25 percent of its prisoners. Responding to rising crime in the 1980s and 90s, legislators created this system of mass incarceration by passing laws to dramatically increase sentences for many crimes. These measures created vast racial disparities in America's prisons.
But today, crime has plummeted, and research shows mass incarceration had little impact. As the report notes, this system is unsustainably expensive and overly punitive in ways that could actually increase crime.
This report seeks to address the problem by determining who could be released from prison with little to no risk to public safety. The findings are based on several factors -- including seriousness of the crime, impact on the victim, intent, and risk of recidivism -- that aim to protect public safety, create more uniform sentences, reduce disparities, and preserve judicial discretion when needed.
Finally, the study offers a series of recommendations to decrease the total prison population while ensuring the prisoners who have committed the most serious crimes remain behind bars:
Eliminate prison for lower-level crimes, barring exceptional circumstances: State legislatures and Congress should change sentencing laws to make alternatives to prison the default penalty for certain lower-level crimes. Judges should have the discretion to depart from the default alternative and impose a prison sentence in special cases.
Reduce sentence minimums and maximums currently on the books to be more proportionate to crimes committed: The report suggests state and federal legislators consider a 25 percent cut as a starting point for the six major crimes that make up the bulk of the nation's current prison population (aggravated assault, murder, nonviolent weapons offense, robbery, serious burglary, and serious drug trafficking).
In addition, the report recommends that current inmates should be able to petition judges for retroactive application of the two reforms above, on a case-by-case basis, and suggests prosecutors seek alternatives to incarceration or shorter sentences in line with the recommendations. It also suggests the $200 billion in savings over 10 years could be reinvested in crime prevention tactics and alternatives to incarceration.
"If we do not take steps now, Americans of color will forever be relegated to a penal and permanent underclass, and mass incarceration will continue to cage the economic growth of our communities," wrote foreword author Cornell Brooks, president and CEO of the NAACP. "We have reached a crisis point, and we need solutions. This groundbreaking report from the Brennan Center for Justice offers a pathway to reduce our prison population and its tragic racial disparities."
What attitude will the Ghost of Christmas Future put in Michigan's stocking this Christmas? And in the gilded stockings hung in Trump Tower? One that makes sense, we hope. ###
---
---

Dave Rogers




Dave Rogers is a former editorial writer for the Bay City Times and a widely read,
respected journalist/writer in and around Bay City.
(Contact Dave Via Email at carraroe@aol.com)

More from Dave Rogers
---
Send This Story to a Friend!
Letter to the editor
Link to this Story
Printer-Friendly Story View
---
--- Advertisments ---