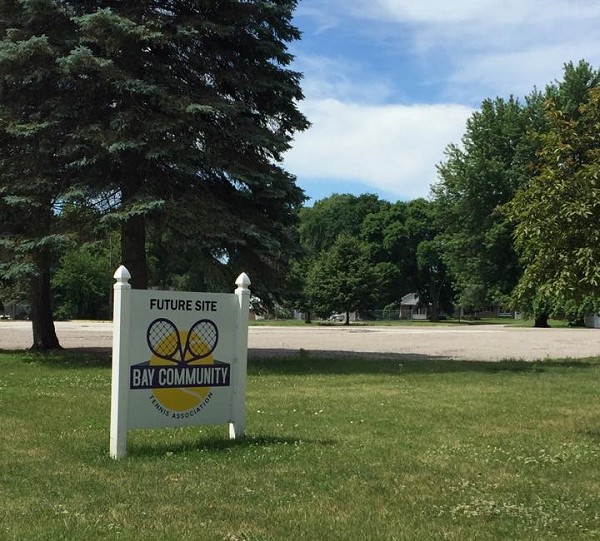 New Court Project WILL Happen, Say Leaders
---
TENNIS HOPES: New Court Project WILL Happen, Say Leaders
December 22, 2016 Leave a Comment
By: Dave Rogers
In 1983, yours truly wrote an article for The Bay City Times that was headlined: "Tennis Fans Have Lots of Facilities in Bay County."
I could not write the same article truthfully today.
Tennis, the nation's fourth most popular sport, is at a somewhat low ebb, as far as facilities go, in Bay County, as we look to heading into the 2017 sports season.
In 1983, there were 72 public tennis courts and 12 private tennis courts (plus perhaps a half-dozen private home tennis courts) available for use in the county.
There was more programming then, in 1983, partly because there were more courts.
Then the National Junior Tennis League (NJTL), sponsored by Peoples National Bank, Sherman Shoes, Valley Oxygen and other community businesses was offering free instruction and competition to about 300 youngsters, ages 8 to 18, in the summer.
NJTL had an office furnished for its use on the fourth floor of City Hall and it received rackets, balls and instructional materials from the U.S. Tennis Association. One player, Mark Jiles, won a $40,000 prep school scholarship from the USTA, with funds raised and the scholarship awarded by famed tennis star Arthur Ashe. Jiles attended Salisbury School in Connecticut and is a graduate of the University of Michigan. Jiles is now superintendent of three K-12 schools in Arizona.
The summer of 1983 was the height of the NJTL program. A total of $25,000, including $5,000 from the YES! Michigan program, was raised to fund the Midwest Clay Court Championships at Bay Valley; chairperson was Judy Jaffe. Players from around the world competed and an estimated 8,000 visitors came here to see the action that also was broadcast on Delta College Public Television.
The Essexville-Hampton Community Education program, Bay City Public Schools Community Education, Bay County Recreation Department, Delta College and other organizations like the Bay Valley Tennis Club also were offering tennis classes for players of varying levels of ability, especially beginners.
Among tennis instructors locally were longtime top senior player Wendell Chapin, Delta College Athletic Director Lynn Conway, Bay Valley Pro Ralph Potter, former Bay Valley Pro John Duchaine, Bay Valley assistant Matt Pangborn (now a pro in the Chicago area), Lynn Stamiris and Dan VanSumeren who headed a program for the Boys Club at Kolb Field, and ten lead instructors for the NJTL including Eric Pangborn, a member of the Northwood University tennis team, and Alison Hicks, now a teaching pro in Florida.
Among the tennis courts that have fallen into disuse or eliminated over the past 30 years are the 12 courts (four indoor) at Bay Valley, eight courts at Handy Middle School, four courts at St. Hyacinth, three courts at the Baytown housing complex, two courts at Central High School, two at the Auburn Elementary School, two at MacGregor School and two at Merritt Township Hall, single courts at the fire station at Smith and Transit and the old Woodside School.
Pending is the loss of a popular six court facility in Veterans Memorial Park, one that has deteriorated and is planned for removal by the City of Bay City.
To address the lack of local tennis court facilities blue ribbon committee of local civic leaders is plowing ahead with an ambitious plan for eight new courts on the vacant site of the old Thomas Jefferson School.
Members of the Bay Community Tennis Association committee are: Beth Trahan, Brenda Konkle, Cary Dardas, Darrin McAllister, Dave Rogers, George Lowe (USTA regional representative), Greg Helmling, Harold Holcomb, Jerry Schloff, Jim Gillespie, Joe Ricard, John Billette, John West, Karen Burns, Katherine VanWormer, Morley Fraser, Pauline Helmling, Rick Dryzga, Rick Finn, Shelley King, Sita Compton, Steve Czarnecki, Tammy Brinkman, Wendy Czarnecki.
The group has raised more than $200,000, half the amount needed to build the courts.
The latest message to committee members by Joe Ricard, president of the Bay Community Tennis Association, was hopeful:
"At the City of Bay City commissioners meeting last night, the required five votes were not received to approve a contribution of $25,000 to our tennis court project. The vote was 4 - 4 with one commissioner absent. Voting yes were Stamiris, Terrasi, Davidson, and Basmadjian. Voting no were Niedzinski, Irving, Clements, and Elliott. Brunner was absent.
"While the support of and contribution from the City of Bay City would be real nice, let's be sure we don't spend our time blaming them; that is wasted energy and will not change a thing; let's focus on what more all of us can do to get to our goal. Think of the LARGE number of organizations and people who have decided to say YES to our project; think of Jerry (Dr. Schloff) continuing to go forward and knocking on doors and getting another YES; listen to Greg (Helmling) and his committee as they say YES, the capital campaign will make it happen.
"Thanks to each and every one of you for your support in this project; I speak for many people when I say this project will happen.
"The trees have been removed in order to prepare for the courts. Donations are being accepted to finish up this project. Please send donations to BCTA P.O. Box 607 Bay City, MI 48707. Thank you for your support!"
The need for more tennis facilities is clear, only the will of the community can make it happen. ###
---
---

Dave Rogers




Dave Rogers is a former editorial writer for the Bay City Times and a widely read,
respected journalist/writer in and around Bay City.
(Contact Dave Via Email at carraroe@aol.com)

More from Dave Rogers
---
Send This Story to a Friend!
Letter to the editor
Link to this Story
Printer-Friendly Story View
---
--- Advertisments ---