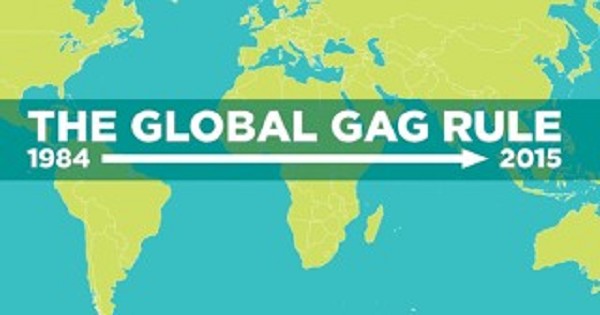 Today's gag rule is over another "hot button" -- abortion.
---
GAG RULE RETURNS: Recent Actions on Abortion Harken Back to Slavery Days
February 5, 2017 Leave a Comment
By: Dave Rogers
No, current intransigence in Washington in which one side refuses to even consider anything the other side proposes is nothing new.
One of the main issues on which it turns is old -- race -- that spawned the first gag rule.
However, today's gag rule is over another "hot button" -- abortion, ignited by President Trump's reinstatement of the so-called Mexico City policy."
Katharine Taylor, a spokesman for the MS Blog, explains: "The Mexico City Policy is called a gag rule because it limits not just what organizations and health providers do but what they are permitted to say. It prevents foreign organizations that receive U.S. government funding from performing abortions -- even if they are using funds from non-US government sources and even if abortion is completely legal in their countries."
Catharine Taylor is vice president for health programs at Management Sciences for Health, a nonprofit global health organization. She commented further:
"The global gag rule also steps right between a woman and her doctor, nurse, or midwife, preventing these frontline health providers from telling their patients about the full, legal range of health options available to them," she says. "It forbids trusted advisers from giving honest, comprehensive health advice and information."
The Mexico City Policy was first put into effect in 1984, but the controversy continued -- much like the old slavery gag rule -- in 1993, 2001 and 2009, when it was repealed, reinstated and repealed again.
Named for Mexico City, the venue of the United Nations International Conference on Population where it was announced, the policy was instituted by U.S. President Ronald Reagan in 1984.
Reinstatement of the global gag rule on abortion was one of Trump's first actions as President, coming in the wake of worldwide protests by women incited generally by his election.
"In addition to increasing unintended pregnancies and unsafe abortions, Trump's gag rule is also a profound betrayal of American values, violating principles of free speech and democracy," says Aram Schvey, of the Center for Reproductive Rights.
Such hostility of tone dates back to 1836 in the heat of the slavery controversy being whipped to flames by James G. Birney, Martin Van Buren and other abolitionists on one side and pro-slavery advocates John C. Calhoun and Henry Clay on the other.
The controversy is sketched in my book, "Apostles of Equality: The Birneys, the Republican and the Civil War," published by Michigan State University Press in 2011.
On May 26, 1836, during the 24th Congress (1835-1837), the U.S. House of Representatives instituted the "gag rule," the first instance of what would become a traditional practice forbidding the House from considering anti-slavery petitions.
Representative James Hammond of South Carolina first proposed the gag rule in December 1835. Speaker James Polk of Tennessee referred the issue to a special committee to resolve the problem which tied up floor debate for weeks.
Committee Chairman Henry L. Pinckney of South Carolina reported back that all petitions, memorials, or resolutions regarding slavery should automatically be tabled and that no further action be taken upon them.
Representative John Quincy Adams of Massachusetts raised the first and most impassioned objections to the procedure. Adams shouted during the roll call vote, "I hold the resolution to be a direct violation of the Constitution of the United States."
For the next four Congresses, Adams fervently fought against the gag rule, declaring it a restriction on free speech. Despite his efforts, the House successfully reintroduced the gag rule each Congress until Adams finally mustered enough votes to repeal it on December 3, 1844.
Expect more gridlock in Washington, and in the nation's courts, over this and other issues, until the new Supreme Court justice is approved.
Then, all bets are off.
###
---
---

Dave Rogers




Dave Rogers is a former editorial writer for the Bay City Times and a widely read,
respected journalist/writer in and around Bay City.
(Contact Dave Via Email at carraroe@aol.com)

More from Dave Rogers
---
Send This Story to a Friend!
Letter to the editor
Link to this Story
Printer-Friendly Story View
---
--- Advertisments ---