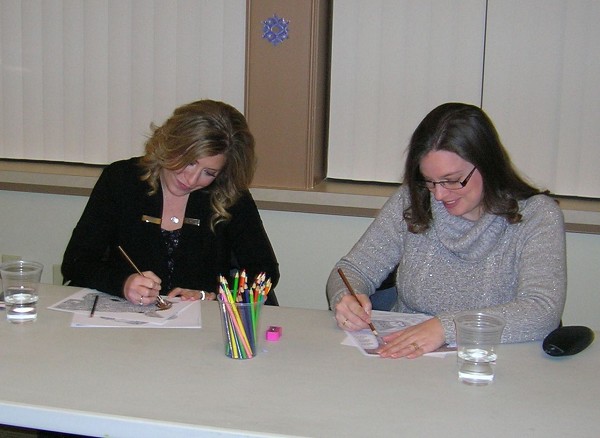 Laura Corbat and Kati-Lyn Raymond, both of Bay City, enjoy a mommies night out at the Sage Branch Library Adult Coloring Club.
---
For a group of 12 people, coloring is the "in" thing
January 8, 2017 Leave a Comment
By: Pati LaLonde
A frosty winter evening couldn't keep Rose Palmer from heading over to the Sage Library for the Adult Coloring Club.
"I've been doing since it started," the Bay City resident said. "I like to color and I thought it would be fun. I like to visit with people."
Bennet is one of the group of 10 to 12 regulars who have been meeting once a month for about a year to color and chat.
Kirsten Wellnitz, a managing librarian at the Sage, says the club has been a hit since it began with both women and men of all ages since it began about a year ago.
"People are excited," she said. "We have a good following and new faces are always welcome."
The adult coloring isn't just a Bay City thing, it's happening around the country, with adult coloring books becoming best sellers.
As the group arrives each chooses a picture from stacks of flowers, animals, birds, tanks, airplanes before settling around tables placed in a circle.
Pictures are studied and colors were chosen, and coloring begins.
Although this is a coloring club, it goes way beyond that.
For Liz Bennett of Kawkawlin, it's about being around people and forgetting the troubles of the day.
"It's relaxing," said Liz Bennett of Kawkawlin. "You're not thinking about all the stuff going on in the world. I'm retired. I like the camaraderie."
Camaraderie it is as the women color and chat about recently read books, crocheting, and memories of Bay City.
For Laura Corbat and Kati-Lyn Raymond, two of the younger members of the group find the stories fascinating.
"It's interesting to hear some of the stories like the things they did when they were younger,? said Corbat as she worked on coloring a horse. "When we leave here we go out for drinks."
Corbat says she tends to choose animals to color, while Raymond leans towards birds, choosing an owl on a branch.
All are quick to compliment each other's work.
"You can only get so much done during the evening," said Marilyn Janke of Essexville. "But once you can do, it's color, color, color."
Unfinished work can be taken home.
There isn't any set monthly day for the club to meet, so check the Web site, says Wellnitz, but did offer that the next Adult Coloring Club meets from 6-7:30 p.m. Feb. 2 at the Sage Branch Library, 100 E. Midland St. Registration is requested by calling 892-8555, ext. 202 or online at http://www.baycountylibrary.org.
Wellnitz is also sending out a call to family, friends, scouts, youth groups, etc for the Team Jigsaw Puzzle Challenge taking place from 6-7:30 p.m. Feb. 23 at the Sage.
The challenge is to complete a 500-piece jigsaw puzzle in the hour and a half.
Since there is only room for six teams, registration must be in by Jan. 23.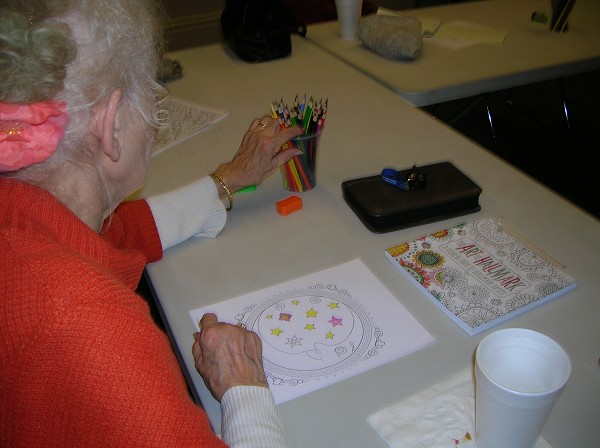 Liz Bennett of Kawkawlin enjoys coloring today as much as she enjoyed coloring with her mother when she was a youngster.
Photo by Pati LaLonde
© MyBayCity.com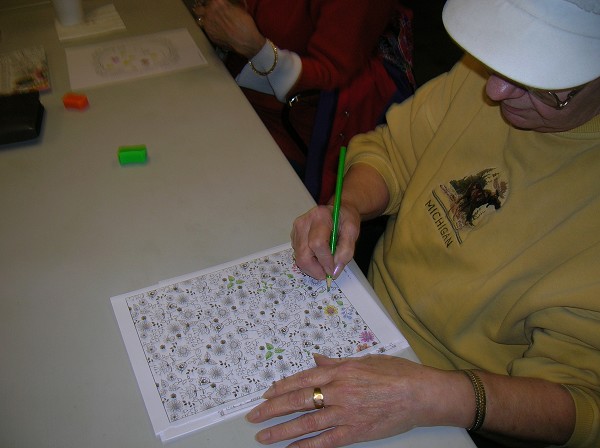 Marilyn Janke of Essexville puts pencil to paper adding color, color, color to flowers and leaves.
Photo by Pati LaLonde
© MyBayCity.com
---
---

Pati LaLonde




Pati is a freelance writer with experience in all things pertaining to Bay County, Michigan.

More from Pati LaLonde
---
Send This Story to a Friend!
Letter to the editor
Link to this Story
Printer-Friendly Story View
---
--- Advertisments ---