THROWBACK LAKE TROUT: Researchers Snag Yesteryear Fish in Elk Lake
January 21, 2017 Leave a Comment
By: Dave Rogers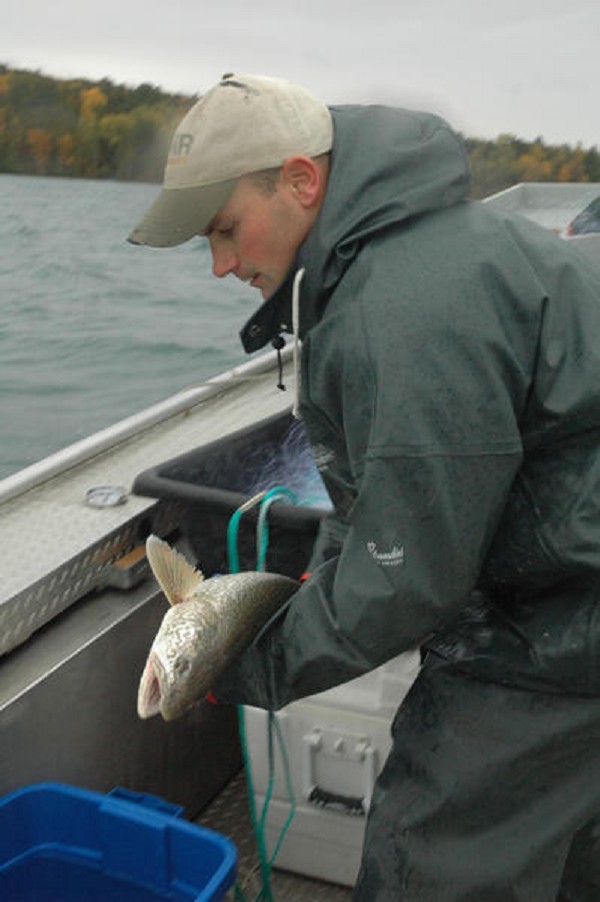 The Petoskey News Review snapped Nathan Skop, DNR fisheries technician, with throwback lake trout caught in Elk Lake, Antrim County, tagged and released.
Lake trout perhaps descended from native fish of a century ago have been caught in Elk Lake in Antrim County.
Researchers remain querulous about a very special population of fish lurking deep in Elk Lake that shares a unique heritage, linking them to the native lake trout that disappeared from Lake Michigan over 50 years ago.
Killed by invasive sea lamprey from the Atlantic Ocean and heavily netted, the native populations of lake trout were wiped out of Lake Michigan by the late 1950s. Only small, remnant populations survived in Lake Superior and other distant corners of the Great Lakes," says State fisheries biologist, Jory Jonas, of Charlevoix, adding: "Lake Michigan does not have any remnant forms. And, at this time, every fish that you collect, except for a few, are from stocking, primarily from the U.S. Fish and Wildlife Service."
Jonas points out that researchers have believed that there were no native lake trout left anywhere in the Lake Michigan basin. So, she had quite a surprise while working with an inland lake survey:
"They set this large trap net and they caught two lake trout and I happened to be onboard when they caught them. And I started asking questions. They looked like something different, and I wanted to know why they were there and who they were."
Since the mid-1960s, the U.S. Fish and Wildlife Service has worked with other state and federal agencies, Indian tribes, and academic institutions to rebuild a self-sustaining population of lake trout in Lake Michigan. State hatcheries raise fish from eggs and broodstock taken from distant places like Lake Superior and even the Finger Lakes of New York. Each of these strains of lake trout looks and behave a bit differently from each other.
Research by Jonas and her colleagues shows that the Elk Lake trout is genetically distinct from the fish currently being stocked in Lake Michigan, and it looks different too. This fish is more torpedo shaped than the others, with slightly different fin characteristics.
And the last time lake trout could move between Lake Michigan and Elk Lake? In the late 1800s or early 1900s, said Jonas, before the lake was dammed off from Grand Traverse Bay -- which means this population of lake trout has remained pure for more than 100 years. There is one exception, though: the DNR stocked the lake with lake trout for a few years in the 1980s -- but samples from the fish Jonas is currently studying proved genetically different from the records of the fish that were stocked in the '80s. "They were absolutely not related to those fish," said Jonas. What is making Jonas so eager to study the population is the impact those fish might have on the hatchery strains the DNR currently uses to stock the Great Lakes -- strains which are struggling. Recent research conducted by a CMU graduate student, Kyle Broadway, indicates that the Elk Lake strain also behaves differently than the other stocked trout.
"The Elk Lake fish," Broadway says, "tended to occupy much lower temperatures than what Great Lakes or Finger Lakes-origin lake trout were shown to occupy."
The trout, like their century-old counterpart, spawn in more than 100 feet of water -- indicating that these trout are one of the deepwater forms that used to exist in Lake Michigan.
"If you talk to any of the old fishermen or look at the records from Lake Michigan, they swear the trout used to spawn out in the deep water, in the middle of the lake. ... It'll be interesting to study because it would reintroduce genetic diversity that we can't find anymore," said Jonas. "Lake trout are native, which is why we care about them so much. They're one of the few things that are anymore."
Broadway, Jonas and other researchers hope that the Elk Lake strain of lake trout might help to restore self-sustaining populations in Lake Michigan someday. If this fish can be raised in hatcheries and re-introduced, the Elk Lake strain might occupy colder, deeper water than other predator fish, like salmon and other lake trout. At those depths, it might also avoid commercial fishing nets.
Jonas says restoration of naturally reproducing lake trout would be a big success for fisheries biologists. The restoration of lost genetic diversity Jonas says, "would also be extremely valuable, and create a more resilient population to handle future changes that might be down the line."
Over the last few years, researchers have been finding more and more wild fish, as opposed to hatchery-raised fish. That suggests that the lake is changing in ways that are helping this native predator reproduce in the wild.
So, researchers conclude maybe this is a good time to re-introduce one of Lake Michigan's original strains of lake trout hidden for so many years in Elk Lake.
###
---
---

Dave Rogers




Dave Rogers is a former editorial writer for the Bay City Times and a widely read,
respected journalist/writer in and around Bay City.
(Contact Dave Via Email at carraroe@aol.com)

More from Dave Rogers
---
Send This Story to a Friend!
Letter to the editor
Link to this Story
Printer-Friendly Story View
---
--- Advertisments ---