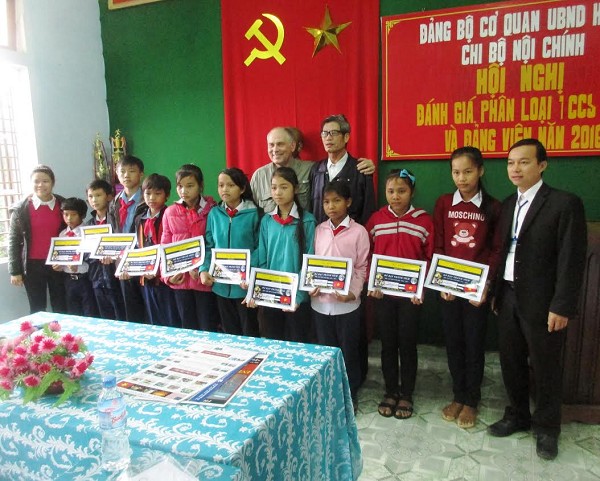 Dr. Tim Eckstein, rear, left, poses with Vietnamese officials and the 10 "Bay City Scholars" with certificates awarded by Dr. Tim from from the Bay Veterans Foundation.
---
BAY CITY/ FAR EAST CONNECTION: Dr. Tim Eckstein Reaches Out Across Globe
Children's Library International Support is Aim of Bay Veterans Foundation
January 13, 2017 Leave a Comment
By: Dave Rogers
Bay City veterans have connected with an international library project and are carrying the message that we in mid-Michigan care about providing the means of knowledge to underprivileged children.
To that end, Bay City physician Dr. Tim Eckstein, a retired Navy captain and board member of the Bay Veterans Foundation (BVF) traveled thousands of miles recently on a 16-day Far East trip behalf of Children's Library International.
His trip was a monumental undertaking: it touched down in South Korea, Vietnam, Laos, Cambodia, -- places familiar from headlines about war in past years and places where Bay City veterans have served.
Dr. Tim explains:
"Tim Eckstein, local physician, Vietnam Veteran, Retired Navy Captain, and Board Member of Bay Veterans Foundation, became acquainted with Colonel Roger Donlon, Special Forces Recipient of the Congressional Medal of Honor in 2002 and they began a working relationship which resulted in Dr. Eckstein becoming a Board Member of Children's Library International. Col. Donlon is now Honorary Chairman of the Board of the Bay Veterans Foundation.
The connection with Col. Donlon led to a project in which he has an interest, Children's Library International, headed by Vietnam veteran Chuck Theusch.
"As an Infantry Veteran of Vietnam (Company E, 4/3 Infantry 11th Inf. Bde, Americal Div. Vietnam 1969-70), Chuck Theusch, a retired attorney from Milwaukee, founded the Library of Vietnam Project in 1999 when he returned to Vietnam for the first time since 1969-70.
It has evolved into Children's Library International (CLI). CLI is modeled after and works with People to People International which was founded by President Dwight D. Eisenhower. (Readers may recall of Bay City's early 1950s-1960s history with People to People, an affilation fostered by former Mayor James Tanner and longtime Bay City Times writer Leslie E. Arndt.
Chuck Theusch has since returned 45 times representing CLI. Chuck and his wife Khoi reside in Quy Nhon Vietnam about 5 months annually.
From the CLI website: "In Countries scarred by war and poverty, Children's Library International is building a new vision of hope, one library at a time to the underprivileged children and communities so that they can have access to knowledge so that they can better their lives.
"Children's Library International builds Library/Learning Centers in various undeveloped countries around the world as living monuments to peace and goodwill among peoples. It explores and acts upon opportunities to improve the health, education, and welfare of the individuals in the communities these facilities serve.
"Finally, it builds enduring personal relationships between and among all who become part of the library family, whether sponsors, travelers, government officials, war veterans, citizens, adults or children -- with the primary focus on children, their hopes, dreams, and aspirations for their futures.
"Our core philosophy is truly American, the common man can get things accomplished and that's where the real power to change things is. Our approach is not only very American; it's very Oriental too. It is the 'little guy' that does big things. Added to this is the fact that we are here to stay and help, well after the building is built. Upon leaving each library and site after work is done, we have two important messages that we leave with the people: "we will be back" and "this is only the beginning."
Having eventually been convinced by Chuck Theusch of the critical importance of creating a people to people profile for the work of CLI, Dr.Tim agreed to participate in an extensive tour of projects throughout Vietnam, Cambodia, and Laos.
The visit involved 45 stops which included 6 school and library projects, an unexploded ordinance recovery project, three orphanages, a leper colony and several memorials and historical sites including My Lai Vietnam and the Khmer Rouge killing fields of Siem Reap Cambodia.
A Memorandum of Understanding was crafted for a new library project in Phonsavath Laos to accommodate a settlement for 17 villages that were displaced as a result of the building of a dam in northern Laos, the impellers of which were actually made in Bay City at Bay Cast, Inc. a company run by the Holman brothers that recently has participated in a BVF project by furnishing replica cannon in Battery Park in Downtown Bay City.
The centerpiece of the visit was granting of 10 TEAM Scholarships (Together Everybody Achieves More) to underprivileged Montagnard middle school scholars which was sponsored by the Bay Veterans Foundation for the Nam Dong Library, to celebrate its 5th Anniversary. Nam Dong being the site of action for which Roger Donlon received his Medal of Honor .
The trip covered 16 days and travel was both brisk and tightly scheduled. Cars, busses, cyclos, boats, planes and some travel on foot was required to keep the tight schedule. CLI bestowed a total of about 50 scholarships among the several schools and libraries we visited .
Commented Dr. Tim: "The response of these children and their families was beyond belief. They were so grateful, and each of wrote a letter of appreciation. One girl even prepared and sang a song written for the occasion. The English teachers are universally ecstatic for the presence of CLI and of the opportunities afforded the children by these scholarships. While these countries are communist-governed, the people unashamedly love Americans and look to America as a beacon of hope for education, finance, industry science, and technology. We were monitored in our activities by the local communist governments, but this was a matter of standard policy and none of the security agents was anything but cordial, we shared numerous meals with them and we even had lunch in their homes -- one of whom was a leader in the Viet Cong during the Viet Nam War."
CLI has partnered with the Bill and Melinda Gates Foundation allowing CLI to place up-to-date computer stations in most of the library setting. The expression of appreciation and the excitement of the students and faculty is something to behold. Allowing folks from the most remote areas to connect with the rest of the world's something almost unimaginable a few years ago.
One of the more impressive practices of CLI is the established policy of "We Always Return." The local dignitaries have come to expect CLI to follow-up on these projects, monitor the progress, and continue support. So, when CLI shows up, the turnout is impressive.
---
---

Dave Rogers




Dave Rogers is a former editorial writer for the Bay City Times and a widely read,
respected journalist/writer in and around Bay City.
(Contact Dave Via Email at carraroe@aol.com)

More from Dave Rogers
---
Send This Story to a Friend!
Letter to the editor
Link to this Story
Printer-Friendly Story View
---
--- Advertisments ---