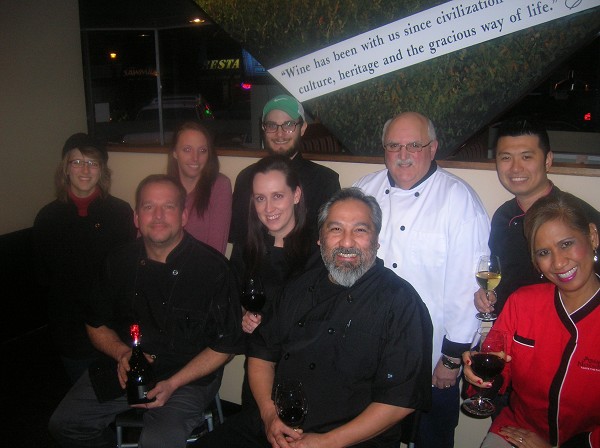 Meet the chefs: Back row, left to right, Heather Baker, Heather Ebelt, Ryan Wegener, Jim Martini, James Ung Front row, left to right, Matt Chartier, Jessica Perdue, Fred Garcia, Susan Fassbender.
---
Chefs go wild for Bay Area Women Center's Wild Game Dinner & Wine Tasting
January 16, 2017 Leave a Comment
By: Pati LaLonde
They call themselves a package deal - Fred Garcia and Jim Martini. Those opening that package for the Bay Area Women's Center's fifth annual Wild Game Dinner and Wine Tasting are going to find some wonderful food items inside.
Chefs teaming up with Garcia, owner of Tipsy Bear Bistro, West Branch, and Martini, from Sheffield Bay, are Matt Chartier, VNO Wine Warehouse & New Age Restaurant, Heather Ebelt, assistant manager of Cops & Doughnuts, Susan Fassbender, owner of Asian Noodle, James Ung, Blossoms Asian Bistro, Ryan Wegener, Old City Hall, Heather Baker a Northwood University student, and Jessica Perdue fromTipsy Bear.
The event, with the theme "International Flavors to Savor," runs from 5:30-9 p.m. Feb. 4 at the Scottish Rite Center/The Consistory, 614 Center Ave.
Tickets are $75 before Jan. 25, and $85 after that date by calling 989-686-2251, logging on to http://bawc-mi.org/site15/ or emailing Lynn Weaver, director of development at LWeaver@bawc-mi.org.
Last year the event raised $46,000 for the center's general fund. Weaver is hoping for $48,000 this year to fund programs such as counseling hundreds of men, women and children who experience domestic violence, providing shelter, food and safety to more than 250 women, men and children in the facility, examinations by specially trained nurses of nearly 100 adults and children who are sexually abused and counsels and advocates for hundreds of sexually assaulted women and children.
This, says Lynn Weaver, director of development, is just the tip of the iceberg.
"We supply extensive counseling for victims of sexual assault and domestic violence," she said. "Not everyone (we help) is in the shelter. We offer counseling on healthy relationships, and counsel children, whether they are victims or witnesses We help over 2,000 people a year, and that's not counting the youth prevention services."
Weaver says that once again, the shelter has been full all year.
Full is also what's expected at the dinner. Weaver says the 300 tickets sell out fast.
The menu and wine and craft beer pairing: Coq Au Vin Rouge with French Bordeaux Grilled Elk Steak Kabobs with Spicy Korean BBQ Sauce and Rice with Cabernet Sauvignon Wild Red Shrimp Stir Fry with Fresh Vegetables and White Rice with Pinot Grigio Smoked Wild Boar with Wild Mushroom Cream Sauce with Petite Sirah Blackened Buffalo Sliders with Bleu Cheese and Bacon on Garlic Rolls with Tri-City Brewing Company's Phelan Irish Red and Giant Slayer Russian Imperial Stout Greek Inspired Lamb and Beef Meatballs with Feta and Black Olives in Roasted Tomato Sauce with Sangiovese Wild Caught Tuna Salad Napoleons with Roasted Tomato, Garlic, & Basil Vinaigrette with Capers and Sauvignon Blanc Smoked Cheddar and Chive Potato Latkes topped with Hardwood Smoked Salmon & Creole Remoulade with Barrel Aged Chardonnay Hunters Jambalaya, Pheasant and Louisiana Tasso Ham with Saffron Wild Rice Blend with Pinot Noir Venison Carnitas in Flashed Fried Corn Tortillas with Fresh Black Bean and Corn Salsa with South African Pinotage Macadamia Crusted Halibut with Mango and Vanilla Butter Sauce with Late Harvest Michigan Reisling Flaming Peach Melba with Vanilla Ice Cream and Pound Cake & Gourmet Cupcake Shoppe Desserts with Moscato and Chilled Sweet Red Wine
Food isn't the only reason to stop in. Some pretty fine items have been donated for live and silent auctions.
Auction items include artwork, restaurant gift cards, event tickets, jewelry, spa gift cards, great gift baskets, as well as these items as well as a gourmet dinner in your home by Chef Fred Garcia, wine and beer tastings, Yeti Cooler, kayaks, guided pheasant hunt, wine cooler, Mackinac Island carriage tour and many more items.
Action items and sponsorships are still needed by calling Weaver.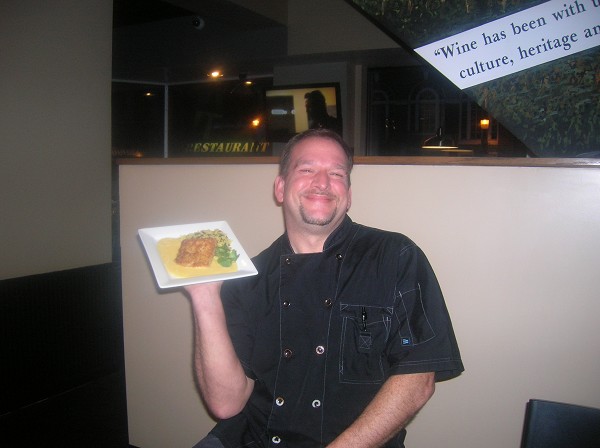 Matt Chartier will be cooking up Macadamia Crusted Halibut with Mango and Vanilla Butter Sauce
Photo by PatiLaLonde
© MyBayCity.com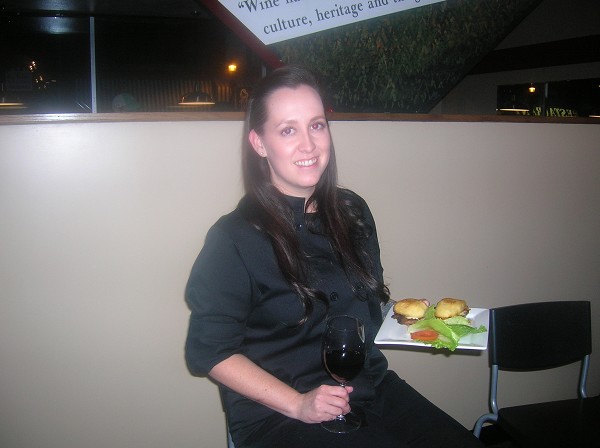 Jessica Purdue offers Blackened Buffalo Sliders with Bleu Cheese and Bacon on Garlic Rolls.
Photo by Pati LaLonde
© MyBayCity.com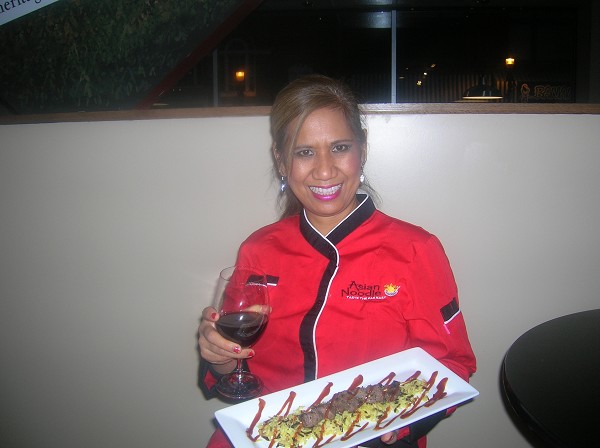 Susan Fassbender shows off Grilled Elk Steak Kabobs with Spicy Korean BBQ Sauce and rice.
Photo by Pati LaLonde
© MyBayCity.com
---
---

Pati LaLonde




Pati is a freelance writer with experience in all things pertaining to Bay County, Michigan.

More from Pati LaLonde
---
Send This Story to a Friend!
Letter to the editor
Link to this Story
Printer-Friendly Story View
---
--- Advertisments ---