REGIONAL APPROACH KEY? Bay Future Chief Departs As Consolidation Fires Up
Eight County Co-ordinated Efforts Already Underway, Said More Effective
January 21, 2017 Leave a Comment
By: Dave Rogers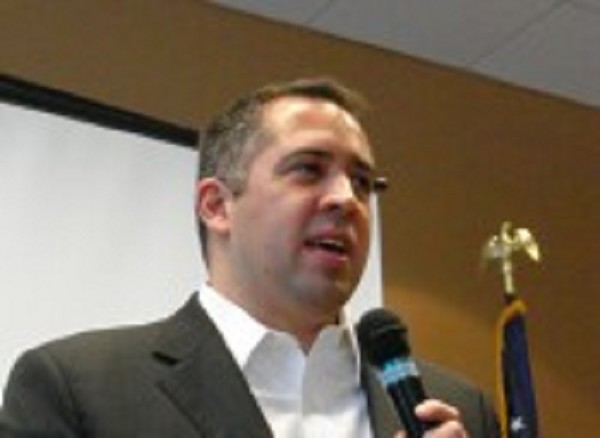 Matt Felan, pushing eight county coordinated regional economic development.
What can eight counties working together do that one county can't?
That's the question as local observers are puzzling over the sudden departure of Bay County's economic development chief, with rumors swirling about the reason he left.
The Bay Future Executive Board recently announced the resignation of Mark D. Litten, CEO and President of Bay Future, who has served in this capacity for the past two years. The job reportedly paid about $120,000 a year, one of the highest salaries of anyone in a public job locally.
A new thrust into consolidated regional economic development for eight counties is already underway, so some observers theorize that Litten, realizing that Bay Future may soon be overshadowed by the larger organization, may have decided his future here would be circumscribed and it was time to move on.
Plus, the Great Lakes Bay Regional Alliance, the eight-county consortium, recently hired an Ohio company to do the outreach promotional work that perhaps is beyond the capacity of individual county organizations.
For his part, Mr. Litten is not commenting, according to MLive.com.
Litten's main success while at the helm of Bay Future, Inc., was in fundraising.
"Mr. Litten has helped define the future direction of our organization with the successful development and implementation of Bay Future's Strategic Plan. In addition, Bay Future conducted a successful Fund Raising Campaign, "The Future is NOW", that exceeded our goal of $1.2 million," the organization commented.
During the past two years, Bay Future has been responsible for bringing over 600 new jobs and $150 million in investment to Bay County.
"Mr. Litten advised the Board that he is pursuing "other professional opportunities in economic development, and has enjoyed the many relationships he made in Bay County," the Bay Future statement amplified.
"The Bay Future Board is actively working towards the replacement of Mr. Litten and has positioned itself towards a continued strong economic development program throughout Bay County. We will continue to strengthen our partnerships with the City, County and local governments, the MEDC, private investors, as well as the Great Lakes Bay Regional Alliance.
"During the upcoming recruitment process, Mr. Trevor M. Keyes, Vice-President of Economic Development, will be the point of contact for Bay Future, Inc."
Matt Felan, president and CEO of the Great Lakes Bay Regional Alliance, interviewed Dec. 23, 2016, by Andrew Dodson of the Bay City Times, had this to say about the benefits of the regional approach:
"A lot of times, each little region or municipality ends up on a spreadsheet. Bay County has about 100,000 people with a specific number in its workforce. A lot of times, that doesn't meet the minimum thresholds on where Company Y should move. When we're eight counties, we have a population of 570,000 and a labor force of 260,000 and 25,000 unique businesses. Those are threshold numbers and it automatically makes us competitive."
Reporter Andrew Dodson asked: "So, what are you guys doing to get these new companies?"
"We recently hired a firm out of Ohio called Silverlode that developed a comprehensive attraction plan that we can then take to trade shows and meet with companies who we want to try and recruit."
Ironically, the chief of Silverlode, Steve Weitzner, hails from the same Lake Erie area of Ohio where Mark Litten previously headed economic development.
Mr. Felan summarized the goals of the economic development campaign: (We're aiming at) "very specific industries, like the frozen food industry. We have heavy ties to agriculture and we're in a world with an increasing population. There are more people to feed. We can export that product all over the world. There's a lot of opportunity for that here."
It seems like economic development here is on the move and that the regional approach has the greatest potential. We wish Mr. Litten well in his future and congratulate him for his successes while serving at Bay Future.
---
---

Dave Rogers




Dave Rogers is a former editorial writer for the Bay City Times and a widely read,
respected journalist/writer in and around Bay City.
(Contact Dave Via Email at carraroe@aol.com)

More from Dave Rogers
---
Send This Story to a Friend!
Letter to the editor
Link to this Story
Printer-Friendly Story View
---
--- Advertisments ---