Can the Tri-Counties Replicate Lansing's Success with General Motors?
Three Local Groups Hear Pep Talk
From Lansing Mayor Hollister
December 15, 2002 Leave a Comment
By: Dave Rogers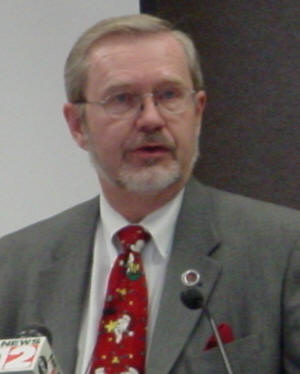 Lansing Mayor David Hollister
addresses Community Leaders
What does the tri-county area need to do to secure new General Motors plants like Lansing has done, adding $2 billion in investment, in the past 10 years?
Get all factions in the community together, improve your schools and political climate, offer tax abatements and get all people in the community involved.
Three local groups concerned with economic development heard that message from Lansing Mayor David Hollister, who came to Saginaw Valley State University Dec. 5 and spoke to about 100 community leaders.
Sponsoring groups were the Saginaw Valley Manufacturing Association, the Tri-County Economics Club and Saginaw Future. JoAnn Crary of Saginaw Future introduced Mayor Hollister, who gave the area a jolt when he said: "Get your act together or get run over. Business and labor and local units of government and people in the neighborhoods have to work together."
Attending the luncheon were the mayor and mayor pro-tem of Saginaw, the acting city manager and development director of Bay City and the supervisor of Bangor Township. Some observers were disappointed by the lack of attendance from other elected officials and school leaders.
Saginaw City Manager Bill Bailey and Mayor Wilber Jones-Ham have proposed an initiative named "Team Saginaw" to persuade GM to invest in its new Generation IV V-8 aluminum engine program at Saginaw Metal Castings.
Hollister was enthusiastic about the success of Lansing despite opposition from dissident groups he called CAVE people (Citizens Against Virtually Everything). He described a contentious battle over a proposal in 1993 to give a $24 million tax abatement to a $600 million plant for production of the Oldsmobile Olero, preserving 14,000 jobs.
Referring to the opposition, Hollister recalled: "Some of these people thought tax cuts for GM would be corporate welfare, others said 'they can't leave because they have too much invested,' and others thought Lansing would be better off without GM."
City leaders mobilized business, labor and civic leaders to launch reform and improvement efforts to make sure that the GM jobs stayed and to create conditions favorable for GM plant expansions and new plant locations. The three city council members voted against the tax abatement were voted out of office at the next election, Hollister noted.
Performance of students in the Lansing schools was a major issue. The dropout and attendance rates were about 30 percent each, students were underperforming on standardized tests and the Lansing district was losing about 1,000 kids a year to the suburbs and home schooling.
"We knew changes had to be comprehensive and that the community had to be pro-active," Hollister said. A three-pronged strategy was developed:
1. A 50-member blue ribbon school improvement task force was convened under leadership of Dr. Peter McPherson, president of Michigan State University; 2-A political strategy was devised; and, 3. Formed "Lansing WORKS," a blue ribbon committee to keep GM.
"We needed to educate Detroit why it was good business to build their first new plant in the United States in 15 years in Lansing. He noted that GM has been locating new plants in Brazil, Russia and China, avoiding the U.S. because of labor costs, environmental and regulatory barriers.
A unified effort with a single focus was necessary, the committees decided. Media activity was handled by a QRT (Quick Response Team) which would jump on negative news with positive reports about Lansing. Billboards were posted from Lansing to Detroit extolling the benefits of Lansing. Bumper stickers and radio ads repeated the pro-Lansing message. The hometown of MSU even engaged the University of Michigan to research how General Motorsimpacted the region in economic development. This was key to convincing local people of the benefits of large industrial plants and employment.
The city of Lansing and surrounding townships were among 41 local units which set aside turf battles and signed a pact with Lansing to keep property taxes level and give priority to keeping GM in the community. Brownfield redevelopment projects were launched to recover polluted land.
For the past five years all economic development issues have been unanimously approved by local governments, Hollister noted. A host of school improvement strategies have been launched, mainly focusing on the development of children birth to age five, considered the key years. A $2.5 million Hope Scholarship program has been offered to 600 at-risk sixth graders with parents who have signed contracts to help their children learn "wildly enthusiastic" about the program, Hollister said. Teams of senior citizens have been deputized, given walkie-talkies and sent to themalls to bring in truant students. Attendance and achievement are up, he says. But, most importantly, GM and other employers can be confident that the community is doing all it can to help kids learn.
As a result of all these efforts, GM has asked Lansing for 1,000 acres instead of 80 acres for development of Cadillac Eldorado, Chevrolet Malibu, Powertrain and Cadillac CTS facilities. "We are the only community in the world where an auto manufacturer is building two new plants," Hollister boasts, calling Lansing a "world class city" just as the products of her factories must be world class.
Hollister noted that author Richard Florida, a professor at Carnegie Mellon University in Pittsburgh, has rated Lansing the seventh most creative city in America in his best-selling book "Rise of the Creative Classes." The author's contention is that areas with the most creative people will prosper and grow while others will wither.
Can the tri-county area do what Lansing did? "It's not thatcomplicated a plan, but it is difficult to achieve," says Hollister, concluding with his warning: "Get your act together or get run over."
---
---

Dave Rogers




Dave Rogers is a former editorial writer for the Bay City Times and a widely read,
respected journalist/writer in and around Bay City.
(Contact Dave Via Email at carraroe@aol.com)

More from Dave Rogers
---
Send This Story to a Friend!
Letter to the editor
Link to this Story
Printer-Friendly Story View
---
--- Advertisments ---