Abe Lincoln History Trip to Springfield, Illinois, Set by Civil War Group
History Buffs to Tour "The City That Lincoln Loved" on Three Day Sojourn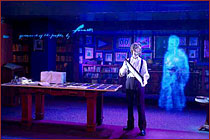 Lincoln's Eyes: Multi-layered, multi-screened presentation surrounds visitor on three sides.
If you love American history, here's your chance to visit the Abraham Lincoln historic sites in Springfield, Illinois with a compatible group of travelers.
Bay City's 7th Michigan Cavalry Civil War Round Table is sponsoring a three-day trip toSpringfield via Mitchell Motorcoach on April 28-30. Cost of the bus trip is $95. You pay your own meals and room costs. Call Dee Dee Wacksman, 892-1136 for reservations and make your deposit of $95 by the April 12 dinner at the Stein Haus.
Climb aboard and share your knowledge of Lincoln and the Civil War with a busload of history buffs. Everyone will have a chance to tell what they know about the most exciting era in American history to a group of eager listeners.
Bay City's pioneer Birney family was well acquainted with Mr. Lincoln because of their common abolitionist philosophy, although Lincoln usually qualified his stand for political purposes.
James G. Birney was the anti-slavery candidate for President twice, in 1840 and 1844, paving the way for Lincoln. Gen. David Bell Birney visited President Lincoln in the White House in 1963 seeking promotion to major general, a post he eventually was given by Gen. U.S. Grant. Gen. William Birney corresponded with Lincoln abouthis activities in recruiting black troops in Maryland.
Tour information follows:
Abraham Lincoln & The City He Loved.
This tour begins by visiting the new, world-class Abraham Lincoln Presidential Museum, where scholarship and showmanship combine, using 21st century technology to immerse visitors in the world of gas lamps and hoop skirts - the world of Abraham Lincoln.
Then, it's on to the Lincoln Home National Historic Site, a restored four-block neighborhood with a quaint, Quaker-brown residence - the only home Lincoln ever owned - and the home of the Lincoln family for 17 years (1844-1861) - as its centerpiece.
The group will enjoy a guided tour of this national treasure, conducted by National Park Service Rangers. We will stop by the Lincoln Home Visitors Center first for free tickets to tour the Lincoln Home, as well as free audio-visual programs and exhibits.
After lunch, it's on to a guided tour of the Old State CapitolState Historic Site, a magnificently restored building with period furnishings. It was here, in the Hall of Representatives, where Mr. Lincoln uttered some of his most famous words - "A House divided against itself cannot stand". Lincoln served nearly 20 years here as an Illinois legislator, and as a lawyer, tried hundreds of cases before the Illinois Supreme Court.
Just across the Old State Capitol Plaza, your group can tour the only remaining original Lincoln law office. Lincoln practiced here in the Lincoln-Herndon Law Office from 1843-1853.
Last stop for the first day, Lincoln's Depot, where President-elect, Abraham Lincoln, departed his beloved Springfield for an uncertain future in Washington D.C. The Depot features restored waiting rooms (one for the ladies and one for the luggage and tobacco-spitting men), exhibits of the people and places dear to Lincoln, an exciting audio-visual show recreating the 12-day journey to Washington D.C. for his inauguration as the 16th President of the United States.
After a full day of sightseeing, check in at your hotel for a chance to relax and refresh. Enjoy dinner at the hotel or at any one of our wonderful Springfield restaurants. The Bay City group's tour headquarters will be at the Springfield Hilton, but travelers may opt for any downtown hotel depending on their budget and desires for accommodations.
Day Two begins with a moving tour of the second most visited cemetery in the United State, Oak Ridge Cemetery. This beautiful, 300-acre cemetery is the final resting place of Abraham, Mary Todd, Tad, Eddie and Willie Lincoln. (Oldest Lincoln son, Robert, is buried in Arlington National Cemetery.) Other notable historic figures are also buried here, including: famed labor leader, John L. Lewis; American poet, Vachel Lindsay; four Illinois governors; and Lincoln's law partner, William Herndon. The grand Lincoln Tomb monument was designed by sculptor, Larkin Mead, completed in 1874, and paid for with public donations. The original receiving vault in which Lincoln was buried can also be seen on the tour of the cemetery.
The Mitchell bus will depart for Bay City about noon after the morning tour.###
---
---

Dave Rogers




Dave Rogers is a former editorial writer for the Bay City Times and a widely read,
respected journalist/writer in and around Bay City.
(Contact Dave Via Email at carraroe@aol.com)

More from Dave Rogers
---
Send This Story to a Friend!
Letter to the editor
Link to this Story
Printer-Friendly Story View
---
--- Advertisments ---