Dr. Jeff Abernathy, President of Alma College, spoke to Rotary
January 24, 2017 Leave a Comment
By: Stephen Kent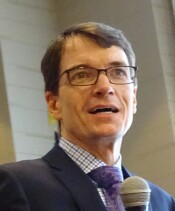 Jeff Abernathy
Dr. Jeff Abernathy, President of Alma College,
spoke to Rotary Tuesday about Alma College and the value of a liberal arts education in an STEM-focused world. Abernathy was introduced by Jeffrey Weenink, pastor of First Presbyterian Church, who talked about the connection of the Presbyterian Synod of Michigan that founded Alma in 1886 with support from lumber baron Ammi Wright.
Abernathy talked about the benefits of the school, its programs, and its connection to the Presbyterians (the original mascot was the "Fighting Presbyterians", which was eventually changed to a Scottish Highlander).
Alma remains a "college" where other schools of a similar size have become "Universities". Abernathy says the Alma feeling is that "college" more accurately reflects the values and mission of Alma. He said changing the designation to University would be more marketing than a true reflection of the school.
The school is a private college with about 1,400 students. As a private school, it is considerably more expensive than a state school. But Abernathy also noted that the school has a very large endowment and provides significant support to students. The actual cost is often half the published prices.
Alma is proud of a personalized education where faculty and students work very closely together. They are also proud of the fact that students graduate in four years, not the typical five or even six years that has become the norm.
As part of its promise to students, the college makes the Alma Commitment which gives $2,500 in "Alma Venture" funding to every student to use toward an internship, research fellowship, or study abroad.
As the end of his talk, Abernathy answered a number of question from Rotarians.
For more information visit
www.alma.edu
---
CLUB NEWS and ANNOUNCEMENTS
Harvey Schneider noted that we received a thank you from one of our Community Grant recipients, which he ready to the club.
Lee Newton reminded members that the Rotary Concert will be held on March 30. Former club president Ron Bloomfield, now working for CMU, has volunteered to help organize the program again this year. Lee will be selling program ads at upcoming meetings.
Thanks to Anne Trahan who brought her portrait equipment and took photos of a number of members. These have been uploaded to the website for the various directories offered there.
On February 14th, the club will hold a joint meeting with the Optimists as they hold their Unsung Hero Luncheon and recognition. This will be at our normal meeting time and location. Note that it is also the day for the monthly board meeting, which will be held at 11:00 am. Current and past
DISTRICT DISPATCH
newsletters are available on the District site shown in the LINKS section below.
---
DATES TO REMEMBER
Optimist Unsung Hero Luncheon
February 14, 2017. At the Doubletree at our regular meeting time. (The club board meets at 11:00 on the same day.)
OFF SITE Meeting
-
March 7
At the Delta College Planetarium.
(Also May 16, June 6)
Rotary Concert
March 30 at the State Theatre.
June 10-14, 2017 Rotary International Convention - Atlanta, Georgia, USA
www.RotaryConvention2017.org
OR
www.RIConvention.org
Dee Dee Wacksman, District Chair
November 7, 2017 - Vocational Day
---
Upcoming Programs
(See the official schedule at RotaryBayCity.org )
January 31, 2017 Midland Center for the Arts
Terri Trotter, CEO of Midland Center for the Arts, presents an update regarding current and upcoming programming at MCFTA.
February 7, 2017 ala-cARTe of Bay County.
Get an update from the "ala-cARTe" group of Bay County. This group is combined of 8 non-profit organizations of arts and culture. State Theatre, Bay Arts Council, Studio 23/The Arts Center, Bay City Players, Bay Concert Band, Delta College Planetarium, Bay County Library System, Bay County Historical Museum.
February 14, 2017 Optimist Unsung Hero Award Luncheon
. Joint meeting with the Bay City Noon Rotary. (Board meeting at 11:00 that day.)
February 21, 2017 Bigelow Park Playscape Status Update
. Lisa Cleland and Matt VanNortwick will provide a status update on this project. It was the recipient of the inaugural Zombie Run (2015) proceeds in the amount of $15,200. The location of the new playscape is at Bigelow Park, behind the Boys & Girls Club North of the Lafayette Bridge in Bay City.

Rotary
is an intimate affiliation of carefully selected business and professional people,
having as its objective the promotion of high ethical standards in private, commercial
and civic life, and dedicated to the ideal that the basis of all worthy endeavor is unselfish service.
---
Current and past
DISTRICT DISPATCH
newsletters are available on the District site shown in the LINKS section below.


Rotary Bay City on Facebook!
Click on the Blue Facebook to visit us there.

Remember! Check attendance sheets at the front desk.
---
LINKS
---
---

Stephen Kent




Steve Kent and his family have lived in Bay City for 40 years. He is VP of Technical Services at MMCC which produces MyBayCity.Com. Kent is active in many Bay City civic organizations.

More from Stephen Kent
---
Send This Story to a Friend!
Letter to the editor
Link to this Story
Printer-Friendly Story View
---
--- Advertisments ---