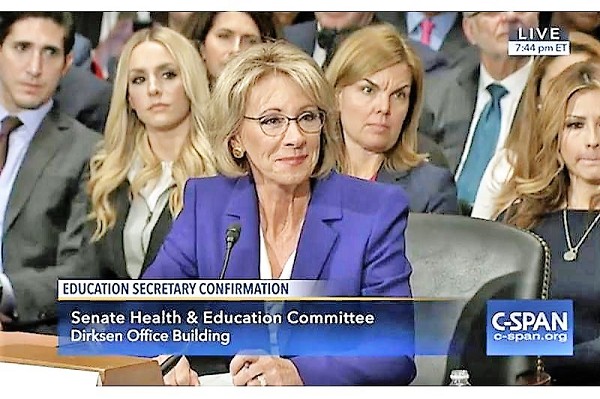 Much-maligned Michigander Betsy DeVos, new U.S. Secretary of Education, at Senate confirmation hearing.
---
MORE $ FOR SCHOOLS: Governor Aims for Top 10 Education State
Betsy DeVos to Restore Local School Control, Senator Says
February 8, 2017 Leave a Comment
By: Dave Rogers
Even as Betsy DeVos, the nation's leading charter school advocate, was being confirmed by the U.S. Senate as Secretary of the U.S. Department of Education, Republican Michigan Gov. Rick Snyder was taking an opposite tack.
In his annual executive state budget recommendations, Snyder proposed huge increases in investment in public education, a move applauded by State Superintendent Brian Whiston.
"To get Michigan to be a Top 10 education state in 10 years, we need strategic investments in our education system, and Governor Snyder has recognized that in his 2017-18 state budget recommendation," Whiston said. "I want to thank Governor Snyder for making education a priority in his present and future vision for Michigan."
The Washington Post reported that DeVos will have less power to change the educational system than her predecessors due to The Every Student Succeeds ACT, a landmark bipartisan measure passed in late 2015, that curtails the authority of the Education Secretary.
The new legislation gives more power to states to make decisions about day-to-day matters such as teacher preparation, student assessment, and classroom routines.
As Lamar Alexander, the Chairman of the Senate Health, Education, Labor, and Pensions Committee said, "We will be swapping a national school board for what she (DeVos) believes in, which is a local school board."
Gov. Snyder is proposing millions more in the per-pupil foundation allowance, at-risk funding, career and technical education, early childhood, STEM education, getting more health and social services in schools, and the teacher retirement system.
"Poverty matters when it comes to education," Whiston noted. "By addressing the overall and targeted needs of all students, we will move forward in building a system that is child-focused and geared to a successful future for Michigan's students and economy."
Whiston encourages the state legislature now to thoughtfully review and approve the investments Gov. Snyder has proposed for education funding.
Whiston highlighted the following investments proposed in Gov. Snyder's executive state budget:
The governor recommends an increase of $128 million in the per pupil foundation allowance, providing an additional $50 to $100 per pupil to K-12 schools. An additional $50 per pupil beyond that is recommended for high schoolers.
The governor recommends a 40 percent increase of $150 million in At-Risk funding -- to a total of $529 million -- to ensure that children in difficult financial situations are getting the help they need. All districts and public school academies also are eligible to receive an additional $778 per pupil to assist at-risk students.
He is recommending a change in the definition of an At-Risk student that will increase by 130,000 more students (a total of 679,709 children) who would be eligible for at-risk programs and services (24% increase).
At-Risk funding will be targeted to be used to:
*Ensure pupils are proficient in reading by the end of 3rd grade
*Ensure pupils are proficient in mathematics by the end of 8th grade
*Decrease chronic absenteeism
*Increase at-risk students' participation in enriched academic opportunities (dual enrollment, early/middle college, CTE coursework, Advanced Placement, International Baccalaureate)
To provide low-income families greater access to high-quality child care, the governor is proposing an increase of $6.8 million this year and $27.2 million for next year to increase the reimbursement rate for providers offering child care services through the Child Development and Care Program.
The highly successful 'Pathways to Potential' program has been a core service delivery enhancement that the governor has supported since its inception, which positions state social workers inside school buildings where they can better serve the needs of the community. The governor again recommends support for this program with an additional $5.6 million to ensure children and families have easy access to the services they need.
To promote the health and safety of students and educators, the governor recommends that $4.5 million of the state's General Fund be allocated to the statewide school drinking water quality program. This also includes $1 million for technical assistance for water treatment plants on drinking water emergencies, contributing a state match for the Drinking Water Revolving Fund in the amount of $3 million.
Also included in the governor's budget recommendation is an $8.8 million investment in the MiSTEM Network that focuses on science, technology, engineering, and math studies by Michigan students. A one-time investment of $20 million is recommended for career and technical education (CTE) equipment upgrades.
The governor has proposed reducing the rate of return in public pension systems to reduce the financial risk to the systems, including the Michigan Public Schools Employees Retirement System. That will be countered by investing an additional $153 million into MPSERS.
---
---

Dave Rogers




Dave Rogers is a former editorial writer for the Bay City Times and a widely read,
respected journalist/writer in and around Bay City.
(Contact Dave Via Email at carraroe@aol.com)

More from Dave Rogers
---
Send This Story to a Friend!
Letter to the editor
Link to this Story
Printer-Friendly Story View
---
--- Advertisments ---