He's Just My Baby Daddy: Effects Of New Type of Relationship Perplex Writer
Social Scientists and Social Workers May Find Fertile Ground For Study
March 25, 2006 Leave a Comment
By: Dave Rogers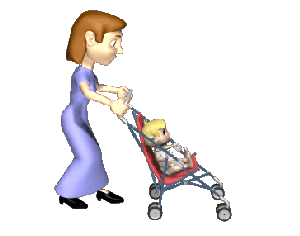 'Non-Accountable Parenting' . . . The birth of the "Baby Daddy."
(EDITOR'S NOTE: The following report describing a new sociological phenomenon -- at least new to us -- is true. Neither have the facts been embellished. I am not making this up, as humorist Dave Barry used to write. Any perceived violation of political correctness found in this column should be reported immediately to the Thought Police.)
"He's just my Baby Daddy," the young woman behind the counter at the party story explained to her customer.
"Well, he's not my boyfriend, he's just the guy I got pregnant by," she amplified in describing the "relationship."
Now the customer, perhaps a friend, really looked quizzically at the broad-faced girl, barely out of her teens if that old. The listener clutched desperately at her grocery bag as her face fell into it.
"But he does live with me," the young mother added parenthetically.
An older customer overhearing this outrageous conversation nearly choked on his Big Gulp. Being a writer of sorts, he filedthe dialogue away for contemplation and possible future grist for a philosophical column. We used to call them "think pieces" in the old newspaper days.
There is something going on here that people need to know more about, the writer decided.
Sneaking a sideways glimpse at the child-mom, we decided she was not qualified for an audition by "Girls Gone Wild." Just a homespun type from a small Midwestern town. Well, maybe not that homespun either.
It took several days of cogitation to analyze just what had been overheard as well as the obvious facts of the situation involving the party store girl mother.
She's young.
She's got an infant.
She's not married and apparently not in an "emotional" relationship as commonly defined under middle class social norms.
She works but the boyfriend, whoops, Baby Daddy may or may not work. My guess is he doesn't, being pretty busy with his career of baby daddying. Maybe he takes care of the kid while she is at the party store. OK, let's give him one positive aspect in addition to the ability to sire a child.
He lives with a young woman who is raising a child, working no doubt at minimum wage. Whathe does on his "off hours" was not disclosed in the conversation with the girlfriend. Perhaps he has other non-relationships with other women and is known as the Baby Daddy in other non-traditional households.
The incident reveals a way of life foreign to we 1950s products. There may have been such goings on, but we don't recall them.
A sociologist may someday entitle a scholarly article about this situation "Non-Accountable Parenting." Or perhaps "Freakomommyhood."
The problem of unknown parents was acknowledged by former Gov. John Engler in 1999 when he announced a program to determine 100 percent of paternity.
"Paternity establishment is crucial to the long-term emotional and financial stability of a child," said Governor Engler. "Immediate establishment of paternity at birth provides a child with many benefits, including access to a complete medical history, inheritance rights, insurance, social security, veteran's and other benefits."
At that point there were 132,000 births in Michigan; 44,772 were to unwed mothers, about 34 percent of the total. Paternity was established in 24,462 cases, or 55 percent of the total.
Last year there were 106,000 births (the decrease a stark commentaryon Michigan's economy and declining population); paternity was established in 20,500 cases, or 57 percent of the total. There were 36,292 births to unwed mothers, about 34 percent of the total. Same percentage as in 1999.
So, it's easy to conclude that more than 40 percent of the unwed mothers know guys they probably call "Baby Daddy." Hospitals never find out who these fathers are, despite the state program to determine paternity in 100 percent of the births.
The long term emotional and financial stability of these children is just as much at risk now as it was in 1999. In six years we have made absolutely no progress in improving the basic structure of our society: the family.
The questions are: What are the long-termeffects on our society of "non-accountable parenting" and what, if anything, do we do about it? Have an opinion? A point of view?
Send Me an E-mail
and some will be selected for a future column.###
---
---

Dave Rogers




Dave Rogers is a former editorial writer for the Bay City Times and a widely read,
respected journalist/writer in and around Bay City.
(Contact Dave Via Email at carraroe@aol.com)

More from Dave Rogers
---
Send This Story to a Friend!
Letter to the editor
Link to this Story
Printer-Friendly Story View
---
--- Advertisments ---