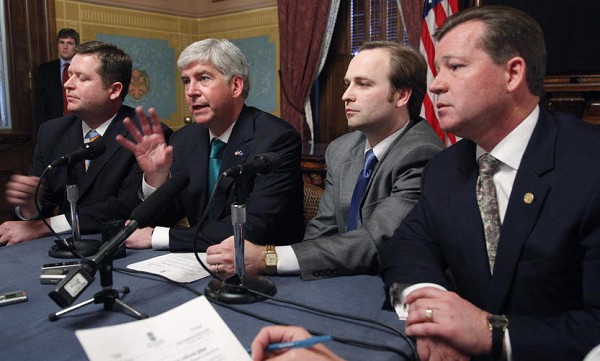 Gov. Rick Snyder, with Lt. Gov. Brian Calley to his right, discusses state infrastructure needs with GOP leaders.
---
AMERICAN CHAOS: We Shouldn't Tolerate Fascist Type Intolerance
Republicans in Washington, Lansing Beginning to Stand Up
February 23, 2017 Leave a Comment
By: Dave Rogers
The chairman of an important committee of the Michigan House was summarily removed from that office the other day for his vote against an income tax reduction.
House Speaker Tom Leonard axed the legislator because he said, he lied to him about how he would vote.
Speaker Leonard announced early Thursday morning the removal of fellow Republican Rep. Jason Sheppard of Temperance as chairman of the Financial Services Committee. Leonard said Sheppard, who voted against a bill to cut the 4.25 percent income tax to 3.9 percent over four years, had told him he would vote yes.
Leonard says it's "unacceptable" that Sheppard "lied" about his position.
Democrats stated: "Republican leadership attempted to pass an income tax reform plan that would have given millionaires and billionaires enormous tax breaks while Michigan families would have seen significantly less relief -- just an average tax cut of $3.75 per month. Their plan ultimately failed, 52-55, with Republicans and Democrats coming together to stick up for Michiganders."
Rep. Dave Pagel (R-Berrien Springs) attempted to call for an investigation into House Speaker Tom Leonard (R-DeWitt) after reports claiming:
"...threats were made that committee assignments, chairmanships, staff allocations and even parking spaces were being put on the table," according to a report from MIRS News, 2/22/2017
Unfortunately, Pagel's investigation was canceled. But at least he had the courage to try to, as the old saying went, "stop the insanity."
Radio Results Network reported: "Governor Rick Snyder had been a critic of the bill, citing concerns over funding for future infrastructure projects as a part of Michigan's 21st Century Infrastructure Committee's recommendations for modernizing the state's infrastructure. His office had estimated the income tax reduction would create a $1 billion shortfall in infrastructure funding by 2022."
Good for Snyder! His stand was a wise one. The wealthy don't need more tax cuts. But the people of Michigan need good roads, bridges and other infrastructure. Such a program leads to jobs, incidentally, the stated priority of good Republicans.
That disturbing dust-up in Lansing is only a local indication of the fascist-type mentality emanating from some of our leaders. A greater display now is the federal program of rounding up so-called "illegal immigrants" all over the country. Horror stories like a woman being dragged from a hospital bed to an immigration processing center abound, U.S. born children being told they must go to a foreign country.
If this seems like 1930s Germany, when brownshirts marched and terror reigned, then call it what it is -- fascism.
Some misguided folks will cheer this kind of government bullying until it happens to them, or one of their own.
When Trump described the immigration roundups as "a military operation," Homeland Security Secretary John Kelly emphatically corrected the President: "No, there will be no military used," Kelly said publicly, virtually daring the orange-haired would-be dictator to fire him.
Not only did Kelly defy Trump, he did it in Mexico City, with Secretary of State Rex Tillerson standing by, offering no retort in favor of Trump.
In my opinion what you are seeing is the worm turning, traditional Republicans refusing to buy into the ugly heterodoxy of ultra-conservatism cum fascism that is threatening to rear its slimy head everywhere. Those courageous souls know that to survive the populist storm they must head for the safety of the center. Their stands are the essence of wisdom in this insane atmosphere.
Actually, the main hope Trump has to escape impeachment is for him to calm down, ignore the radicals like Steve Bannon and allow the stalwarts like Kelly, Mattis, Tillerson and other moderates he has named to leadership positions to steer the ship away from the brink of disaster.
Also, the chickens are coming home to roost on the long, acrimonious debate over health care. Many people apparently loved the Affordable Care Act, but hated Obamacare, even though they are the same thing. Perhaps they just hated Obama so much they were against anything carrying his name.
Now Congressional town halls across the country are filling with protesters who don't want to lose their health care whatever it is called.
Women sparked "Not Our President's Day" protests in an incredible 2,000 communities across the nation on Monday. Vast numbers of protesters turned out, aiming their ire mainly at President Donald Trump's misogynistic and reckless methods of "governing."
The latest outrage, reminiscent of banana republic dictatorships, is the exclusion of CNN from Sean Spicer's press briefings, apparently because he disliked something CNN reported -- the facts about his lying no doubt.
"The country is on fire," I quote a Mackinac Island elite as saying in 2008 during the first Presidential campaign of Barack Obama, in one chapter of my new book "Above the 44th Parallel: Legends and Lore of Northern Michigan."
Then, you may remember, the stock market and the economy were crashing about our ears and we were still reeling from an ill-advised 2003 Iraq invasion based on false information. Saddam Hussein was developing weapons of mass destruction was pretty much a consensus in Washington.
The Dow Jones stock average was down 6,500 points and banks were falling like dominos.
Like it or not, a calm, cool Mr. Obama pulled us out of the economic fire while under assault from ideologues.
Well, friends, the country is on fire again, just in case you hadn't noticed.
###
---
---

Dave Rogers




Dave Rogers is a former editorial writer for the Bay City Times and a widely read,
respected journalist/writer in and around Bay City.
(Contact Dave Via Email at carraroe@aol.com)

More from Dave Rogers
---
Send This Story to a Friend!
Letter to the editor
Link to this Story
Printer-Friendly Story View
---
--- Advertisments ---