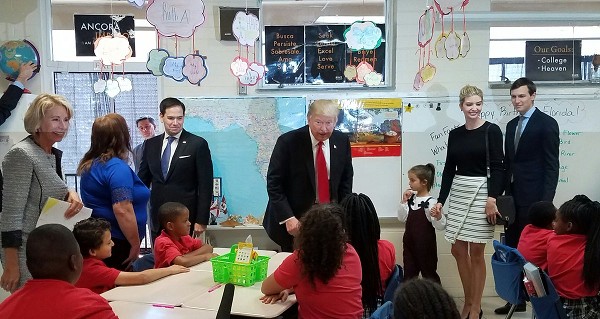 President Trump and new Education Secretary Betsy DeVos touring a Florida Catholic school today.
---
PARADIGM SCHOOL SHIFT? Trump, Betsy DeVos Eye Education Reforms
Today, President Donald J. Trump and his new Secretary of Education, Michigan's Betsy DeVos, are touring a Catholic school in Florida.
This seemingly innocuous event may presage massive changes in the educational landscape, sure to gladden the hearts of private school advocates and strike fear into the public school community that is vociferously opposed to any diminution of funds for public schools.
A look at Florida's 16-year-old experiment with vouchers may provide some insight into the potential effects of voucher funding of students according to the school of the parents' choice.
In 2001, the Florida Legislature created the income-based Florida Tax Credit Scholarship Program to assure that low-income children have more learning options, according to the Step Up for Students non-profit organization website, that states:
"Nearly 480,000 scholarships have been provided to low-income Florida students in grades K-12 since 2002. Could your child be next?
"The scholarships are based on financial need, not how well your child does in school. Families may choose between financial assistance toward private school tuition and fees, or with transportation costs to attend a public school in another district."
Both the private school scholarship and the transportation scholarship have the same eligibility and application process.
Applications are processed in the order they are received (including all supporting documentation) and scholarships are awarded ... with priority given to renewal families followed by new families with the greatest financial need. Scholarships can be transferred to other eligible schools if the student moves within the state, or simply wants to attend a different Step Up partner school.
Please note, checks are sent directly to the school in which the enrolled child is attending, and are never sent directly to any individuals.
We have written here previously about how the Republic of Ireland's dual funding of public and private schools, dating back several decades, has helped revive a previously moribund economy.
In the fondest dreams of Mrs. DeVos, her radical paradigm shift in funding would do the same for the United States, and her home state.
The Orlando Sentinel reported: "The 59-year-old grandmother and Michigan native is the wife of Amway co-founder Richard DeVos' eldest son, but came to the marriage with her own family's fortune, from her father's successful Michigan auto parts company. Forbes puts her portion of the family wealth at $1.25 billion.
For the past two decades, she has devoted herself to school choice. "Traditional public schools are not succeeding," she told the magazine "Philanthropy" in 2013. "In fact, let's be clear, in many cases, they are failing."
The Sunshine State is second only to Michigan in the number of individual candidates DeVos or her husband wrote checks to during the past five years, according to an Orlando Sentinel analysis of the more than 430 campaign contributions she listed on a form required by the Senate committee considering her nomination.
The list she provided to senators noted $47,000 given to Florida candidates, split about 60-40 for Republicans and Democrats, whom she typically supports if they back the school-choice policies she favors.
Members of the DeVos family, including Richard DeVos Sr., have donated more than $2 million to Florida candidates for state office and committees since 1996, according to the state database.
All DeVos donations are not targeted at education. For instance, they donated $400,000 to the OneOrlando Fund last year after the mass shooting at Pulse nightclub.
For her supporters, most of DeVos' spending underscores her deep commitment to her key issue: Providing options for students living in poverty who, in her view, are too often trapped in poor-quality public schools.
"Her agenda has always been helping disadvantaged students get into schools that are best for them," said Patricia Levesque, executive director of the Foundation for Excellence in Education, one of former Gov. Jeb Bush's organizations, where DeVos served on the board of directors until her nomination.
"Her compass is pointed in the right direction," Levesque said.
To critics, all those campaign checks are evidence that DeVos' credibility in the education arena is based only on her wealth and a sign she's determined to damage public schools, which educate about 90 percent of American children. "Her influence lies solely in her ability to buy it," said Kathleen Oropeza, an Orlando mother who helped found the advocacy group Fund Education Now and opposes DeVos' efforts to create programs that send public money to private schools.
"Nothing in her career has ever suggested she respects or understands what public education has done for this nation," Oropeza said.
DeVos has never worked as an educator and never attended public school, said family spokesman John Truscott. Neither did her children.
She wants to offer low-income families the kind of choice affluent parents exercise when they buy a home in a certain school zone or pay private tuition.
"There is only one thing that motivates Betsy, and it's the same thing that has motivated her for the twenty years she has been working on education reform. She wants low-income children to have more choices and more opportunities," wrote John Kirtley, a Tampa businessman.
Kirtley was instrumental in starting Florida's Tax-Credit Scholarship Program, the state's largest voucher program when Jeb Bush was governor. He has worked with DeVos for years, serving with her on the board of the American Federation of Children, the school-choice organization she led until Trump nominated her in November.
In 2014, Florida lawmakers created an education savings account program, the equivalent of scholarships worth about $10,000 each, for children with certain severe disabilities to use for private educational services, if they weren't in public school.
Kirtley said, "the Gardiner program would not exist without Betsy." Her family foundation contributed $100,000 for start-up costs.
Also in 2014, the Florida Education Association, the statewide teachers union, challenged the constitutionality of the Bush-era tax-credit program in court, a fight it recently lost. DeVos' organization raised money to fight the lawsuit and to defeat school board members who backed that court action.
Diane Smith, the Volusia school board member who lost that year, said she was stunned when her opponent started spending enough to run repeated TV ads.
Soon she realized the spending spree was "retaliation for the lawsuit," which she supported at the time as president-elect of the Florida School Boards Association.
Today, Smith isn't impressed with DeVos' nomination.
The country doesn't need "someone on the national level who has absolutely no education experience whatsoever outside of the fact that she wrote nice checks," she said.
Only time will tell whether that is a valid argument.
###
---
---

Dave Rogers




Dave Rogers is a former editorial writer for the Bay City Times and a widely read,
respected journalist/writer in and around Bay City.
(Contact Dave Via Email at carraroe@aol.com)

More from Dave Rogers
---
Send This Story to a Friend!
Letter to the editor
Link to this Story
Printer-Friendly Story View
---
--- Advertisments ---