Ten Minute Rotarians Speak to Rotary
March 7, 2017 Leave a Comment
By: Stephen Kent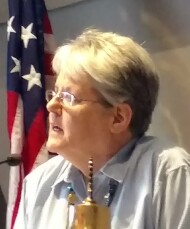 Ann Grady
One of the most popular programs Rotary has is the "Ten Minute Rotarian". One or two members of the club area tapped to speak for about 10 minutes and give a short portrait of their lives. Everyone loves these programs because we're all curious and often just don't know the fascinating lives of our fellow members.
The
Reverend Ann Grady
spoke first. Ann started her journey as a political junky. Born in South Central Wisconsin, she was introduced to politics at the age of ten when her mother was a campaign manager for a woman running for the State Assembly. She was a Eugene Mcarthy supported during High School and went on to work in political circles for years to come. She graduated with a BS in Poly Sci and worked as a Congressional intern and was in Washington during the height of the Watergate hearings.
By the year 2000, Ann had become an Episcopal and gone to seminary where she earned advanced degrees. She worked in various roles in the church including as an interim priest, for which she acquired, even more, training. She noted that the job of an interim pastor is to be a truth-teller. As a short time person, the interim can explore and lay bare topics that a full-time priest might not be able to.
In 2013 Ann came to Trinity Episcopal in Bay City and has made it her home. She has become active in both the church and various community groups and organizations, including Rotary.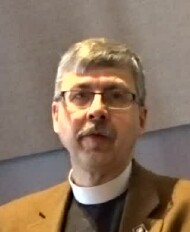 Andreas Teich
Long time member
Andreas Teich
spoke second. Born in Germany, Andreas came to the US as a child with his German parents. His father started life as a history professor. By the end of the war, his father had become disillusioned with the untrue Nazi "history" of WWII. His second love was chemistry and "even though Hitler could mess with history, he could not mess with chemistry."
Becoming a textile chemist, he moved and lived in a house owned by his future mother-in-law. That's where he met Andreas' mother. "It's only because Hitler screwed up Germany that my parents ever got together".
Hired by the Bayer corporation, the family moved to the US and North Carolina in 1965 where his father was assigned to the Burlington Industries. Andreas grew up and was educated in the US. He spoke no English when he arrived and learned to speak with a southern accent. The family moved to New Jersey in 1960 to another Bayer subsidiary.
In sixth grade, his parents, following a German tradition, decided their children should be confirmed. "We went from never going to church to always going to church". When a progressive young pastor taught about migrant farm workers Andreas decided that his calling was to become a pastor to migrants (To which his father said: "how will you make a living doing that".
After his undergraduate work in Allentown, PA Andreas went to seminary in St. Louis and later to Chicago. While doing an internship in Indianapolis he joined a singles group and met Tracy. They were married in 1986 after his ordination and moved to Bellview, KY.
In 1986 Tracy's division of Dow was sold. The young couple decided to follow the Dow side and moved to Midland. Andres worked as an Interim pastor for several years. Looking back he says he now sees how much that variety influenced his life and how much he learned.
In 1994 the call came to move to Messiah Lutheran in Bay City, where Andreas followed Ron Fuller. As pastor of that church, he also followed Pastor Ron as a member of Rotary, and he became a US Citizen in the same year. After 23 years and countless connections to the community, this is home and the couple "intends to stay and be here for a long time."
---
CLUB NEWS and ANNOUNCEMENTS
President-Elect Bob Chadwick
stood in for President Andrea, who was out of town today. The meeting was held at the Planetarium.
Brenda Scramlin announced that a Peace Making workshop will be held in Midland on March 25. She and Ann Grady will be going and invite other interested members to accompany them.
Timm Holsworth
said that the Golf Outing committee is forming and will meet soon. If any members have an interest they would be welcomed on this committee.
March 15 is the last day for Community Grant applications. Go to the club website for more information and the application.
Welcome back
Frank Janca
, who has returned from his winter sojourn "down under" in New Zealand.
Mike Murray announced that the Planetarium will be celebrating its 20th anniversary this year with an open house on May 13. Everyone is welcomed.
The
District Conference
is coming up soon. In the past clubs have donated items to club gift baskets to be raffled off. This year the District will be raffling off pictures painted by Artist George Lewis. Each club is asked to sell 10 tickets between now and May 1st. To date, our club has sold 4.
Current and past
DISTRICT DISPATCH
newsletters are available on the District site shown in the LINKS section below.
---
DATES TO REMEMBER
Board Meeting
-
March 14
- 11:00 am before regular meeting. - Everyone invited.
OFF SITE Meeting
-
May 16
At the Delta College Planetarium.
(Also June 6)
June 10-14, 2017 Rotary International Convention - Atlanta, Georgia, USA
www.RotaryConvention2017.org
OR
www.RIConvention.org
Dee Dee Wacksman, District Chair
November 7, 2017 - Vocational Day
---
Upcoming Programs
(See the official schedule at RotaryBayCity.org )
March 14, 2017, Polio Plus Update by Chuck Cusick.
March 21, 2017, CMU's Museum of Cultural and Natural History and Museum Studies program.
Caity Burnell, Museum Educator, and Ron Bloomfield, Collections Manager, will present an overview of the Museum, its educational and outreach programs, and how it provides a practical, hands-on learning environment for Museum Studies students.
March 28, 2017 Bay City Housing Study Update
Member Doug Rise will talk about the recently completed Housing Study that was commissioned in conjunction with the work being done on a master plan for Bay City.
April 4, 2017, What's happening with the Saginaw Bay Symphony Orchestra?
Maestro Fouad Fakhouri, who was appointed music director of the SBSO last June, will discuss his vision for the orchestra and their role in our region.
---
Current and past
DISTRICT DISPATCH
newsletters are available on the District site shown in the LINKS section below.


Rotary Bay City on Facebook!
Click on the Blue Facebook to visit us there.

Remember! Check attendance sheets at the front desk.
---
LINKS
---
---

Stephen Kent




Steve Kent and his family have lived in Bay City for 40 years. He is VP of Technical Services at MMCC which produces MyBayCity.Com. Kent is active in many Bay City civic organizations.

More from Stephen Kent
---
Send This Story to a Friend!
Letter to the editor
Link to this Story
Printer-Friendly Story View
---
--- Advertisments ---