TRUMP OR CONGRESS: Who is Dedicated to Solving Our Biggest Problems?
March 25, 2017 Leave a Comment
By: Dave Rogers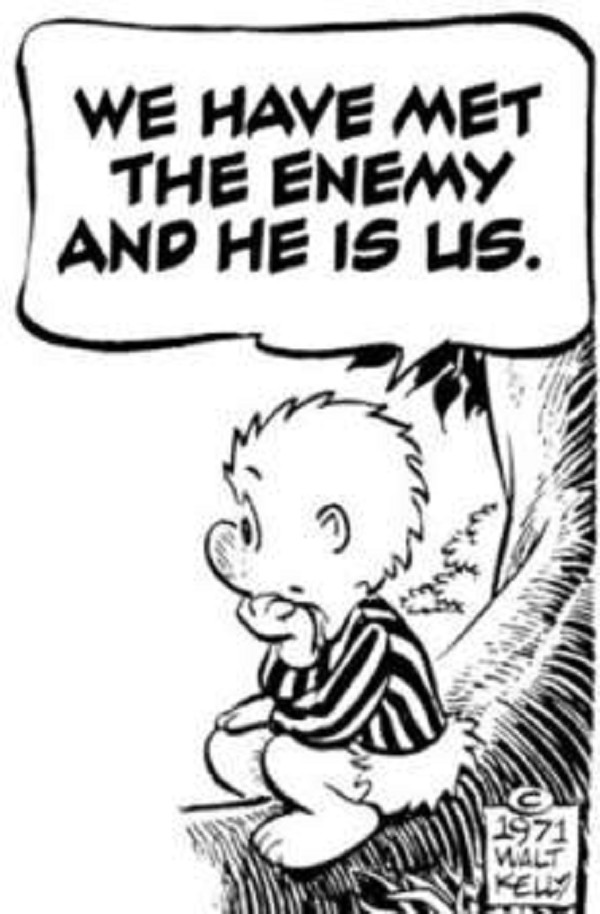 Photo Credit -- PoGo Comic Strip
Voters frustrated over gridlock in Washington decided last November to go for the Hail Mary pass: Give an unproven, volatile orange-topped mouthpiece a chance to change the direction of the nation.
He told a good story, one that would remake the country in the image of the glory days of the 1950s, when he and many of us grew up. "Make America Great Again" was the mantra.
The devil you don't know is hopefully better than the devil you know was one thought trend.
Will Rogers, the cowboy philosopher of the 1920s, quipped: "So cheer up. Let's all be friends again. One of the evils of democracy is you have to put up with the man you elect whether you want him or not. That's why we call it democracy.'
Presidente Trump has surrounded himself with a gang of imbeciles like Mitch Mulvaney, budget director, who said with a straight face: "the health care bill is a jobs bill because more people will get jobs if they lose their health care."
Isn't that like Robespierre's executioner in the French Revolution, poised at the guillotine, telling the victim: "well, there is an upside -- you won't have to worry about combing your hair anymore."
However, in the last election, little thought or emphasis was given to the major factor that really is our boogeyman: Congress. Because of gerrymandered districts and vast sums flowing into elections from unknown billionaires, changing Congress is almost impossible.
I'm reminded of the wisdom of Will Rogers, on this score: "There is no distinctly criminal class in America, except Congress," he quipped with more truth than comedy.
It's Congress, with their myriad boondoggles and money-grubbing puppeteers, that is the unfulfilled hope of the working class.
The fire rages around Washington as the confused leadership fiddles, making Nero look like a hero.
A year ago, as the 2016 election was pending, Michael Gerson, Washington Post columnist, gave America the high sign:
"Trump is the demagogue your founding fathers warned you about."
"With the theory of a presidential nominee as a wrecking ball, we have reached the culmination of the founders' fears: Democracy is producing a genuine threat to the American form of self-government. Trump imagines leadership as pure act, freed from reflection and restraint. He has expressed disdain for religious and ethnic minorities. He has proposed restrictions on press freedom and threatened political enemies with retribution. He offers himself as the embodiment of the national will, driven by an intuitive vision of greatness. None of this is hidden."
We have the inevitable, unfortunate answer to the main question this column poses staring us in the face: nobody is really looking out for the best interest of working Americans. Not Mr. Trump or Congress.
But we, the voters, must face it and bear the blame. We put these folks in office and we are stuck with them -- at least for now. It's called Democracy, as Will rogers so aptly stressed.
So, again, we must quote the famed cartoon character Pogo, paraphrasing John Paul Jones: "We have met the enemy and he is us."
---
---

Dave Rogers




Dave Rogers is a former editorial writer for the Bay City Times and a widely read,
respected journalist/writer in and around Bay City.
(Contact Dave Via Email at carraroe@aol.com)

More from Dave Rogers
---
Send This Story to a Friend!
Letter to the editor
Link to this Story
Printer-Friendly Story View
---
--- Advertisments ---