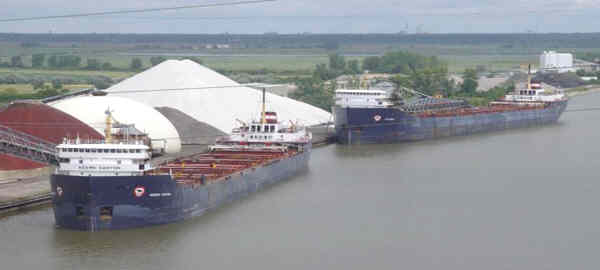 Freighters line up to deliver cargo at an Upper Saginaw River bulk products port.
---
Port Leader Webber Extends Olive Branch to Environmentalists Opposing Plan
Negotiated Agreement May End Dredging Standoff, Perk Up Port Prospects
March 19, 2006 Leave a Comment
By: Dave Rogers
Dredging the Saginaw River is crucial to the tri-county economy, and must be started this year, says William G. Webber, president, Sargent Docks & Terminal and a member of the Saginaw River Alliance.
Mr. Webber recommended lessening or elimination of contamination from upstream sources in a recent speech to the Tri-County Economics Club (TCEC).
That statement extended the olive branch from industry to environmentalists who are attempting to block the dredging through protests.
---
--- Advertisements ---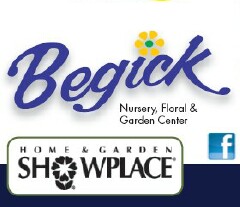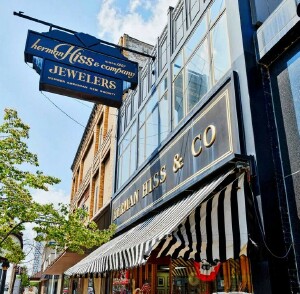 ---
Mr. Webber said dredging must begin this year or local industries and governments will suffer substantial financial losses. Some experts predict the upper river port in Saginaw could be virtually out of business in two years without dredging.
Mr. Webber said costs to government would increase by an estimated $18,770,000 per year without waterborne shipping. For example, both road salt and dry cement for road building would cost about $15 more per ton if they had to be shipped in by truck instead of by ship.
He also sketched a vision for the river, noting "synergies may be created for import, export and other opportunities." Exports of agricultural and manufactured products will be enhanced by the dredging project, he said. The Saginaw River handles the second largest volume in the state, following only Detroit.
A lawsuit has been filed by Frankenlust Township to block disposal of the spoils dredged from the river on township property.
Environmentalist Terry Miller of the Lone Tree Council agrees that dredging must go forward for commercial reasons. But at the same time his group seeks a response to dioxin contamination of the river silt and treatment of the dredged materials in the basin.
Silt build-up over the years has made the river near Saginaw so shallow that ships are having trouble turning around. Some of the 700-1000 foot vessels have to back all the way out to the river mouth at Essexville, according to reports last year from Boatnerd.com observers.
The Bay County Growth Alliance (BCGA) is attempting to mediate a dispute over dredging spoils from the Saginaw River that threatens the future of port operations.
---
--- Advertisements ---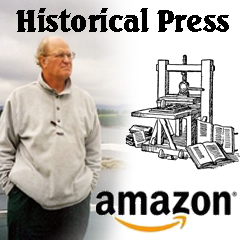 ---
Cliff VanDyke, BCGA president, said he met privately last week with someof the parties involved in the dispute and reports a settlement could be possible.
"Things don't look as bad as they did," said Mr. VanDyke. He hopes for an out-of-court settlement so dredging can proceed without any further confrontation.
However, Saginaw Public Works Commissioner James A. Koski told The Saginaw News last week that the Lakeshore Group of Highland Park would begin dredging May 11 as scheduled under a permit issued by the federal government. He contends that the dredging is a federal project and as such is exempt from local zoning.
A proposed $5.5 million project would build a 281 acre spoils disposal basin on the Zilwaukee-Frankenlust border to store more than 3 million cubic yards of river silt.
Mr. Koski predicted that an agreement to proceed with dredging will be worked out by the U.S. Army Corps of Engineers, the Michigan Department of Environmental Quality (DEQ), the U.S. Environmental Protection Agency (EPA) and Saginaw County.
Who depends on the Saginaw River? Mr. Webber cited roadbuilders and contractors, foundries, automobile factories, power plants, farmers, municipalities, asphalt producers, concrete product fabricators, sugar factories, grain and corn brokers.
The Upper Saginaw River carries approximately 4 million tons per year, the equivalent of 106,000 truckloads. He cited these advantages of waterborne shipping: highway damage is lessened, road safety is increased, tremendous fuel savings and less pollution, fewer border and security concerns, and tremendous cost savings to consumers.
"It's all about supply," he said. The seasonal economy requires large supply all at once. Fertilizer has value only three weeks a year; salt has value only when the weather dictates. Rail and truck shipments could not meet seasonal demand, he said.###
---
---

Dave Rogers




Dave Rogers is a former editorial writer for the Bay City Times and a widely read,
respected journalist/writer in and around Bay City.
(Contact Dave Via Email at carraroe@aol.com)

More from Dave Rogers
---
Send This Story to a Friend!
Letter to the editor
Link to this Story
Printer-Friendly Story View
---
--- Advertisments ---