Record St. Patricks Day Parade Blessed by Sun, Great Crowd Turnout
Gov. Granholm, Miss Michigan, Five Bands Highlight Turnout of 150 Units
March 19, 2006 Leave a Comment
By: Dave Rogers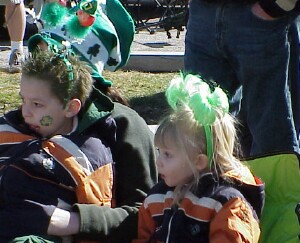 Photos by Andy Rogers and Steve Kent
They marched, strutted, cavorted, boogied, played and listened to music and generally had a great time Sunday in the 52nd Annual Bay City St. Patrick's Day Parade.
Lovers stopped to kiss passionately, kids got away from grandpa and grandma, young girls in short sleeves romped arm in arm. Ah yes, spring starts tomorrow, they all seemed to say.
A record 150 units ranged from huge high school bands to small marching units of half a dozen people, said Rose McEachern, longtime parade organizer who rode in the St. Patrick's Day Parade Association van with her husband, Irv. The previous record was about 135 units a few years ago.
The parade stalwarts joined Parade Marshal Tom Newsham, his wife City Commissioner and former Mayor Kathleen Newsham and other green-clad revelers at Knights of Columbus Council 414 after the parade.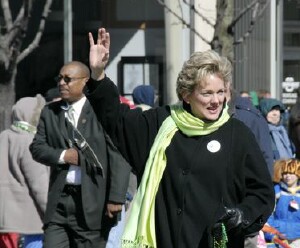 There was plenty to celebrate in addition to the record parade lineup. The weather was the most evident benefit.
"Even though it's a little chilly the sun really makes it great out here," said enthusiastic parade watcher Bob Sarow as he moved down Center Avenue with the crowd.
George and Patricia Middleton, Chuck Liebrand and a group of eager watchers were at theTrinity Episcopal Church. Architect Peter Frantz was watching the marchers from in front of his classic Georgian style house at Center and Grant.
A woman from Wolverine exclaimed: "We come down every year for the parade and we love it!"
John Konkle of Konkle's Auto Service, Center at Jackson, recalled his father, the late Arthur Konkle, taking pictures of the early parades in the 1950s. "Today is really terrific and it looks like folks are enjoying themselves."
The weather dial inched up toward 50 in the sun and warmed the marchers and watchers despite a brisk wind. A panoply of costumes, painted faces, weird hats and barking dogs provided fascinating parade watcher watching.
---
--- Advertisements ---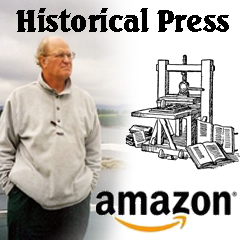 ---
Realtor Arlene Bush stopped to talk about her trip to the old sod, Ireland, and hopes of returning soon, just as the Harris-Bush Realty house on wheels passed by with flags waving.
Obviously spinning off a popular TV commercial, half a dozen "pirates" on the Long John Silver's "float" entertained the crowd by rushing to and fro shouting "aaarrghh!."
There was a lineup at Mulligan's, and no wonder. It was, after all, the St. Patrick's Day Parade. Irish stew is in demand on such a day and some brought their own, slurping from plastic bowls as they walked toward the parade route.
"Support Michigan Farmers, Burn Biodiesel," read one sign preceding the Farm Bureau float. It was a statement that signals a trend in renewable energy aimed at freeing the nation from the grip of foreign oil.
Other indications of the times were the camouflage clad soldiers, some riding military vehicles, a stark reminder of the need to support the troops in the Mideast.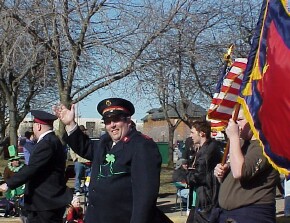 Jack Oslund, a REACT official who is a veteran of community events, said there were no problems along the parade route. That was good news to emergency crews always poised and on the alert.
A team of dancing dapple grey horses, DJs on wheels conducting impromptu dance contests, queens of all sorts, and the Guv, Jennifer Granholm leading a bevy of politicos giving the traditional parade waves -- all personified the Bay City St. Patrick's Day Parade.
George Heron in tam-o-shanter, shillelagh wielding Bob Redmond and others in the Ancient Order of Hibernians marching group lent an authentic Irish touch to the line of march.
The Dobson Fire House Museum, raffling off a firetruck to help get operations in Bangor Township rolling, and the Bay City Auto Company, with several classic vehicles in the lineup, informed watchers of two new Bay City tourist attractions.
Grant and Sandy Urband and Kathy Branigan had scads of guests at their houses on the corners of Center and Hampton. Paul Kuzmierz, the artist, and friends gathered on the lawn as the marchers went by.
All in all, the parade gets better every year, even after half a century and more. It's an enduring Bay City tradition we hope never goes away.###
See related
Photo Story
by Andy Rogers and Steve Kent!
2006
,
Just for the fun of it, you might want to check out these St. Pat's stories from previous years. It's interesting just to see how digital cameras have evolved since 2002:
2019
,
2018
,
2017
,
2016
,
2015-a
,
2015-b
,
2015-c
,
2014
,
2013-a
,
2013-b
,
2012
,
2011
,
2010
,
2009
,
2008
,
2007-a
,
2007-b
,
2006
,
2006-b
,
2005
,
2004-a
,
2004-b
,
2003-a
,
2003-b
,
2003-c
,
2002
For another take on the subject of parades, check out what was going on in 1978 in this
1978 Flashback
article from the archives of the Bay County Sports Page & Bay City Enterprise newspapers. Published from 1976 through 1984, those papers were the "grandparents" of today's MyBayCity.com.
---
---

Dave Rogers




Dave Rogers is a former editorial writer for the Bay City Times and a widely read,
respected journalist/writer in and around Bay City.
(Contact Dave Via Email at carraroe@aol.com)

More from Dave Rogers
---
Send This Story to a Friend!
Letter to the editor
Link to this Story
Printer-Friendly Story View
---
--- Advertisments ---