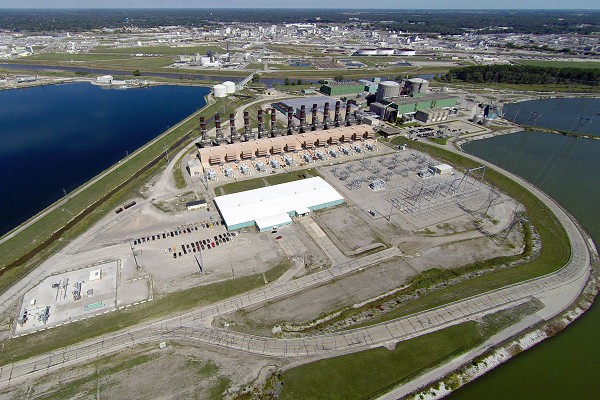 Midland Cogeneration Venture's massive plant has risen from the abandoned nuclear plant in the past 25 years.
---
GLOBAL GOLIATH: Midland Cogeneration Plant Owned by Retired Workers Thrives
Planned $500 Million Upgrade May Serve 15 Percent of State's Energy Needs
April 10, 2017 Leave a Comment
By: Dave Rogers
Who owns the Midland Cogeneration Venture that just announced a $500 million expansion?
Retired workers from Canada to Japan!
"Power to the people," a 1930s labor organizer might shout excitedly at this news.
Smokestacks of coal-fired power plants are increasingly an endangered species, especially in Michigan, in the wake of the success of the Midland Cogeneration Venture (MCV).
Much of the Consumers Power Company complex at the mouth of the Saginaw River is being dismantled and Consumers is expected to purchase more of its needed energy capacity from MCV, a natural gas-fired facility.
The sight of 1,000-foot Great Lakes coal carriers nestling up to the Karn-Weadock plant at the mouth of the river is a thing of the past. No doubt the air in the area will become cleaner in the future, despite political posturing to the workers of that dying industry.
With announcement of its planned $500 million expansion, MCV will have the capacity to serve up to 15 percent of the entire state of Michigan's energy needs.
Besides electrical generating, MCV produces steam for Dow Chemical Company's Midland plant.
The expansion will take about 30 months and will employ about 700 persons in the construction phase. About 20 employees will be added to the MCV staff long term, according to officials.
"MCV can be extremely competitive in providing new electricity capacity, said President/CEO Pete Milojevic, adding: "We would be very cost-competitive in providing any new capacity needs for the people of Michigan and the customers in MISO (Midwest Independent Transmission System Operation) because of our existing infrastructure," Milojevic said. "The market in Michigan needs to be open to all participants and not just the utility monopolies."
MCV is fueled by natural gas, a fuel source wisely adopted after the ill-fated Midland Nuclear Plant was abandoned back in the 1980s. Project officials were not happy in 1969 when Delta College TV brought five nuclear experts for a program during which they asserted the proposed plant should not be built at that location. They were even less thrilled by a freelance article this columnist wrote -- published on the front page of the Midland Daily News -- that detailed the drawbacks the experts had pointed out.
The main problems were its location on an unstable riverbed area, it was too close to the city -- a factor that might be dangerous in any meltdown, etc., etc. Officials totally ignored/rejected the advice and plunged ahead. But of course, the experts eventually were proven to be right.
Bob Rakow, of Energy and Infrastructure magazine, summarized: "The Midland Cogeneration Venture (MCV) in Midland, Mich., originally was intended to be a nuclear facility.
"In fact, the plant, which was to include twin pressurized water reactors, was roughly 85 percent complete when the former owners abandoned the project more than 30 years ago as a result of numerous construction and cost problems.
"This was an abandoned asset," President and CEO Pete Milojevic says. "We utilized the infrastructure and applied new technology that has helped MCV attain leadership in the industry over the past 25 years.
"The owners of the nuclear power plant stopped the project in 1984, citing problems including the sinking and cracking of some buildings on the site due to poor soil compaction and runaway costs. Changing regulatory requirements following the 1979 Three Mile Island incident contributed to delays in the completion of the nuclear power plant. Local environmentalists also opposed the project."
Mary Sinclair, of Midland, a tireless environmental activist, and former Atomic Energy Commission and Dow technical researcher, also the wife of Midland lawyer William Sinclair, won national fame for exposing the dangers of the plant. She lectured five years at the University of Michigan on energy and the environment and earned her Ph.D. at age 75. Inducted into the Michigan Women's Hall of Fame, she was proclaimed "one of the nation's foremost lay authorities on nuclear energy and its impact on the natural and human environment." She died in 2011 at age 92.
Dow and Consumers abandoned the plant after 17 years and $4.1 billion in costs.
Hidden behind the wispy smoke of the MCV plant is the fact that it is another aspect of increasing globalization in our local economy since the ownership switched to a Canadian firm, Borealis Infrastructure, which acquired the facility in 2012 from a Swedish firm that owned 70 percent and a U.S. energy investment company which had 30 percent.
No one can argue that the switch from dicey nuclear to safe, abundant natural gas was anything but a brilliant decision -- and a huge success. Ownership, however, is not domestic any longer. That fact is irrelevant since property taxes of about $10 million a year now flow into Midland governments.
The addition of $10 million in the facility will increase the tax base but there has been no estimate of the extra tax revenue that will be raised. Michigan's voter-approved phase-out of the personal property tax on Industrial Processing and Direct Integrated Support Equipment has been underway since 2016. This exempt equipment is referred to as Eligible Manufacturing Personal Property (EMPP). EMPP placed into service after December 31, 2012, became exempt in 2016. Any EMPP in place for at least 10 years also will be exempt.
Consumers Energy Company (Consumers) and Dow Chemical Company (Dow Chemical), along with their affiliates, originally owned Midland. From 2009-2012, MCV was owned by EQT Infrastructure, a Swedish private equity firm, and Fortistar, a United States energy investment group.
Toronto-based Borealis Infrastructure invests in and manages infrastructure assets on behalf of OMERS (Ontario Municipal Employees Retirement System) one of Canada's largest public employee pension funds.
In 2013, OMERS announced the acquisition of a one-third stake in MCV through its Global Strategic Investment Alliance (GSIA). GSIA currently includes OMERS, one of Canada's largest pension plans, Japan's Pension Fund Association (PFA) and a consortium led by Mitsubishi Corporation (MC). It is expected that membership in the GSIA will continue to expand."
According to a recently published report, "Borealis Infrastructure is a pioneer and a recognized world leader in infrastructure investing. Established in the late 1990s, is the first group formed by a Canadian pension plan with a mandate to invest in infrastructure as a separate asset class.
"Today, Borealis has approximately C$10 billion invested in approximately 20+ investments that have a total enterprise value of approximately C$50 billion. Borealis acts as the infrastructure investment arm of OMERS, a Canadian pension plan with approximately C$61.5 billion in net investment assets.
"Examples of business sectors include energy, transportation, institutional facilities as hospitals, schools, and others.
"OMERS, the pension plan for Ontario's municipal employees, further improved its funded status in 2016 with an increase to 93.4% due to strong investment returns, and member and employer contributions. The 2016 net investment return was 10.3% (after all expenses), compared to a benchmark of 7.9%, and a net return of 6.7% in 2015. Net assets grew $8.1 billion in 2016 to $85.2 billion."
The solid financial position of OMERS should act as an incentive to Michigan employee retirement systems to invest wisely as a way to offset underfunding, that is often their dilemma, and avoid any potential crises that would adversely affect their pensioners' incomes.
In a filing for a proposed settlement with the U.S. Federal Energy Regulatory Commission in 2011, Consumers raised several arguments about the MCV operation and MCV responded. Please see: https://www.ferc.gov/EventCalendar/Files/20110603125428-ER11-3035-000.pdf
###
---
---

Dave Rogers




Dave Rogers is a former editorial writer for the Bay City Times and a widely read,
respected journalist/writer in and around Bay City.
(Contact Dave Via Email at carraroe@aol.com)

More from Dave Rogers
---
Send This Story to a Friend!
Letter to the editor
Link to this Story
Printer-Friendly Story View
---
--- Advertisments ---