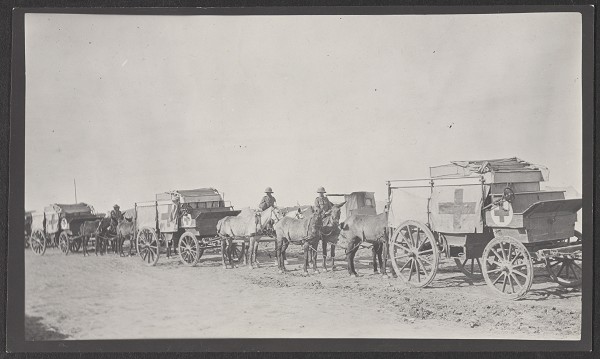 Bay City soldiers operated horse-drawn ambulances in World War I, not receiving motorized vehicles until the last week of the war in November 1918.
---
WORLD WAR I: Mid-Michigan's Huge, Mostly Unrecognized Production Role
April 22, 2017 Leave a Comment
By: Dave Rogers
Michigan's role in World War I production, notably mustard gas made in Midland, has gone largely unrecognized. But now, at the 100th anniversary of the U.S. entry into the war, a closer look is warranted.
Bay City's 128th Ambulance Company, Michigan National Guard, made its contribution, taking hundreds of local men to France, including the later notorious Steve Madaj, who spent 41 years in prison for murdering a lumber baron on Center Avenue in 1916.
In a highly unusual and unexplained incident, Madaj was sent home in mid-war, whereupon he proceeded to organize a gang. In 1921, while Madaj was in prison for car theft, his gang robbed the Bay County Savings Bank on Broadway and killed two bank patrons. They escaped with more than $4,000.
Among other World War I veterans from Bay City, Sgt. Carl H. Smith lost an arm but returned to co-found a major law firm, becoming almost as well known as the criminal Madaj. Another sergeant, Bernard S. Frasik became Bay County prosecuting attorney, Randall E. Graves was a prominent banker, William R. McMorris became an auto dealer and Frank R. Sweeney became postmaster.
The larger picture for local history buffs to ponder is this area's part in the production of mustard gas.
When German scientist Fritz Haber concocted poison gas in 1917 the free world was in danger of becoming a totalitarian province of Kaiser Wilhelm II. Haber broke all rules of the 1899 agreement in producing poison gas, first chlorine then mustard. And when he donned the pickelhauben (pickaxe bonnet helmet) and took to the battlefield as a captain to deploy it on the Western Front, he violated every convention of science.
The military effectiveness of gas was immediately proven when the Germans using chlorine opened a several mile wide gap in Allies lines. Although the Boche failed to exploit the gas-induced opportunity, warfare had instantly changed much as when the innovation of the English longbow trumped the French spear in 14th-century battles.
The 1899 Hague Gas Declaration contained an agreement "to abstain from the use of projectiles the sole object of which is the diffusion of asphyxiating or deleterious gasses." Twenty-seven nations were parties to the declaration. The United States declined based on the opinion by its representative, Navy Captain Alfred T. Mahan, that poison gas was just as humane as other types of warfare.
The Allies had to respond to Haber's coup, especially after he concocted an even deadlier compound -- mustard gas -- in 1917. Hundreds of thousands of horrible casualties demanded retaliation: much like one air raid spawns a counter bombing, the poison gas war raged in Europe.
Confirmation that the Prussian emperor was a maniacal despot was implicit in a speech to recruits at Potsdam in 1891: "I rule Germany by the direct will of God, and you must willingly obey my commands, even though I require you to shoot down your own fathers and brothers in response to my dictates."
He doubled down with the ultra-chauvinistic comment to a northern regiment: "I would rather see my forty-five million Prussians dead on the field of battle than see one foot of the soil taken in 1870 given back to France."
And so the war came, involving dozens of countries and millions of fighting men; and ultimately an estimated 50 million, including civilians were killed.
As thousands of chemists puzzled over mustard gas formulas and production processes, a tiny chemical company headed by Herbert H. Dow in the middle of the Michigan woods was first to formulate the mustard oil that produced the gas. That came in mid-1918 after every military, academic and industrial laboratory in the nation failed to produce the amount President Woodrow Wilson and General John "Black Jack" Pershing indicated was desperately needed. In mid-1918 Dow informed the Army it could deliver 20 tons a day, more than British or French labs could produce in a month.
The U.S. Army Chemical Warfare Division had ordered the drilling of 17 new brine wells into the bromine-rich depths under tiny Midland, Michigan (population 2,500) that would furnish the basic raw material for mustard oil. Two squads of soldiers with a lieutenant and a captain-physician were sent to Dow's rural headquarters to bolster manpower stretched thin by war production. A team of nurses from hospitals in the area was assembled to care for the inevitable injuries resulting from inexperience in dealing with toxic brews.
Dr. Albert W. Smith of Case Institute in Cleveland, Ohio, quickly came up with the formula for mustard oil. Dr. Smith had been one of Mr. Dow's instructors at Case and now sat on the board of his embryo firm. Nor was Dow and his patched-together crew deterred from mixing and shipping hundreds of barrels of the newest and most terrible "weapon of mass destruction" to the Army's Edgewood Arsenal in Maryland.
Even as Dr. Smith was heading from Cleveland to Midland, James A. Conant, later president of Harvard, and a military crew were in Willoughby, Ohio, (similar in size to Midland) some 20 miles from Cleveland, converting the huge former Ben Hur Motor Company plant for poison gas production. About 1,000 soldiers sworn to secrecy were locked into the plant site for several months while they brewed a new poison gas, Lewisite, named for Winford Lee Lewis, a researcher at Catholic University in Washington, D.C.
A bizarre series of misadventures in Midland ended in an amazing and, until now, undocumented disaster. The conflict between a pretty red-haired nurse and an abusive captain-physician, leading to his injury when she surreptitiously placed a few drops of mustard oil in his boot, created the disaster. The details of an incredible series of incidents is revealed in interviews ordered by Mr. Dow in the wake of an Army general's cancellation of the mustard gas contract. Those interviews, conducted by an erstwhile private detective who later became an FBI agent who clashed with J. Edgar Hoover, show how human emotions can upset even the most logical processes of industry. Human resources are, after all, human, with all the foibles that have plagued mankind through history.
While the investigator hinted that the Army captain may have had German sympathies, he replied in turn with charges that Dow employees involved in mustard gas were subversives and the company itself pro-German. The incident took on a comic opera atmosphere.
Whether the military ever shipped the Dow mustard oil overseas is an open question to this day; in fact, some reports were that many barrels never left Maryland and eventually were dumped in the sea! Tons of Lewisite made a few months later also went into the Atlantic Ocean and perhaps remain as watery "time bombs" to this day. But the fact that the U.S. had the capability to counter Haber's "Satanic mist," of which the Germans were made aware through news reports, was a deterrent.
When the military offensives of Kaiser Wilhelm II were contested by U.S. entry into the war in early 1918 the Allies were relieved of the necessity to increase deployment of the world's most terrible weapon. The "eleventh hour of the eleventh day of the eleventh month" saw the German surrender before much, if any, of the U.S. poison gas, was used against enemies.
The cancellation of the Dow contract and construction of a new plant by Gen. William L. Sibert became a non-factor when the surrender came. However, if the war had continued, the Allied gas capability may have been somewhat hampered without the Dow production. Lewisite, it was said, degraded in wet conditions and thus was less effective than mustard.
Another question for the ages is whether Austrian Corporal Adolf Hitler really was injured by mustard gas in 1918 or whether, as some speculate today, he suffered severe battlefield hallucinations. That also is irrelevant. Exposure to the evils of gas warfare created in der Fuehrer abject fear of enemy retaliation with gas. That was revealed in his autobiography, entitled Mein Kampf (My Struggle). The facts are that Hitler suppressed attempts by his generals to use mustard gas on the battlefield in World War II.
Did Hitler squander his opportunity for victory? Were perhaps millions of casualties avoided because of the skittishness of the otherwise relentless and brutal Nazi leader about poison gas on the battlefield? Obviously, he was never reluctant to use the dreaded ZyklonB, also formulated -- ironically to say the least -- by Jewish scientist Haber, against millions of Jews in the Holocaust. How much did U.S. poison gas expertise in World War I figure into this World War II question? The reader will have to draw his or her own conclusions.
The benevolent adaptation of mustard gas for chemotherapy treatment of cancer by Yale pharmacologists in the 1940s and use of Lewisite to treat neurological problems proved that even the most volatile and harmful chemicals to humans can be lifesaving under expert hands. Chemotherapy has come into serious question by some medical writers but continues in use in many hospitals.
Thus the question of the morality of poison gas becomes one for academic consideration. Does the aspect of its use for chemotherapy now absolve the U.S. of some or all guilt from making mustard gas or any of the noxious compounds produced over history? Dow was roundly abused by protesters and in the news media for napalm production in World War II, Korea, and Viet Nam and has stoutly defended itself as doing its patriotic duty for the government.
Despite many protests on university campuses in the 1960s and 1970s, Dow officials have never shrunk from their defense of patriotism in the service of the nation regarding the production of war materiel. The firm never withdrew from recruitment of talent on campuses despite student protests, screaming headlines and hours of negative publicity on radio and television.
###
---
---

Dave Rogers




Dave Rogers is a former editorial writer for the Bay City Times and a widely read,
respected journalist/writer in and around Bay City.
(Contact Dave Via Email at carraroe@aol.com)

More from Dave Rogers
---
Send This Story to a Friend!
Letter to the editor
Link to this Story
Printer-Friendly Story View
---
--- Advertisments ---