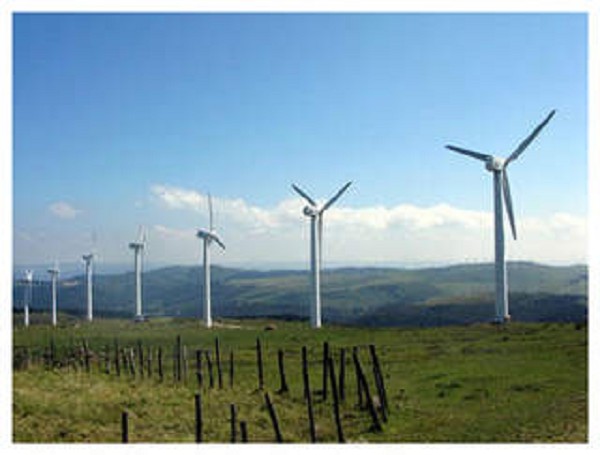 Windmill Farm
---
NOT GIVING UP: Thumb "No" Vote Won't Deter World's Largest Windmill Firm
There are already 443 windmills in Michigan's Thumb region, and residents in Huron and Tuscola counties voted "no more" last week.
A variety of issues have been raised by opponents, including noise, damage to birds and bats and a mysterious wind turbine flicker syndrome said to be irritating and possibly affecting the health of residents. Signs urging "yes" and "no" votes were seen posted at homes and businesses in the two counties before the vote.
Voters by a 63-36 ratio turned down wind farm expansion in the Huron Wind LLC overlay district and a similar result was recorded in the DTE (Detroit Edison) overlay district. Tuscola County's Almer Township also voted the wind farm expansion down, but by a narrower 55-44 percent ratio.
But the world's largest wind and solar energy producer, NextEra Energy, vows to "remain fully committed to Huron County," according to officials of the firm that is based in Juno Beach, Florida.
However, one company official called the votes "an economic setback" for the citizens of Huron County.
Michigan voters in 2014 overwhelmingly approved a change in industrial personal property assessments with Proposal 1 that seems to indicate local governments may no longer receive tax revenue from some windmills after this year.
Legal experts note 2016 was the first year of the phase-out of the personal property tax on Eligible Manufacturing Personal Property or EMPP. Property purchased between 2006 and 2012 will still be subject to assessment in 2016. However, beginning in 2017 any EMPP in place for at least 10 years will become exempt, with full phase out by 2023.
Turbines are considered industrial personal property and are subject only to the debt portion of local school district millages. Turbine owners pay an average of 20 mills, 33 percent which goes to the county, 24 percent to the Huron Intermediate School District, 18 percent for school debt and 25 percent to townships.
Tax revenue per turbine, at a normal 0.30 multiplier, would be about $9,000. Huron has an estimated $3.9 million worth of wind turbines. "It's better than a poke in the eye with a sharp stick," Wruble quipped.
Most of Michigan's 28 utility-scale wind farms are located in Huron County, according to the Michigan Public Service Commission. Of a total of 1,234 wind turbines with total capacity of 2,338 megawatts of electricity, 883 currently are operational.
Energy firms are searching for new projects to develop in an effort to meet Michigan's renewable energy standard of 15 percent by 2021.
Some local governmental units are setting aside wind farm revenue in case they have to pay it back as a result of lawsuits pending in the Michigan Tax Tribunal, according to Commissioner Ron Wruble, finance chairman of the Huron County Board of Commissioners, as reported by Brenda Battel of the Huron Daily Tribune.
County officials are hoping to retain the $8.1 million in wind farm tax revenue that is at risk in the legal arena, Wruble said.
In 2008, the State Legislature proposed the change wind turbines from being taxed as real property to industrial personal property, a change ratified by voters on Proposal 1 in 2014.
Huron, Tuscola, Sanilac, Gratiot and Mason counties have formed the Michigan Renewable Energy Coalition (MREC) to advocate for fair valuation of the wind energy facilities before the Michigan Tax Tribunal in Lansing. There are now 466 pending tax tribunal cases, each one involving one wind turbine.
At its annual meeting to be held May 18, NextEra Energy, Inc. (NYSE: NEE), a leading clean energy company will report consolidated revenues of approximately $16.2 billion.
The firm produces approximately 45,900 megawatts of generating capacity, which includes megawatts associated with noncontrolling interests related to NextEra Energy Partners, LP (NYSE: NEP), and approximately 14,700 employees in 30 states and Canada as of year-end 2016.
See more at http://newsroom.nexteraenergy.com/2017-05-11-NextEra-Energy-schedules-live-webcast-of-companys-2017-annual-meeting-of-shareholders#sthash.BrzNwA9F.dpuf ###
---
---

Dave Rogers




Dave Rogers is a former editorial writer for the Bay City Times and a widely read,
respected journalist/writer in and around Bay City.
(Contact Dave Via Email at carraroe@aol.com)

More from Dave Rogers
---
Send This Story to a Friend!
Letter to the editor
Link to this Story
Printer-Friendly Story View
---
--- Advertisments ---