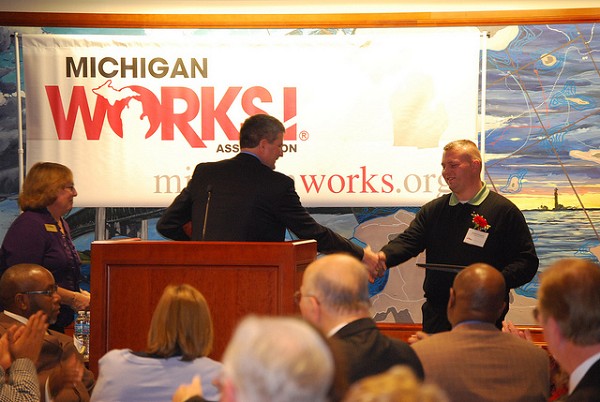 "We have a shrinking population of K-12 students, which means there are fewer younger workers coming to fill the jobs being vacated by Michigan retirees" ---.Business Leaders for Michigan
---
WORKFORCE SHORTFALL: Michigan Works Cites Educational Problems
State Funding of $25 Million for Adult Education Inadequate
"We can clearly see there is a need for more worker education and training in Michigan," wrote Louann Dunsford, CEO of Michigan Works, in 2016.
"According to a recent report from Business Leaders for Michigan, our state currently ranks in the bottom half of all states for educational attainment and faces demographic challenges that are expected to impact workforce quality in the near future:
"We have a shrinking population of K-12 students, which means there are fewer younger workers coming to fill the jobs being vacated by Michigan retirees.
"Our state ranks in the bottom five states for the percentage of 25- to 34-year-olds.
"As mentioned, Michigan's educational attainment is 31st in the U.S. Worse still, only 22 percent of Michigan high school graduates are considered career and college-ready."
Bridge Magazine in 2012 questioned whether Michigan Works really works, noting:
"A report released by the Michigan Auditor General in July found problems in the state's management of the Michigan Works agencies. The major conclusion was the state simply did not have the data to show how effective Michigan Works is in training and placing the unemployed in jobs.
"The state should create a continuous quality improvement program to monitor how efficiently the 25 Michigan Works Agencies are spending the $375 million a year in federal funds they receive, the audit recommended. Some Michigan Works Agencies spent very little on training job seekers, the audit found.
"In many cases, Michigan's changing workforce requires additional education and/or training to become marketable in the current economic environment," the auditors wrote. "As a result, we would expect participant-direct expenditures to make up a significant portion of (Michigan Works agencies') expenditures. However, we noted that some MWAs expended as little as 3 percent, 4 percent and 12 percent of program funding on participant-direct activities."
Despite this critical need for education and training, reflected in difficulties industries and businesses have in finding qualified workers, little seems to have been done to address the issue.
"Experts say the lack of old-fashioned vocational training programs in high school, or what is now known as career and technical training, is one often-cited reason for the skills gap in industry," reported the Detroit Free Press.
The demise of so-called "shop classes" in high school, and the downgrading of what was called "adult education" in my days as an educator seem to have combined to deal a "double whammy" to the Michigan workforce.
Worse than that, high school graduates often don't measure up to employers' expectations. Personnel Today's recent research in partnership revealed that 87% of employers feel that young people are not ready for the workplace when they leave school. Three-quarters said this was because they did not know how to behave in a work environment, while other concerns were around the lack of experience and having "no sense of urgency."
Obviously, young people need a higher level of training that now is not available.
The Michigan Legislature, however, has only weakly responded to Gov. Rick Snyder's initiatives aimed at addressing the workforce problem that is sapping the vitality of business and industry in the state.
In a totally inadequate budget of $25 million for today's "adult education" -- run through intermediate school districts and Michigan Works offices, Section 107 Funding for Prosperity Region 5 amounts to a less than adequate $1,430,604 for only eight programs.
BAY-ARENAC, $93,223; CLARE, $88,994; GLADWIN, $96,883; FULTON, $180,471; MT. PLEASANT, $401,218; BULLOCK CREEK, $382,206; SAGINAW, $154,404; SWAN VALLEY, $33,250.
According to The Bay City Times article today, Sunday, May 14, 2017, reporting average teacher salaries in this area of about $62,000, that funding of $1.4 million would pay for only 23 teachers, too few to staff the average elementary school in some communities.
There are "thousands and thousands" of jobs that need to be filled, said Roger Curtis, director of the Talent and Economic Development department, said last January. "I looked on our website this morning and there were 90,000 job openings listed."
Ideally, 60 to 65 percent of Michigan high school graduates should be completing a post-secondary program, Michigan State Superintendent Brian Whiston said. Currently, about 37 percent of Michigan adults age 25 and older have at least an associate's degree.
Remedies include Snyder's suggestion to attract more immigrants, from migrant farm workers to engineers, a thrust that has immediately run into President Donald Trump's restrictions on immigrants.
To address the shrinking state workforce, the Michigan League for Public Policy recommends: "Reasonable unemployment insurance and a living wage, as well as investment in adult education and postsecondary training that connect workers to jobs that enable them to support their families."
Our suggestion is to return basic workforce education for at least 18 to 24-year-olds to local school districts, where it was about 20 years ago before the misguided "Work First" policy was advocated by the state. The unstated aim was "no school for you, work first," that has left Michigan with a largely unprepared workforce struggling to live on minimum wages -- a situation that direly threatens our economic future.
And, of course, beef up adult education and high school vocational funding immensely. After all, what good does it do to spend state treasure to attract industries if those industries can find few qualified workers?
### ###
---
---

Dave Rogers




Dave Rogers is a former editorial writer for the Bay City Times and a widely read,
respected journalist/writer in and around Bay City.
(Contact Dave Via Email at carraroe@aol.com)

More from Dave Rogers
---
Send This Story to a Friend!
Letter to the editor
Link to this Story
Printer-Friendly Story View
---
--- Advertisments ---