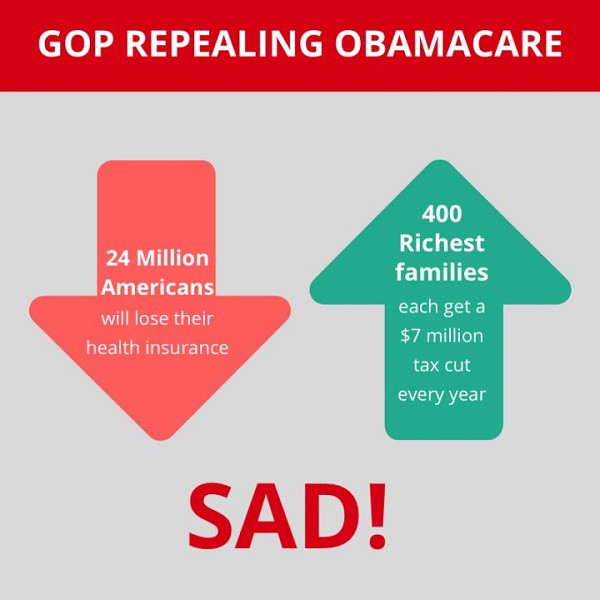 HEALTH PLAN TALK: Think Tank Says House Bill Would Hurt Medicaid
Rural Areas Seen Hardest Hit with "Reverse Robin Hood" Plan
The Center on Budget and Policy Priorities (CBPP) today is holding a regional press call to discuss how the House Republican health bill would harm rural America.
The House bill, now under consideration in the Senate, would effectively end the Affordable Care Act's (ACA) Medicaid expansion, cut and radically restructure the rest of the Medicaid program.
"The result might be a market that is much more affordable for people with a clean bill of health. But it would become largely inaccessible to anyone who really needs help paying for medical care," wrote Margot Sanger-Katz, in The New York Times.
The GOP plan would eliminate insurance coverage for 24 million Americans, including the 650,000 Michigan residents who are covered by the Healthy Michigan Plan, said Gilda Z. Jacobs, president of the Michigan League for Public Policy.
"President Donald Trump's budget will include about $800 billion in cuts over ten years largely in programs for lower-income people," wrote Robert Greenstein of CBPP. The President's proposed budget is slated for public release Tuesday, May 23.
"The President's tax proposals could cost an estimated $5 trillion or so over the coming decade while providing extremely large tax cuts to many of the nation's wealthiest people (including the President and his family).
"And these tax cuts would come on top of the big tax cuts for high-income people in the House health bill, which would provide an average tax cut of $50,000 a year to those who make at least $1 million a year, even as it leaves millions of low- and moderate-income people without insurance.
"It would also replace the ACA's premium tax credit and cost-sharing protections with a woefully inadequate tax credit that would make coverage unaffordable for millions of people looking to purchase coverage in the individual market.
"These proposals would have particularly severe effects in rural America. Medicaid has long played a larger role in providing health coverage and paying for care in rural areas than in urban areas and its importance has only grown since the ACA's Medicaid expansion took effect. In addition, marketplace enrollees in rural areas would be hit hardest by the House plan's cuts to premium tax credits."
"The President reportedly will propose further cuts in Medicaid -- on top of the more than $800 billion in Medicaid cuts in the House health bill -- and cuts in other basic support programs, which could include food stamps (now called the Supplemental Nutrition Assistance Program or SNAP), Supplemental Security Income for poor people who have serious disabilities or are elderly, and child nutrition programs, among others."
"The version of the health bill currently under discussion would retain the pre-existing conditions policy. But that would be true in only the most literal sense," wrote Ms. Sanger-Katz. "The mix of policies could allow insurance companies to charge sick people prices that few of them could pay. And it could allow them to exclude benefits that many healthy people need when they get sick. The result could be a world where people with pre-existing conditions would struggle to buy comprehensive health insurance -- just like before Obamacare."
###
---
---

Dave Rogers




Dave Rogers is a former editorial writer for the Bay City Times and a widely read,
respected journalist/writer in and around Bay City.
(Contact Dave Via Email at carraroe@aol.com)

More from Dave Rogers
---
Send This Story to a Friend!
Letter to the editor
Link to this Story
Printer-Friendly Story View
---
--- Advertisments ---