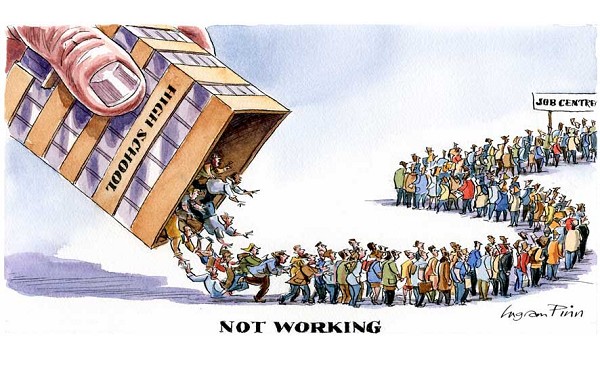 WHY MICHIGAN? Drop in High School Age Population Perplexing
Why is the number of high school age youth in Michigan dropping precipitously, causing schools to scramble for students to remain economically viable?
We can look for answers in the demographic statistics.
"Of young people living in their parents' home, 1 in 4 (25%) are idle, that is they neither go to school nor work, the U.S. Census Bureau announced today.
"Among other characteristics, these young adults are more likely to have a child, so they may be caring for family, and over one quarter have a disability of some kind.
"This figure represents about 2.2 million 25- to 34-year-olds."
Therefore, we can conclude this non-working group of young people is in no financial position to form a family unit and have more children that need to be educated by Michigan's K-12 school system. Many do not have the funds to obtain drivers' licenses and are thereby hampered in seeking both education and jobs.
Extrapolating conclusions from this data with a broad brush, we go back to the ill-advised decision by Michigan legislators to downgrade funding for adult education in the early 1990s. That no doubt has contributed to 22 percent of Michigan adults ages 18-24 who have no high school diploma or GED. That means they cannot qualify for many jobs, higher education or training or join the military. They are the "Forgotten Youth" of our era who apparently are challenging industries needing trained workers, as well as school age populations crimping schools.
A more troubling aspect of the drain of K-12 state school funding is explained by the Michigan League for Public Policy (MLPP):
"The primary purpose of the School Aid Fund (SAF) is to fund K-12 public schools in Michigan. The governor's 2018 budget continues the practice started in the 2000s, and which became the regular practice in the 2012 budget year, of using a portion of SAF dollars to fund Michigan's universities and community colleges. What is significant in the current proposed budget is that it appropriates nearly all total state funding for community colleges from the School Aid Fund. The governor's budget uses $235.6 million in SAF dollars for universities and $395.1 million in SAF dollars for community colleges, thus taking a record amount of $630.8 million out of the funding meant for K-12 schools and using it for postsecondary education."
If this is a cynical Conservative ploy to strike at the teachers' union by slashing K-12 budgets, it is not only misguided but self-destructive to the state.
Community colleges report a high percentage of incoming students need remediation, a process that should be dealt with before those students enter the doors of the college. Adult Education in the "old days" prepared students for community colleges and other higher education and MLPP has often recommended the re-establishment of funding for that program.
The population of high school age students in Michigan is dropping about 15 percent every five years, creating unsustainable conditions in many school districts. Some, like Arenac Eastern, Buena Vista, and Muskegon Heights have closed their doors and others are contemplating consolidation.
To have the money to stay near their staffing levels, school administrators are using Schools of Choice, a Michigan law allowing students to attend any school that has an opening at the student's grade level. Some districts have a large percentage of Schools of Choice students, which helps them maintain budgets but hampers the finances of their neighboring districts who have lost those students.
That's the story in Michigan's Thumb region, where the Akron-Fairgrove Schools are continuing to lose students to larger districts, with more thriving high schools, like USA (Unionville-Sebewaing Area), Cass City, Caro, and Reese.
Bangor Township Schools have launched a vigorous and innovative program of online education, no doubt to combat the scarcity of prospective new students. Bangor is seemingly emulating the corporate online giants such as Pearson (a British firm), K-12, Inc., and Connections Academy that are advertising heavily and skimming off enrollment wherever they can -- at $7,500 a student.
A reported 30,000 students are enrolled in the giant online, corporate Wall Street online schools in Michigan. If accurate, that would take about a $250 million annual chunk out of the state school aid budget.
Exposes published in national magazines have reported that the Wall Street online titans may have one teacher supervising up to 200 or even 300 students. If true, the profits from such an operation would be astounding. And the supervision of academic pursuits would be very limited.
Mathematica Policy Research reported online charter schools typically provide students with less live teacher contact time in a week than students in conventional schools have in a day."
Bangor is seeking to serve a huge swath of the region with its online btvs.org (Bangor Township Virtual School), including Bay, Saginaw, Midland, Gladwin, Arenac and Tuscola counties.
As icing on the cake, to attract more students, Bangor offers art classes through Studio 23, agri-science and horsemanship through Gran K, a local ranch, and martial arts through Cosens MMA. A parent can click an icon on the btvs.org website and, presto, get a Schools of Choice application form.
The new Bangor program is a tribute to Supt. Matt Schmidt, a former Bay City Public Schools administrator who recently withdrew from the running for a new Bay City superintendent to replace Janet Greif.
But let's go back and look at the underlying factors in school age populations as explained by the Census Bureau:
"Total enrollment in public and private elementary and secondary schools (prekindergarten through grade 12) grew rapidly during the 1950s and 1960s, reaching a peak year in 1971. This enrollment rise reflected what is known as the "baby boom, " a dramatic increase in births following World War II.*
Between 1971 and 1984, total elementary and secondary school enrollment decreased every year, reflecting the decline in the size of the school-age population over that period. After these years of decline, enrollment in elementary and secondary schools started increasing in fall 1985, began hitting new record levels in the mid-1990s, and continued to reach new record levels every year through 2006, after which enrollment declined slightly from its 2006 level.
"However, fall 2013 enrollment (55.4 million) was slightly higher than the fall 2006 record level of 55.3 million. A pattern of annual enrollment increases is projected to continue at least through fall 2025 (the last year for which NCES has projected school enrollment) when enrollment is expected to reach 56.5 million."
So, the question remains: why is Michigan losing high school age students while nationally that cohort is increasing? To belabor the point, we must turn again to too few opportunities for the non-graduate over 20 age group. The state needs to provide funding for that cohort or risk continued damage to industrial and business employment and, of course, to the fabric of society.
*SOURCE: U.S. Department of Education, National Center for Education Statistics. (2016). Digest of Education Statistics, 2015 (NCES 2016-014), Chapter 1. ###
---
---

Dave Rogers




Dave Rogers is a former editorial writer for the Bay City Times and a widely read,
respected journalist/writer in and around Bay City.
(Contact Dave Via Email at carraroe@aol.com)

More from Dave Rogers
---
Send This Story to a Friend!
Letter to the editor
Link to this Story
Printer-Friendly Story View
---
--- Advertisments ---