Gun Turret on Top of the Car Might Not Be A Good Idea
But Something Has to be Done About Escalating Usage of Cell Phones
April 1, 2006 Leave a Comment
By: O. J. Cunningham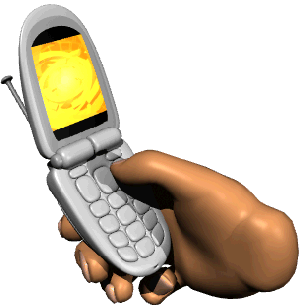 It may be only me . . . and let me know if it is . . . And I'm not really a violent guy.
But at one time or another, haven't we all wished that our car was actually a military tank with a big, freakin' bazooka-like gun-turret mounted on the top?
You know, so we could just blow up offensive drivers when they are, totally out of control, driving like idiots . . . and like, in our way . . .
Perhaps you've seen the "Cops" video footage of the tank on the expressway . . . Police chasing . . . The tank ramming any and every car in its path . . . At one point, I think I was cheering for the tank driver.
REALITY CHECK:
But in the end, the police disabled the tank, forced open the personnel hatch . . . and shot the "perp" to death . . .
Maybe I don't need a gun-turret after all . . .


Lately, I've expanded my gun-turret thinking to include people who use cell phones in public places . . . like bank waiting areas, post office lines and (of course) restaurants and super market check-out lines.
There's been recent talk of having certain areas in public venues set aside as "no cell phone" areas. I guess this is a logical extension of the "smoking" and "no smoking" restaurant philosophy and, on the surface, seems to make a lot of sense.
Do you have a seting preference? Smoking?, Non-Smoking?, Cell Phone?, No Cell Phone?
They're talking about jamming all frequencies inside of a movie theater.
It's getting so bad in today's movie theaters, last time I went to a flick, there were two "young people" (sitting nearby) talking on the phone to each other. They were both in my theater, watching the same movie as me . . . giggling and comparing notes on the progress of the movie.
One of them sat two rows in front of me and the other was in the seat directly behind me.
You can't make up stuff like that. Why would I lie?
I know a lady that has a water pistol. Every time her cat crawls on the curtains, she shoots the cat with the water pistol The cat has no clue where the water comes from. But it gets down off the curtains.
I think this might be appropriate thinking to curb cell phone usage. I have been considering the water pistol (squirt guns) but I'm not sure that it would be effective.
When I bring the water pistol topic up in my "think-tank" group, paint-ball guns and TASER devices are quickly added to the list of cell phone deterrent devices.
Again, I'm not a violent guy. But you cell phone junkies (and you know who you are) should be aware that there is an ever-growing groundswell of anti-cell phone venom brewing.
If you're chatting on your cell and all of a sudden you feel a bit wet behind the ears . . .
Just remember . . . TASER . . .
---
---

O. J. Cunningham




O. J. Cunningham is the Publisher of MyBayCity.com. Cunningham previously published Sports Page & Bay City Enterprise. He is the President/CEO of OJ Advertising, Inc.

More from O. J. Cunningham
---
Send This Story to a Friend!
Letter to the editor
Link to this Story
Printer-Friendly Story View
---
--- Advertisments ---