STATE A LOSER: Non-Partisan Report Says 660,000 Would Lose Coverage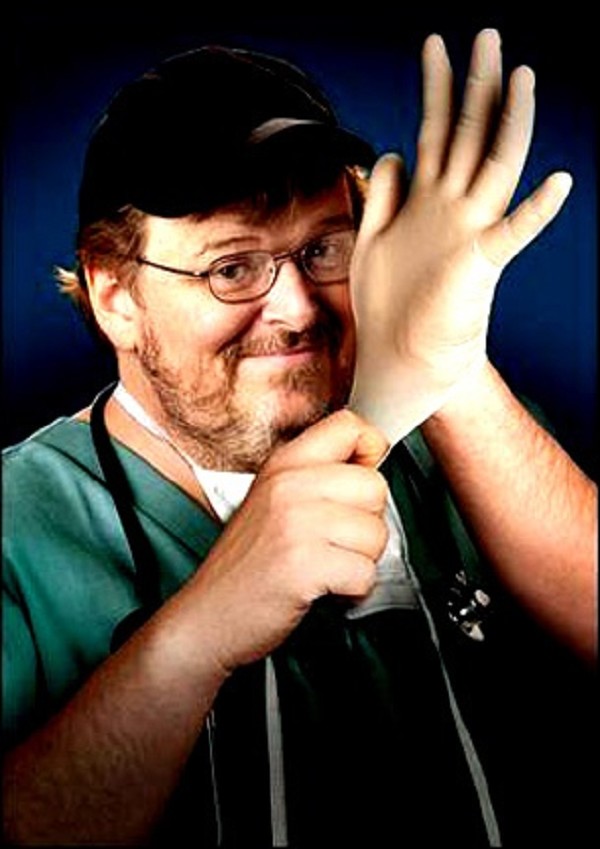 "This might hurt a little," Filmmaker Michael Moore jokes in his health care expose, "Sicko."
About 660,000 people would lose coverage under the health bill passed by the U.S. House, according to a new report from the nonpartisan, Washington, DC-based Center on Budget and Policy Priorities (CBPP).
CBPP also said that delaying or phasing in the House bill's massive cost shifts to states, as the Senate reportedly is considering, would have no effect on the ultimate outcome.
Michigan is one of eight states that have laws that would end Medicaid expansions if federal financial support for the expansion falls. In these states, Medicaid expansion -- and the Healthy Michigan Plan -- would thus end in 2020 under the House Republicans American Health Care Act (AHCA), according to the Michigan League for Public Policy (MLPP).
The House bill would shift $582.5 million in costs to Michigan, which is more than the state spends on child welfare ($445M GF), early childhood programs ($258M SAF) and at-risk programs ($379M SAF) respectively, said MLPP spokesman Alec Rossman.
The $582.5 million strain on the state budget also is approximately more General Fund money than the state spends combined on the departments of Talent and Economic Development, Education, Military and Veterans Affairs, Agriculture and Rural Development, Environmental Quality, Licensing and Regulatory Affairs, Natural Resources, Civil Rights, Transportation and the Attorney General's office.
Michigan would almost certainly be unable to absorb these additional costs, especially as more state General Fund money starts going to roads in the years ahead. As a result, Michigan would likely be forced to end its expansion and eliminate the Healthy Michigan Plan, leaving 660,000 adults with low incomes who have gained Medicaid coverage under the expansion at severe risk of becoming uninsured.
"Yesterday, I sat alongside the Michigan Department of Health and Human Services Director and Budget Director, representatives from Michigan's businesses, and doctors and hospital officials to talk about the success of the Healthy Michigan Plan and the importance of protecting it," said Gilda Z. Jacobs, president, and CEO of the Michigan League for Public Policy.
"Yet here we are today with a new independent report showing how the U.S. House's American Health Care Act will decimate the program and leave more than half a million state residents without coverage. Our state budget can't afford these costs, and Healthy Michigan enrollees can't afford to lose their coverage."
As the U.S. Senate considers changes to the House GOP health bill, some have claimed that phasing the repeal out more slowly or delaying it by two years would avoid these harms. But neither of these proposals change the ultimate outcome: a huge cost-shift to states ending the Medicaid expansion and causing millions to lose coverage.
Other proponents of the House bill have suggested that people who would lose expansion coverage could instead purchase private coverage on their own using the House bill's tax credits. That is false, the new reports show.
Adults with low incomes would face unaffordable premiums if the expansion were repealed, even after taking the House bill's tax credits into account. For example, premiums after tax credits for Michiganians in poverty would equal a whopping 48 percent of income for 60-year-olds at the federal poverty line. And that's without taking into account provisions in the House bill that would let insurers go back to charging people with pre-existing conditions exorbitant premiums, stop covering critical services like mental health services and substance use treatment and be imposing annual and lifetime limits.
"The American Health Care Act is a bad bill that will be disastrous for the Healthy Michigan Plan and the historic gains in health coverage and access to care that we have achieved under Medicaid expansion, and tinkering with it won't solve its fundamental flaws," Jacobs said, adding:
"Senators Debbie Stabenow and Gary Peters have been champions for Medicaid expansion and the rest of the Senate should follow suit and scrap the House bill and focus on bipartisan efforts to strengthen, not dramatically weaken our healthcare system."
The League is part of the Protect MI Care Coalition, an organization of consumer, healthcare and insurer groups in the state who are working together to protect the ACA, the Healthy Michigan Plan and the care they provide. More information on the coalition is available at www.protectmicare.com.
To learn more, please visit:
House Republican Health Bill Would Effectively End ACA Medicaid Expansion http://www.cbpp.org/research/health/house-republican-health-bill-would-effectively-end-aca-medicaid-expansion
People Losing Medicaid Under House Republican Bill Would Face High Barriers to Coverage http://www.cbpp.org/research/health/people-losing-medicaid-under-house-republican-bill-would-face-high-barriers-to
### The Michigan League for Public Policy, www.mlpp.org, is a nonprofit policy institute focused on the economic opportunity for all. It is the only state-level organization that addresses poverty in a comprehensive way. ###
---
---

Dave Rogers




Dave Rogers is a former editorial writer for the Bay City Times and a widely read,
respected journalist/writer in and around Bay City.
(Contact Dave Via Email at carraroe@aol.com)

More from Dave Rogers
---
Send This Story to a Friend!
Letter to the editor
Link to this Story
Printer-Friendly Story View
---
--- Advertisments ---