Boy Scouts Celebrate 100 Years In Bay City
Erv Hutter Speaks On BSA History
June 13, 2017 Leave a Comment
By: Stephen Kent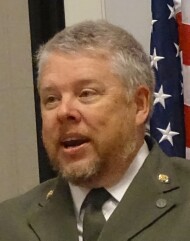 Erv Hutter
Boy Scouts of America
have been a Michigan mainstay for over 100 years. 2017 marks the 100 year anniversary in Bay City.
Rotarian Erv Hutter
, Eagle Scout, Scoutmaster, District Executive, and District President, spoke to Rotary about the storied history of the organization in Michigan.
In the late 1800's, there was a concern in America about "the boy problem". It was feared that young men were not learning patriotism and the values of America. A number of movements, primarily the YMCA but also "Woodcraft" and "the Sons of Danial Boon", formed an attempt to remedy that situation.
In 1907
Lord Robert Baden-Powell
wrote "Scouting for Boys" and soon founded the
Boy Scout Association
in England. A short time later newspaper man
W.D. Boyce
was visiting London and became lost. An unknown Scout came to his aid but would not accept any payment for that help.
Upon returning to the States, Boyce soon founded the Boy Scouts of America on the British model. Several similar organizations followed until, in 1916, Congress chartered the organization we know today. Over time the others were absorbed.
In larger cities, BSA was able to hire leaders and flourish. In other areas, BSA relied on volunteers and, often, association with established YMCA's. The "Y" started scouting in Saginaw in 1910 which lead to
Troop 1
being formed at
Saint Stans
in 1917. By June of that year, there were 150 Scouts and 11 troops in Bay City.
Scouting was supported by all of the "movers and shakers" of the area. "Ford & Simon" (later Fords) was the official scout equipment headquarters until it closed a few years ago. Rotary was an instrumental force behind the movement and was founder and owner of "Camp Rotary", which is one of the four remaining Michigan Scout Camps.
Scouting has evolved with the times. There have been numerous Council organizations and Scout Camps. From 1920 to 1959, Camp Kawkawlin (aka Kenduncan) was at the west end of "Boy Scout Road" and is the reason for the road's current name.
At 100 years in Bay City, Scouting continues to be popular with boys and girls. Cub Scouts and Boy Scouts are the heart of the program. But there is also Venturing for older, co-ed members and, after 25 years, the Explorer program is returning. There is also an experimental pre-school program.
---
CLUB NEWS and ANNOUNCEMENTS
The Club Board met prior to the regular meeting. Among other actions, the budget for the coming year was adopted. The Board also discussed the round name badge/pins that have been used for years. The cost of a single badge, with shipping and handling, has risen to almost $20. Alternatives will be investigated.
Tim Holsworth
spoke about the Golf Scramble this Monday. After a slow start, the number of teams is projected to meet or exceed last year. If you have not signed up, you can still join the fun and sign in Monday.
Maple Leaf Golf Course
158 N Mackinaw Rd
Linwood, Michigan

June 19, 2017
Registration 7:30 am
Start time 9:00 am
Dinner & Prizes 2:00 pm

For more information: RotaryBayCity.org
The
ZOMBIE RUN
is scheduled for October and work is starting now. The committee met after the last meeting to get things going. Full information will be provided once the Golf Scramble is behind us.
A reminder that
Deb Lutz
is asking for volunteers to sign up for ticket taking and 50/50 ticket sales for the next six months. If you want to help, see Deb.
A reminder that
DUES INVOICES
for the July to December 2017 term have been mailed. Please pay as soon as possible.
In a report from the Rotary International Conference in Atlanta, District Governor Cheryl Peterson reported that RI is extending its pledge to the Polio Eradication Campaign by
$50 million a year
for the next three years. Bill Gates announced that his foundation will continue its two to one match for that same period.
Current and past
DISTRICT DISPATCH
newsletters are available on the District site shown in the LINKS section below.

Before


Just a thought....
You probably don't want to be
a tiny red mite
if Nancy Greve is sitting close!


After
---
DATES TO REMEMBER
June 19 - Monday: Golf Outing
July 4 - NO MEETING. Enjoy the 4th
July 25 - July 26, 2017
District 6310 to Tour One Rotary Center. Group to take Amtrak train to Chicago.
October 14, 2017 - ZOMBIE RUN
Bigelow Park.
November 7, 2017 - Vocational Day
---
Upcoming Programs
(See the official schedule at RotaryBayCity.org )
June 20, 2017 - Bay City Players celebrates 100 years!
Kathy Pawloski will present the program.
June 27, 2017 - Team Paws Rocks Kind
with Karrie Marciniak.
July 4, 2017 - No meeting - HAPPY FOURTH!
July 11, 2017 - Passing of the Gavel
July 18, 2017 - RYLA Scholarship Recipients
Students from four area high schools will give a summary of their Leadership Camp Experience.
---
Current and past
DISTRICT DISPATCH
newsletters are available on the District site shown in the LINKS section below.


Rotary Bay City on Facebook!
Click on the Blue Facebook to visit us there.

Remember! Check attendance sheets at the front desk.
---
LINKS
---
---

Stephen Kent




Steve Kent and his family have lived in Bay City for 40 years. He is VP of Technical Services at MMCC which produces MyBayCity.Com. Kent is active in many Bay City civic organizations.

More from Stephen Kent
---
Send This Story to a Friend!
Letter to the editor
Link to this Story
Printer-Friendly Story View
---
--- Advertisments ---