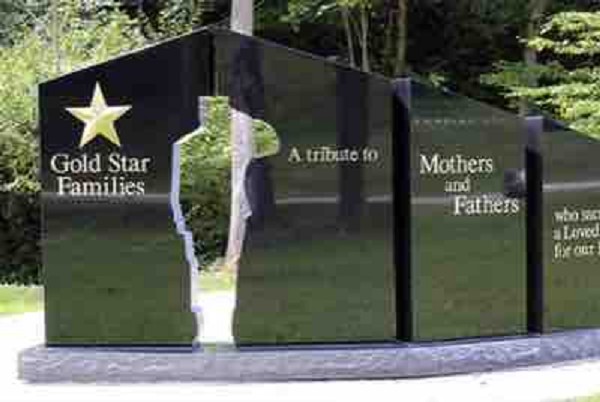 Bay City's Battery Park Sept. 30 will be the scene of dedication of a Gold Star Families Memorial Monument like this one.
---
MICHIGAN'S FIRST: State to Get Gold Star Families Monument -- in Bay City
6,000 Gold Star Mothers Traveled to France in 1930
Michigan's first Gold Star Families Memorial Monument is being planned for Battery Park in Bay City.
No doubt many younger persons ask: "Gold Star, huh?"
But the honoring of mothers of servicemen who died overseas began in World War I and has been carried on, with monuments erected in most states of the Union since then.
Except for Michigan: Until one that will soon be rise here, in the community focal point of veterans, and the community that supports them -- Battery Park.
Keith Markstrom and the Bay Veterans Foundation are raising funds and planning for the installation of the monument later this year. Dr. Tim Eckstein, retired Navy captain, is heading the team designing the monument that will reflect the state's tribute to the mothers of veterans who died in service.
Said Mr. Markstrom: "Gold Star Families are defined as a person who has lost a loved one during military service.
"This Monument is a reflection of the support we have to those families who have made "the ultimate sacrifice" for our freedom. It is our goal to ensure those families know their loved ones will never be forgotten and will have a dedicated place to honor their memory and bravery."
The BVF also is selling memorial coins to support the effort.
Donations also are being accepted at www.bayveteransfoundation.org.
Mothers of service members who died have for nearly 100 years been given memorial flags to hang in the windows of their homes.
On May 28, 1918, President Wilson approved a suggestion made by the Women's Committee of the Council of National Defenses that, instead of wearing conventional mourning for relatives who have died in the service of their country, American women should wear a black band on the left arm with a gilt star on the band for each member of the family who has given his life for the nation.
"The Service Flag displayed from homes, places of business, churches, schools, etc., to indicate the number of members of the family or organizations who are serving in the Armed Forces or who have died from such service. Service flags have a deep Blue Star for each living member in the service and a Gold Star for each member who has died."
Thus, the Gold Star and the term Gold Star Mother, as applied to mothers whose sons or daughters, or widows whose husbands, had died in World War I, were accepted; they have continued to be used in reference to all American military engagements since that time.
The organization explains: "The purpose of the Gold Star Families Memorial Monument is to honor Gold Star Families, preserve the memory of the fallen, and stand as a stark reminder that Freedom is not free. This stunning black granite monument features two sides.
"One side bears the words: Gold Star Families Memorial Monument, a tribute to Gold Star Mothers, Fathers, and Relatives who have sacrificed a Loved One for our Freedom. The other side tells a story through the four granite panels: Homeland, Family, Patriot, and Sacrifice.
"The scenes on each panel are a reflection of each community's Gold Star Families and their fallen Heroes. At the center of this tribute is the most distinct feature of the monument, the cut out which represents the Loved One who paid the ultimate sacrifice in the name of Freedom.
During the 1942 National Convention of the American Gold Star Mothers (AGSM), the membership was opened to mothers who had lost a son or daughter in World War II and was again opened after the Korean Conflict.
In 1930, there were 13,000 mothers and widows of victims buried in France who were entitled to a government-paid trip to visit the graves of their loved ones. About 4,000, mostly citing poor health, said they couldn't take the offer.
Fifty-five Negro (now called Black) Gold Star mothers canceled their reservations, protesting segregation from other groups in a letter to President Herbert Hoover. Arguments ensued over the quality of the ships to which the black mothers were assigned, and more protests arose over the refusal of New York hotels to house the mothers. Hotels in Harlem then were chosen on the recommendation of "New York Negro editor" Fred R. Moore.
However, 60 Negro Gold Star mothers eventually sailed aboard the American Merchant in July 1930, to visit the graves of their sons in France.
###
---
---

Dave Rogers




Dave Rogers is a former editorial writer for the Bay City Times and a widely read,
respected journalist/writer in and around Bay City.
(Contact Dave Via Email at carraroe@aol.com)

More from Dave Rogers
---
Send This Story to a Friend!
Letter to the editor
Link to this Story
Printer-Friendly Story View
---
--- Advertisments ---