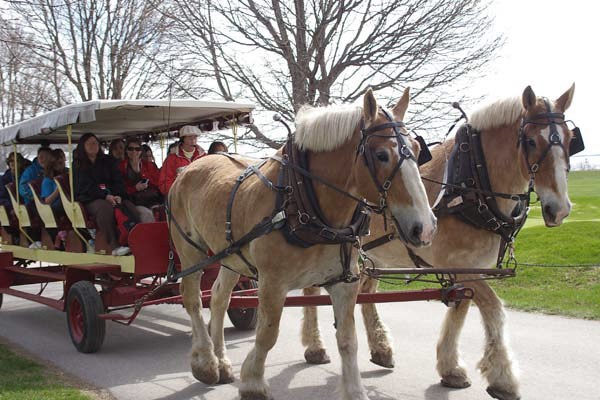 Carriage drivers will be in short supply this summer on Mackinac Island because of a glitch in the immigration process.
---
LABOR PROBLEMS: Farmers, Mackinac Island Share Foreign Worker Gap
Under Pressure, Trump Administration Adds 15,000 H-2B Visas
Bridge Magazine is dragging summer labor issues into the sunlight -- and there are many.
Like not enough fruit pickers for Traverse City cherries and drivers for the horse-drawn carriages on Mackinac Island.
Ted Roelofs writes in Bridge that some employers on Mackinac Island are struggling to fill hospitality jobs that open during the summer tourist season. They rely on a federal program -- H-2B -- that provides foreign workers in the seafood, tourism, landscaping and other seasonal industries.
The New York Times reported that President Trump -- who uses H-2B workers in the winter at his Mar-a-Lago club in Palm Beach, Fla. -- campaigned on a promise of reducing immigration and protecting American jobs.
Under pressure from industry groups, the Trump administration last week added another 15,000 H-2B visas nationally for the remainder of the fiscal year.
Mackinac Island Carriage Tours applied for about 20 H-2B slots as part of its seasonal workforce of 350. But the carriage company never got them -- because the program reached its cap before the positions could be authorized.
"It's a political issue and it shouldn't be. It's more of a small-business issue," Brad Chambers, the company's treasurer, told the Detroit Free Press in June.
The Michigan Farm Bureau has organized the for-profit Great Lakes Agriculture Labor Services LLC (GLALS) to help ease labor problems for farmers.
The H-2A program allows agricultural employers who anticipate a shortage of domestic workers to bring non-immigrant foreign workers to the U.S. to perform temporary or seasonal agricultural labor.
Before the U.S. Citizenship and Immigration Services can approve an employer's petition for workers, an application must be submitted to the Department of Labor stating that there are not sufficient workers who are able, willing, qualified, and available and that the employment of aliens will not adversely affect the wages and working conditions of similarly employed U.S. workers.
GLALS helped import 705 guest workers in 2016 and more than 1,200 this year, according to Roelofs' report in Bridge.
"We've been doubling every year," said Eligio Larraga, sales and field representative for Great Lakes. "When growers call us or come to us, it's because they are struggling to find workers."
"Larraga meets with interested growers, explains how the program works and helps with everything from its maze of paperwork to how to advertise job openings. While H-2A workers are more expensive than undocumented migrant workers, Larraga said they give growers something hard to put a price on peace of mind.
"If you use this program there is not going to be such a thing as a shortage of workers. There are literally thousands of workers in Mexico that would like the opportunity to (legally) work in the United States.
"They can make enough money to take care of their family for an entire year. They can make in a day what they make in a week there," Larraga said.
Roelofs wrote: "According to a 2014 report by the American Farm Bureau Federation, undocumented workers comprise fully half of hired U.S. farm workers. There is no such calculation specific to Michigan agriculture, where the seasonal workforce is about 45,000.
"Within the past month, vegetable farmer Fred Leitz said, he's already heard from a few of his past workers that they won't be coming back this year. Most are originally from Mexico but have lived in the United States for the past 10 or 20 years. "They're afraid. They're not going to budge from where they are right now," he said.
He added: "If you took all the undocumented workers out of Michigan, crop agriculture would collapse."
Miriam Jordan of The New York Times wrote recently about the Mackinac Island worker shortage: "Historically, up to a third of those workers are foreigners, including Mexicans, Filipinos, Canadians, and Jamaicans, who are hired on seasonal visas. But when many of the island's business owners applied for those visas this year, they heard from the government that none were left."
"The visas in question, known as H-2Bs, have an annual nationwide quota of 66,000, divided between winter and summer.
"But the summer allotment was exhausted quickly because of Congress, concerned about the program's impact on American workers, chose in December not to renew a provision that allowed workers who had H-2Bs in some previous years to work without being counted against the quota. That decision effectively sliced the number of visas by at least 50 percent."
###
---
---

Dave Rogers




Dave Rogers is a former editorial writer for the Bay City Times and a widely read,
respected journalist/writer in and around Bay City.
(Contact Dave Via Email at carraroe@aol.com)

More from Dave Rogers
---
Send This Story to a Friend!
Letter to the editor
Link to this Story
Printer-Friendly Story View
---
--- Advertisments ---