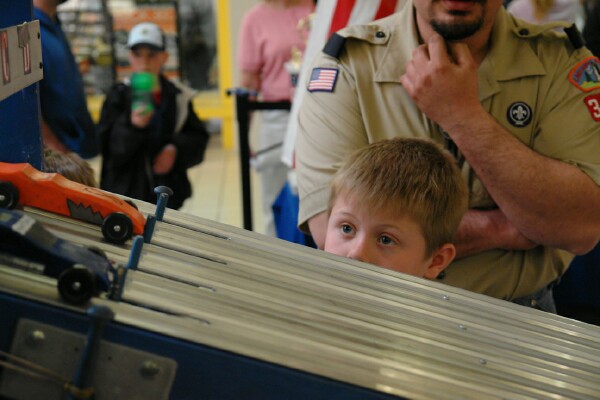 Cub Scouts Hold 4th District Pinewood Derby Championship
8 Year old Ryan Saunders, Pack 3187, checks the starting line
April 2, 2006 Leave a Comment
By: Stephen Kent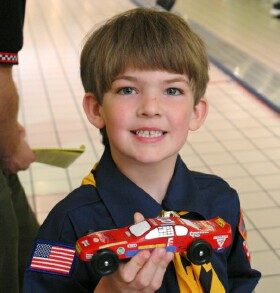 Anyone who spent time as a Cub Scout, or had a Cub in their household, should know about the Pinewood Derby. Started in California in 1953, the Pinewood Derby became an official Cub Scout event in 1955. Scouts purchase official kits consisting of a block of pine wood, four nails, four wheels and basic instructions. From these supplies they have to construct a tiny race car thatcan weigh no more than five ounces.
The Shoreline District championships was the brainchild of Senior District Executive Jason McCoy. Before Jason came to the area four years ago, each Pack would hold their own Derby, and some packs mightrace against each other. McCoy thought it would be a fun to get the entire district together at the Bay City Mall and have a Championship Race Off. The first year they had about 47 entries. This year the event drew 18 Cub Packs and over 100 registeredcars racing in six divisions based on rank and age.
The actual construction process is often a family affair with Dads, Moms, even brothers and sisters, getting in on the act. And they take the project pretty seriously. The end products range from the strange to the whimsical, to the absolutely high tech. Some folks just have fun; others get extreme, polishing the nails used for axels, testing aerodynamics, and carefully controlling the center of gravity.
Races are run using gravity as the only power source. Cars are set up at the top of a sloped "ski jump" type of track which has aluminum channels to keep each car in its lane. The starter releases the cars by dropping a barrier and off they go. At the far end, an electronic timer shows the first place car. In the end, most of the races end in olympic-like thousandths of a second.
The Bay City races were run in a "heat" fashion. Rather than clocking times, the cars were run 2 or 3 at a time and the winner of each heatwent back to run in the next heat. McCoy said it's lots more fun racing against your buddy than just running against the clock. The pace was fast and exciting for the nearly 250 people gathered between Yonkers and the Easter Bunny in the Mall.
Three trophies were awarded in each of the 5 scout divisions: Tiger, Wolf, Bear, Webelos 1 and Webelos 2. The winners of each of those divisions then raced for an overall placement. First place overall was won by Noah Beason. His trophy was almostas tall as he is.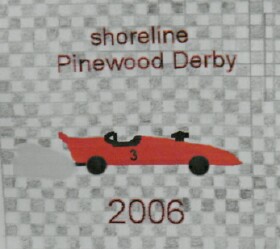 Besides the racing, the event featured a "patch design" contest. Scouts were invited to create an image to be embrodiered onto cloth and used as a uniform patch to commeroate the event. A dozen entries were displayed and everyone got to vote on their favorite. The winner, shown at left, was by Trysten Comer from Pack 3129. His design will be made into an actual patch which will be given to all participants.
Recognizing that this really is a family event, McCoy also added and open class to the Championships. Everyone in the Cub family is invited and just about everyone gets in on the excitement. This year even saw a father and mother who each built a car and raced against each other. There were 33 entries in the Open Class, which was won by a father and son. Dad came in first this year and his son was second; last year it was the other way around.
---
---
--- Advertisements ---

---
---
Scenes from 4th Annual District Pinewood Derby
Shoreline District - Boy Scouts of America

---


Overall winner Noah Beason receives his trophy
---
---
--- Advertisements ---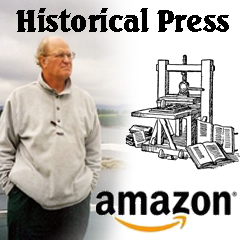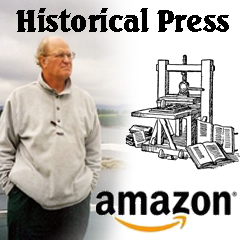 ---
---
---

Stephen Kent




Steve Kent and his family have lived in Bay City for 40 years. He is VP of Technical Services at MMCC which produces MyBayCity.Com. Kent is active in many Bay City civic organizations.

More from Stephen Kent
---
Send This Story to a Friend!
Letter to the editor
Link to this Story
Printer-Friendly Story View
---
--- Advertisments ---