Ghosts are Bay City's
Latest Tourist Draw
Buses Line Up So Visitors Can
Hear About Local Legends
December 18, 2002 Leave a Comment
By: Dave Rogers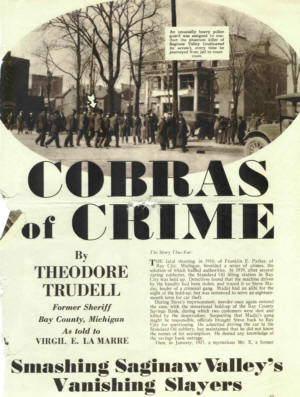 Headlines in the Bay City Times informed their readers of the Parker Murder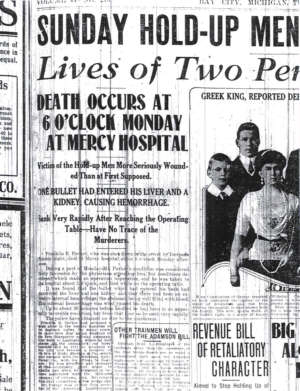 The Parker Story was Big News
Ghosts are in Bay City's past, and in its future.
If you watch the History Channel or the Travel Channel on television, you know that ghost stories are a national obsession. So it stands to reason that Bay City can draw tourists if it markets its many ghosts through storytellers and bus tours.
"You mean Bay City has even more ghosts," wrote Gerry Volgenau, Detroit Free Press Travel Editor, who was here a couple of years ago for a visit and did a major article on the experience. "I stilllove Bay City," he says.
The ghost strategy, begun last year as a joint effort of the Bay Area Convention and Visitors Bureau and the Bay County Historical Society, so far is a rousing success. Almost three dozen tour buses and about 1,750 people arrived here last year for tours with step-on guides provided by the Historical Society. Plus another several hundred people took the local trolley tours. Bookings are already beginning for next August during the reprise of the Tall Ships event.
A group of "ghostbusters" from Durand, Michigan visited here last fall and did research on ghosts, aided by Historical Society tour guide Marjorie Olson. A full page article about their trip to Bay City was featured in their local paper.
Why ghost tours in Bay City?
1) Because..we have the ghosts! -- We have a fabulous history of interesting characters and a violent past. (True ghosts are the spirits of people who died by violent or nefarious means and who may have a reason to return, i.e., seek vengeance for their death or seek answers about their fate)
2) Other communities, notably Charleston, SC, Savannah, GA, New Orleans, LA, Gettysburg, PA, and Alton, IL, have been highly successful in promoting tourism based on the ghosts of their past. In Alton, for example, ghost tours cost up to $50 and are booked continually.
3) People are fascinated by ghost stories, even if real ghosts are not completely verified. It's the story that counts. In Bay City, however, we have a basis in reality in all our ghost stories.
After all, this is an old lumbering town which during its hey day saw 5,000 rowdy lumberjacks hit town every May after the timber drive and millions of dollars change hands, some of it as theresult of criminal activity including murder. Stories abound about many "floaters" in the river, meaning floating bodies of dead men who were never identified. One story told during the ghost tour recalls that the remains of a long-dead lumberjack were found boarded up in the wall of an old building at Sixth and Water, prior to the construction of an auto dealership which itself is long gone.
Who, or what, are the ghosts haunting Bay City and fascinating tourists?
Fabian Joe Fournier, of course, the main model for Paul Bunyan. Murdered at Hawkins Steamboat Dock on Water Street near Third in 1875, Fournier's ghost reportedly still stalks across the street to the old Campbell House, now the Bay City Antiques Center, seeking vengeance fromhis killer, Blinky Robertson, freed by a jury because they didn't like Fournier.
Lumber Baron Franklin Parker, murdered at Center and Lincoln in 1916 by the infamous bandit Steve Madaj and an accomplice. Parker, the Harvard graduate, socialite and national leader of the lumber industry, supposedly has been seen reeling across Center as he did that night more than 80 years ago with two bullets in his body. Yes, Madaj went to prison for 41 years for the crime, then he escaped (and may have perpetrated other murders). But, eventually he was pardoned, he married and lived another 17 years, dying at age 86. The story of Madaj and his gang was featured in a 1934 issue of Master Detective Magazine and is one of Bay City's most famous tales of criminal activity.
Take the next trolley tour of the Historical Society on Jan. 11 and hear the rest of the stories -- about the red-haired prostitute who haunts the Old City Hall restaurant, the ghost of the Elm Lawn cemetery gatehouse and the heart-wrenching tale of the worker who fell 75 feet from the roof of City Hall in 1896. To tell you more would spoil the suspense.
---
---

Dave Rogers




Dave Rogers is a former editorial writer for the Bay City Times and a widely read,
respected journalist/writer in and around Bay City.
(Contact Dave Via Email at carraroe@aol.com)

More from Dave Rogers
---
Send This Story to a Friend!
Letter to the editor
Link to this Story
Printer-Friendly Story View
---
--- Advertisments ---