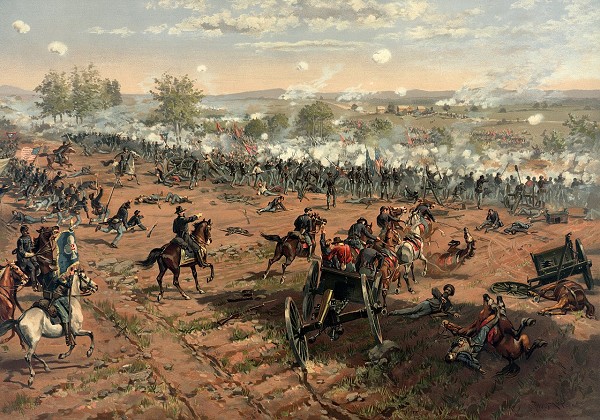 CSA Gen. George Pickett's Charge at Gettysburg, with Union Gen. Winfield Scott Hancock, on horse, defending. (Library of Congress)
---
LINCOLN RETURNS! "Honest Abe" Among Historical Figures at River of Time
September 23, 2017 Leave a Comment
By: Dave Rogers
The annual step back in history River of Time is underway at Veterans Memorial Park.
Besides the booming of cannons and the thump ant toot of drum and bugle corps, guess who will be attending?
Yup, President Abraham Lincoln, that's who. Lincoln will give his immortal Gettysburg Address at 12 noon Saturday, Set. 23, on the porch of the log cabin.
Delivered on the afternoon of Nov. 19, 1863, at the dedication of the National Soldier's Cemetery, the Gettysburg Address was a statement of national purpose defining the Civil War as a struggle not just for the Union but also for the equality of man.
The monumental battle that had been fought at Gettysburg included several Bay Cityans, most prominent of whom were Maj. Gen. Benjamin Partridge, sheriff of Bay County, Maj. Gen. David Bell Birney and Capt. James G. Birney IV, among others.
All made great contributions to the Union victory:
--Partridge joining Col. Joshua Lawrence Chamberlain in the struggle for Little Round Top, fixing bayonets and charging down to repel Confederates from Georgia and Texas desperate to flank the Blue line;
--David Birney taking over 3rd Corps from the wounded Gen. Daniel Sickles who had advanced his troops into danger, and stemming the Rebel tide in the Devil's Den, the Wheatfield and Peach Orchard;
--and 19-year-old Capt. J.G. Birney, riding hell-bent with Gen. George Armstrong Custer, blocking the flamboyant Rebel Jubal Early from hitting the rear of the Union line the same time Col. Pickett crashed the front.
Yes, the Bay Cityans helped save the Union, and, some say, the Free World, that day of July 3, 1863, at Gettysburg, Pennsylvania.
When Lincoln arrived by train the corpses of 50,000 men Blue and Gray, were still haunting the fields and hills near that little farm town.
So, when you listen to the re-enactment of Lincoln's memorable speech, it should have more than normal interest for you as Bay Cityans and Michiganians... and Americans.
At 2 p.m. Saturday on that same log cabin porch, one of the founders of this country, Ben. Franklin will appear with his wig and glasses perched on his nose, to speak of events leading up to our nation's independence.
Lincoln returns at 4 p.m. to reprise his speech, that some say helped reunite the country after the most terrible internecine conflict in its history.
You won't want to miss the Auburn Glen Highland dancers at 5:30 p.m. and the candlelight tours of all camps leaving from the log cabin at 8 p.m.
Sunday will see a Colonial Worship Service at 10 a.m., followed by a Civil War Church service at 10:30 a.m.
Ben Franklin is back at 11 a.m. with a Civil War skirmish sandwiched between another Lincoln speech at noon.
A Colonial skirmish at 1 p.m., World War II skirmish at 2 p.m. and closing ceremonies at 3:30 wrap up the annual historical pageant that seems to get better with each year.
###
MyBayCity.com has covered the River of Time since 2003.
Take any of these links for prior year coverage:

2018.a, 2018.b
2017.a, 2017.b, 2017.c,
2015, 2014, 2013,
2012, 2011, 2010, 2009,
2008, 2008, 2008, 2008,
2007, 2007,
2006, 2006,
2005, 2005, 2005,
2004, 2003,
---
---

Dave Rogers




Dave Rogers is a former editorial writer for the Bay City Times and a widely read,
respected journalist/writer in and around Bay City.
(Contact Dave Via Email at carraroe@aol.com)

More from Dave Rogers
---
Send This Story to a Friend!
Letter to the editor
Link to this Story
Printer-Friendly Story View
---
--- Advertisments ---