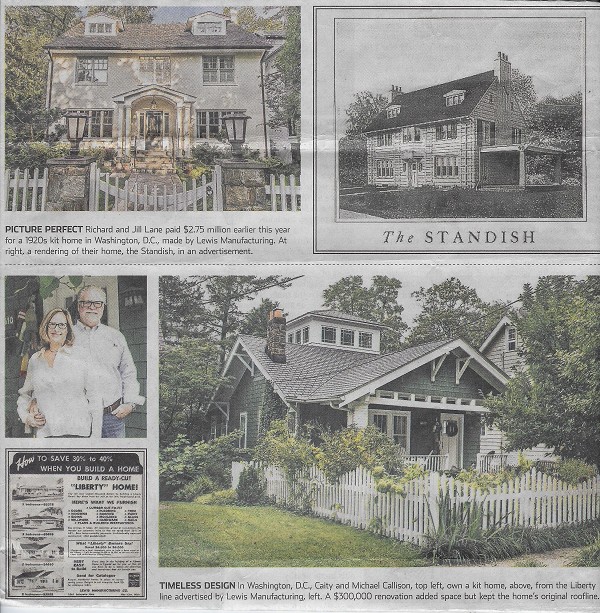 The Wall Street Journal recently featured this photo layout of Liberty Homes made by Lewis Manufacturing in Bay City.
---
READY-CUT HOMES: 1920s Washington D.C. Lewis Kit Home Brings $2.75 Million
October 4, 2017 Leave a Comment
By: Dave Rogers
A Bay City-produced Lewis Manufacturing Co. kit house from the 1920s in Washington, D.C., has sold for $2.75 Million, according to the Wall Street Journal.
Historical kit homes are showing remarkable resilience, and in some cases, soaring value, states the Journal in a September 22 full-page feature story complete with nine photos.
"These Bay City companies that pioneered the ready-cut home industry are part of the incredible history of this town that never ceases to amaze," said Jerry Jopke, retired Oldsmobile executive and president of the Dobson Fire House Museum board.
Another Lewis home from the Liberty line, also in Washington, D.C., underwent a $300,000 renovation by its owners, Caity and Michael Callison. The WSJ caption under a photo of the home reads "Timeless Design."
An old newspaper ad from Liberty is reproduced, headlined "How to Save 30% to 40%, When You Build a Home."
These recent news reports attest to the lasting quality of the nearly 200,000 ready-cut homes produced in Bay City from 1908 until 1983, when the flagship Aladdin Ready-Cut Home Co. of Otto and William Sovereign closed.
Aladdin sold many homes to Sears and Montgomery Ward that were marketed through the massive catalog mailings of those firms. The Bay City company furnished barracks for the Army in World War I and II and group housing buildings for the CCC (Civilian Conservation Corps) in the 1930s.
The Sovereign brothers have started the company on a kitchen table in 1908, first offering kit garages and boathouses. A one-inch ad in Motor Boating magazine launched the firm, which soon found kit homes a more lucrative ready market.
Cliff Brooks had been selling knocked-down boats by mail. He was soon joined by Pioneer Boat Works and the Defoe Boat Company, recalled Otto Sovereign in his 1951 book "Fifty Million Dollars on a Shoestring."
In 1906, visiting his brother Bill at the advertising agency where he worked in Cincinnati, Otto recalled Bill saying: "If all the parts and pieces of a boat can be machined ready to be shipped and successfully nailed together by an amateur, why not homes? If boats can be sold by mail, why not houses?
Sales the first year brought in $1,300 and North American Construction Co. was underway. The Sovereigns offered to sell a half-interest in the budding firm for $500; luckily they prospective buyers turned them down. Later the name of the firm was changed to Aladdin.
Aladdin advertised in the top magazines of the day, Saturday Evening Post, Collier's, Munsey's Magazine, McClure's, Everybody's Magazine and Farm Journal. Their first offering was a 5-room house, complete, for $365. A four-room house was $299 and a two-room house $160. "Our gross volume of business regularly doubled and trebled through the next six years," Otto wrote.
According to some reports, Bay City has about 700 kit homes scattered about the city that were produced here.
The pre-cut homes were comprised of lumber cut to size and bundled for rail shipment. They included hardware, doors and windows, plasterboard and paint enough for two coats. Plumbing, electrical and heating systems were offered for additional charges.
Dale Wolicki, architectural historian, in his 1998 book "The Historic Architecture of Bay City, Michigan," observed: "Named for the mythical tale of Aladdin and the genie who built a castle overnight for his master, the company initially operated as a front office, forwarding orders to Lewis Manufacturing and International Mill & Timber, local lumber suppliers."
International Mill and Timber, owned by Leopold Kantzler, used the trade name Sterling Homes. Kantzler had acquired the firm from William Young after a fire in 1917 and a housing slump following World War I.
States a history of the company at the Clarke Historical Library in Mt. Pleasant: "Perhaps the most storied of Aladdin's group sales were made by the Austin Motor Company in Birmingham, England. In November 1916 Austin purchased two hundred modified "Chester" houses. The houses were loaded on the SS Headley, but were lost when the ship was sunk by a German submarine." All crew members were rescued.
The SS Headley was a 4,953 ton defensively-armed British Merchant ship built in 1914 by Craig, Taylor & Co., Stockton, England for the Mitre Shipping Co. Ltd. (Houlder, Middleton), London. On the 19th February 1917 when 35 miles SSW from Bishop Rock, Isles of Scilly, England when she was torpedoed without warning and sunk by German submarine U-67. The vessel was en route from Portland, Maine to London.
The Clarke history continues: "In March 1917 the second shipment of two hundred homes was sent from New York, this time arriving safely in England. By June 1917 all two hundred homes had been erected."
Austin Village this year celebrates its centennial, with all 200 homes still viable and occupied, according to British news reports.
Aladdin, Lewis-Liberty, and Sterling ready-cut home companies survived the Great Depression that began in 1929 mainly because they required buyers to pay a down payment, with balance on delivery, according to Wolicki.
"The market tightened after World War II "as it became increasingly difficult to compete against pre-fabricated and mobile homes," according to Wolicki.
After making a total of about 35,000 homes, Sterling closed in 1971 and Lewis/Liberty went bankrupt in 1973 after shipping about 60,000 homes. Aladdin's total sales were about 100,000 until its closing in 1983.
###
---
---

Dave Rogers




Dave Rogers is a former editorial writer for the Bay City Times and a widely read,
respected journalist/writer in and around Bay City.
(Contact Dave Via Email at carraroe@aol.com)

More from Dave Rogers
---
Send This Story to a Friend!
Letter to the editor
Link to this Story
Printer-Friendly Story View
---
--- Advertisments ---