WWII RECOLLECTION: How Dutch Family Hid Eight Jews is Recalled
September 26, 2017 Leave a Comment
By: Stephen Kent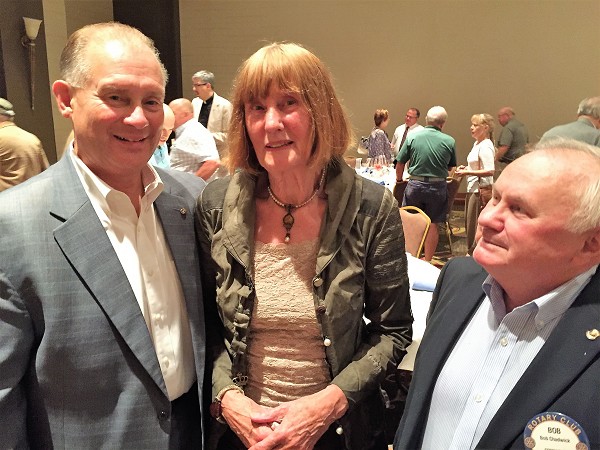 Ed Keating, programmer, left, and President Bob Chadwick, welcome Anneke Burke-Kooistra to Rotary.
Anneke Burke-Kooistra
, 79, of Mayville, told Rotarians about her remembrances in World War II when her family hid eight Jews to save them from capture, and possible death, by Nazis who occupied Holland.
She showed photos of the Jewish people grouped with her family members shortly before they left the house in Utrecht just after the war ended.
Most frightening was her recollection of a jack-booted Nazi thumping his gun butt on the hallway floor over the hiding place dug underneath. It had been hollowed out by slowly removing sand that was dumped in the river and "it was so big we could have hidden 50 people there," she recalled.
Born in 1938, Anneke was about 6 years old when her father, a member of the Dutch underground, decided to risk all their lives by this act of resistance to the Nazi occupation.
"I was so young, I never knew there were eight strangers living in the crawl space under our house until the war ended," she said. That was May 5, 1945. "My mother woke us up and brought us downstairs; everyone was crying and hugging."
Neighbors, including a doctor who came to the house to treat the Jewish people and even a Nazi supporting man living nearby, did not disclose their secret. "I believe miracles were allowed to happen in that house," she said with a quavering voice. "We must have had God's protection because there were so many times we were being very close to being caught."
Thirty years after the war her parents were honored in Israel by a tree planted in their honor in Jerusalem and the Queen of Holland recognized them for their bravery. Also, a plaque attesting to their heroism is now attached to their former house.
She cited a guiding principle of her life: "I believe when there is love in your heart there is no room for hate."<
---
CLUB NEWS and ANNOUNCEMENTS
Cindy Chadwick
is taking sign-ups for the Foundation Gala in Frankenmuth scheduled for November 17.
Future Rotary social nights are being organized by
Frank Janca
. He announced that information will be available in the next couple of weeks.
The
Zombie Run
is only a few weeks off. Information is on the web site and Facebook.
Brenda Scramlin
is organizing volunteers. We need about 50 people to cover all the stations on the run as well as work various areas. This is a major event for the club and your help is needed! The
"Face the FX"
face painting group will be on hand again this year to provide that essential ZOMBIE look.
Andrea Hales
is recruiting sponsors.
Tara Welch
announced that the
Community Grant
cycle's deadline has been extended to October 15. The club has money to give to community organizations that serve "Youth and Education". If you know of a candidate, be sure to have them check the club web site,
RotaryBayCity.org
.
Next summer's International Convention will be in Toronto, an easy trip for many of us. Be sure you sign up with her if you can make this life-changing Rotary experience.
Current and past
DISTRICT DISPATCH
newsletters are available on the District site shown in the LINKS section below.
---
---- DATES TO REMEMBER ----
October 14, 2017 - ZOMBIE RUN
Bigelow Park.
November 7, 2017 - Vocational Day
(Watch for potential date change)
November 15, 2017 - Foundation Gala
Frankenmuth
May 4-5, 2018 - District Conference
Frankenmuth
New format and breakout sessions.
1 and a half days rather than two full days.
---
Upcoming Programs
(See the official schedule at RotaryBayCity.org )
October 3, 2017 ShelterBox
Rotary and ShelterBox collaborate to provide emergency shelter and vital supplies to stabilize, protect, and support communities affected by disasters and humanitarian crises. Learn more about the green box which arrives when disaster strikes.
October 10, 2017 10-Minute Rotarian
Board meeting at 11:00, prior to regular meeting.
October 24, 2017 Great Lakes Bay College & Career Resource Center
This presentation will offer insight of the great work being done to increase post secondary education. Learn who is helped, what is offered and how help is provided through the Great Lakes Bay College & Career Resource Center.
November 14, 2017 Vocational Day SPONSORED BY THE ROTARY CLUBS OF BAY CITY
Annual Vocational Day for High School Juniors. After many years of being the sole sponsor of this event, the Rotary Club of Bay City and the Rotary Club of Bay City Morning will be co-sponsoring this event.

Rotary
is an intimate affiliation of carefully selected business and professional people,
having as its objective the promotion of high ethical standards in private, commercial
and civic life, and dedicated to the ideal that the basis of all worthy endeavor is unselfish service.
---
Current and past
DISTRICT DISPATCH
newsletters are available on the District site shown in the LINKS section below.


Rotary Bay City on Facebook!
Click on the Blue Facebook to visit us there.

Remember! Check attendance sheets at the front desk.
---
LINKS
---
---

Stephen Kent




Steve Kent and his family have lived in Bay City for 40 years. He is VP of Technical Services at MMCC which produces MyBayCity.Com. Kent is active in many Bay City civic organizations.

More from Stephen Kent
---
Send This Story to a Friend!
Letter to the editor
Link to this Story
Printer-Friendly Story View
---
--- Advertisments ---