POISON ON TWO FRONTS: The Klan Goes After the Chief
October 22, 2017 Leave a Comment
By: Dave Rogers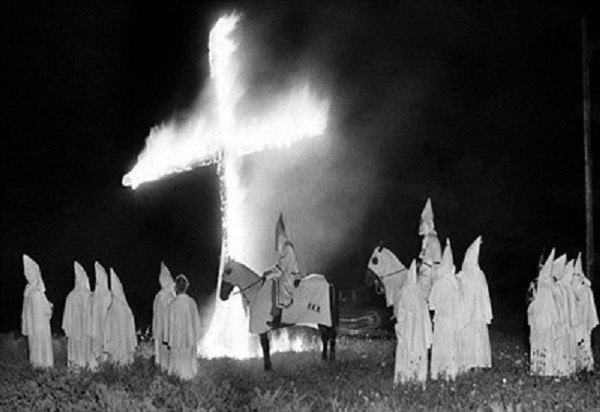 (This is the third in a series of articles dramatizing the days of World War I, both here and abroad. It is based on factual events but since this is a semi-fictional account, the names and some of the details have been changed.)
The Chief knew prejudice and, as I found out, he also knew a lot about history. The two kind of work together in many ways. That summer of 1918, working in the Woodland Chemical plant in Brinewell Center, I learned more history than I ever could have in classes. And in town, I learned about prejudice and bigotry from ordinary people with misguided ideas, some of whom had joined the Klan. That experience made it a summer I'll never forget.
The talk was the Klan had started up here in Brinewell; it seemed like the bullies at the circus who were after Sam were acting just like Klansmen. We sure didn't need their kind around here, but I heard from guys in the plant they were forming Klaverns everywhere. A Dr. Ross from Owosso was the "Kleagle," the organizer who signed up new members for the Propagation Department, "gathering into the fold those who had been converted to the Holy Doctrine." Brinewell was Klavern No. 46.
I wondered: What causes hate in the hearts of these Klan goons? Where the heck are their minds? Why don't they just focus on defeating the Kaiser? Why take out anger on Catholics, Jews, blacks, Mexicans, even American Indians -- they owned this country first. Our people shouldn't be targets, especially in a free country. It is free? Isn't it? Those questions and more were whirling around in my head when I saw that the weekly Republican printed an ad for the Klan.
"Every real American believes in all the principles of the Ku Klux Klan," it said in a headline. --What we seek is a nation-wide revival of Americanism, an American Renaissance strong enough to destroy the hairy monsters of foreignism now in the United States and rebuild our temples of national glory. The Ku Klux Klan must stand against the amalgamation of the pigmented peoples with the white race, for a true realization makes us see the terrible dangers of mongrelization, the direct result of amalgamation." The ad was signed by the Imperial Wizard and the Imperial Kligrapp, "Faithfully yours, in the Sacred, Unfailing Bond." I knew them both but I don't dare repeat their names as they were pillars of the community.
The Chief had found a Klan newsletter he showed me that was addressed to: "All HYDRAS, GREAT TITANS, FURIES, EXALTED CYCLOPS, TERRORS, KLIGRAPPS AND KLANSMEN" from G. E. Carson, Grand Dragon, Realm of Michigan. The Klan officers were ordered to procure the name, address and vocation of every individual of voting age falling within the following classifications:
(a) All Aliens or Foreigners,
(b) I.W.W.s, Bolshevists, Reds or Agitators,
(c) All owners, operators or inmates of houses of prostitution,
(d) All Jews,
(e) All Negroes,
(f) All Roman Catholics.
They were asked to "secure accurate reports and evidence of meetings of whatsoever nature interested in or connected with the propagation, development or protection of the interest of any group classified under these instructions." A written report was to be made to state headquarters. Then I knew: these weren't just a bunch of nuts; they were organized . . . and very serious.
It was hot and steamy where I worked in Plant 9, back in a processing lab cleaning test tubes and big kettles. There, bromine was bubbling and boiling most of the time, throwing off clouds of steam and bad smells. The Chief, Solomon "Sam" Eagles, was a plant operator, and a wise man although not much over 40. He was a real Indian -- Sauk and Blackfoot. He'd been working at the plant since Mr. Barnes first came to town about twenty years ago.
The chemical plant was there because lots of salt brine was underground; an ancient salty sea had been covered by glaciers. Indians called the stuff that bubbled up at the springs near The Forks where three rivers met "the magic white sand." Mr. Barnes in his chemistry studies in college in Cleveland had read about the government's experimental brine well and came up to see for himself. He found the reports of unlimited brine were true and never left. Barnes knew the brine could be made into lots of valuable chemical products.
Chief was an orphan who had gone to an Indian industrial school out west, in Nebraska, and learned his science at the Normal where he played football, basketball, and baseball. They were still talking about his athletic exploits when I got there. His sports skills, plus being an Indian, got him a free ride in college, but nobody would hire him as a teacher.
Somewhere along the line, he had learned to be a natural storyteller. He leaned intently toward the listener, emphasizing the emotional parts of the tale. That was the Indian way. It was said they have many great storytellers, at least one or two in every tribe. He put all the detail in that he could in every story and he knew things most people had no idea about.
We never called him Sam, just Chief. Any old Indian we called Chief. He knew what he had to know to teach science in high school, which got him a job with Woodland Chemical, but he also read a lot and knew when revolutions had started: American in 1776, French in 1787, now in 1918 the Russians were rising against Czar Nicholas II, Nickolay Alexandrovich Romanov. I studied a little history, too.
Chief told me that something big was up at the plant in war work, but that it was all supposed to be top secret. And he told me about the Germans who had started the whole thing in Europe -- poison gas that is. He knew all about Fritz Haber and Carl Bosch and the other scientists who were making news in Berlin. When the test-tube and cauldron cleaning was done early one day he told me this startling story about the famous German scientist, Haber, the one who had started chemical warfare. Chief's face was tense, eyes narrowed and his voice was dramatic like an actor's when he whispered:
"Clara had argued with him that first night after she had read the formula. Her soft but shaking voice was barely audible as she looked into his eyes, proud with anticipation and said solemnly: "We are scientists, not killers. This poison gas -- the mustard oil-- you are making is immoral."
"Haber was shocked: he did not expect this chastisement from his wife and collaborator of sixteen years, also a brilliant scientist who was Germany's first female PhD.
"She got up quickly and went out. Haber heard the shot from the garden.
"Alarmed at the noise, the scientist ran outside and saw the darkening spot on her chest; his revolver lay by her side.
"'Clara! Clara! Schatzi! Schatzi!' he cried too late. She was dead by her own hand, distraught over what she had called his perverted idea of patriotism.
"He had pleaded: 'We are Jews and they are talking hatred against us; I must prove my dedication to the Fatherland.'"
The Jews weren't the only people who suffered from prejudice. Chief had applied to every school district in the middle part of the state for a teacher's job, but had never gotten past the superintendent's secretary, he told me. This was a sad fact, but true. An Indian in the classroom teaching my children? Goodness me! Chief continued with the story:
"Haber's Nobel Prize awarded in 1918 for synthesis of nitrogen as fertilizer was confirmation that genius could be immensely benevolent.
"His formulation of blinding, incapacitating mustard gas for war proved genius also could be evil and perverted. And it just cost him the love of his life."
How do you know all this stuff? I asked, my mouth hanging open. "It's all in the papers, read the papers, boy, and not just the Brinewell Weekly Republican," said the Chief with a stern look at me.
What happened then?
(To be continued) ###
---
---

Dave Rogers




Dave Rogers is a former editorial writer for the Bay City Times and a widely read,
respected journalist/writer in and around Bay City.
(Contact Dave Via Email at carraroe@aol.com)

More from Dave Rogers
---
Send This Story to a Friend!
Letter to the editor
Link to this Story
Printer-Friendly Story View
---
--- Advertisments ---