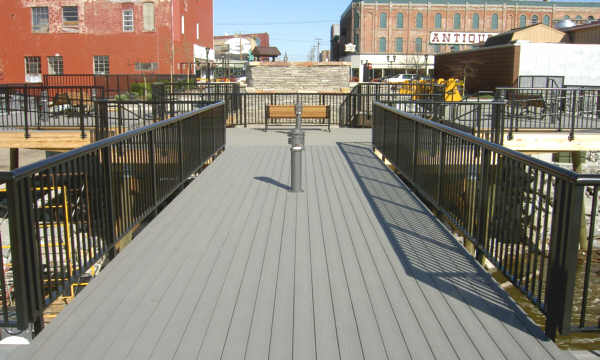 This is the view you will have looking east down Third from the latest addition to Downtown Bay City's "cool city" amenities: Waterfall Park.
---
Waterfall Park at Foot of Third Nearly Ready for the Water, Visitors
Project Aim: "Integration of Walkable Downtown Through Historic District"
April 16, 2006 Leave a Comment
By: Dave Rogers
One of the "coolest" spots in Bay City will soon be open and adding to the ambiance of downtown. It is Waterfall Park at the foot of Third Street.
Where lumberjacks once kicked up their heels, and sometimes ended up face down in the river, "Hell's Half Mile" may now be considered more like "Heaven."
We ducked past the barriers and snapped a picture of the park plaza from the far end over the river. It is a very attractive pier, really, that no doubt will be the scene of weddings, receptions and civic events. It is really cool, and it should be, costing about a million dollars of Downtown Development Authority funds, including a $100,000 kicker from the state. A cool million well spent.
---
--- Advertisements ---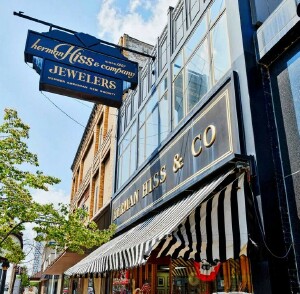 ---
Being out on that pier reminded us of the days when we youngsters used to jump off the Third Street Bridge 30 feet or so into the water and swim to shore. And riding the center span of the old Third Street Bridge as it swung open for boats. Ah, nostalgia.
When the project was announced it was hard to envision how the waterfall would work, but you can see that the water flow will be internal, within the structure. Apparently it will recycle the water much as the Ring of Friendship does in Wenonah Park.
It was nearly two years ago that Architect John Meyer described the proposed Waterfall Park to about 100 Bay City development advocates on the site between St. Laurent Brothers and the Kingfish Restaurant. People milled about and talked positive talk about the city's economy and the transformation of downtown. (Please see "Cha-Ching: Cool City Designation Pays Off in $800,000 in Grants," MyBayCity.com Aug. 25, 2004.)
"The park offers visitors and residents a retreat from the hustle and bustle of the rejuvenated downtown while becoming an integral part of the Art and Culture Loop Cool Cities Pilot Program," enthused the city's application for funding to the state.
The Art and Culture Loop is designed to beautify, unify and strengthen the Downtown Bay City neighborhood through a series of strategically placed micro parks connecting the natural, cultural and historic assets of the celebrated historic district.
Measures of success of the project will include attendance at the new plaza, increase in sales at adjoining businesses, a satisfaction survey of downtown employees, residents and visitors and requests for brochures.
---
--- Advertisements ---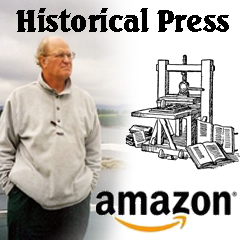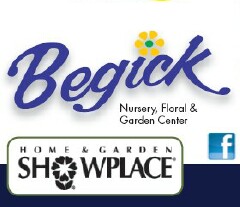 ---
An arch framing Third Street leads visitors to a plaza with a mini stage. The entrance features a Bay City Rotary Club historic kiosk similar to the one at Saginaw and Center. Water will cascade from a fountain down to a pool at a lower level.
Mr. Meyer noted the project was 13 years in the planning stages after conception by his firm, Wigen Tincknell Meyer and Associates, Saginaw.
Mayor Robert Katt credited former Mayor Kathy Newsham for her "foresight in putting together an advisory committee" to pursue the Cool Cities designation of Gov. Jennifer Granholm. The activity has spawned a Bay City renaissance, especially downtown, said Mr. Katt.
Partners in the project include the City of Bay City, Bay City Downtown Development Authority, Bay Area Chamber of Commerce, Bay Area Community Foundation, Bay Area Convention and Visitors Bureau, Bay AreaRenaissance, Bay Arts Council, Bay City in Bloom, Bay County Historical Society, Bay County Library System, Bay Sail, First Presbyterian Church, RFT of Bay City, Kantzler Foundation, Master Gardeners, Marina Place, Rotary Club of Bay City, St. Laurent Brothers and the Kingfish Restaurant.###
---
---

Dave Rogers




Dave Rogers is a former editorial writer for the Bay City Times and a widely read,
respected journalist/writer in and around Bay City.
(Contact Dave Via Email at carraroe@aol.com)

More from Dave Rogers
---
Send This Story to a Friend!
Letter to the editor
Link to this Story
Printer-Friendly Story View
---
--- Advertisments ---