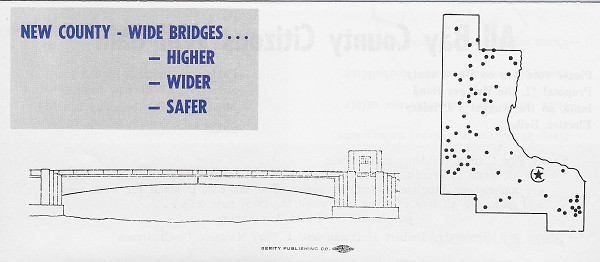 Bridge bond campaign literature in 1970 showed location of most of the new bridges (represented by dots on the map).
---
BRIDGES ROAD MAP: Secret to Township Voter Approval? Follow 1970 Plan
February 11, 2018 Leave a Comment
By: Dave Rogers
It's not Rocket Science, as the saying goes.
Officials puzzling about how to gain approval of township and small cities voters for a new Independence Bridge might want to look to the comprehensive plan adopted in 1970.
Traffic surveys showed a need for all four bridges across the Saginaw River: Belinda, Third Street, Vets and Lafayette.
Of the 927 bridges located on county roads, about half were rated as being in bad repair. No doubt a survey of small bridges today might find similar circumstances.
A little-known fact is that the 1970 proposal that gained approval included 67 new bridges in township areas.
School buses had been forced to detour around many of the 67 county bridges slated for replacement, so replacement would be a great aid to traffic flow on a daily basis, officials noted.
The city-county bridge committee initiated by county supervisors, headed by Vernon "Jim" Begick, in 1969 crafted a plan seeking okay for a countywide tax of $1.73 per thousand of equalized valuation.
While the net cost of replacing Belinda Bridge with a new Independence Bridge as estimated a $2 million, another $1,142,000 was targeted for the 67 county bridges. Thus, a near parity was achieved that was attractive to out-city voters.
Federal urban renewal funds of $2 million and $3 million in gas and weight tax rebates to Bay City bolstered the money allocated from city property taxes levied for the bridge plan.
A bond issue for construction of Veterans Memorial Bridge had been paid off in 1969, easing the burden on local taxpayers.
Begick stressed that the most remote areas of the county would benefit, along with all townships. Pinconning got six bridges, Mt. Forest and Garfield had five each and Gibson three.
The county road commission had been allocating $80,000 to $100,000 per year for replacement of county bridges but was falling behind the need for replacement and repair, according to Bill Rank, engineer-manager.
In the campaign, Begick emphasized that the plan drawn by city and county officials on a bipartisan basis had been adopted unanimously by city and county governing bodies.
Although then State Rep. J. Robert Traxler had asked state government to contribute 25 percent of the cost of repairing Belinda Bridge, his request was rejected by the State Senate in 1967.
Campaign literature enthused: "Big Bridges, Little Bridges, New Bridges, Good Bridges, Bay Bridges."
Delbert Hoffman and I Carl Mattson were campaign co-chairs. "Bridges are among our most tangible assets. The tax cost is small for what we will gain," they chanted. "We all live together and work together, now let's ...join hands to Build Bay bridges."
###
---
---

Dave Rogers




Dave Rogers is a former editorial writer for the Bay City Times and a widely read,
respected journalist/writer in and around Bay City.
(Contact Dave Via Email at carraroe@aol.com)

More from Dave Rogers
---
Send This Story to a Friend!
Letter to the editor
Link to this Story
Printer-Friendly Story View
---
--- Advertisments ---