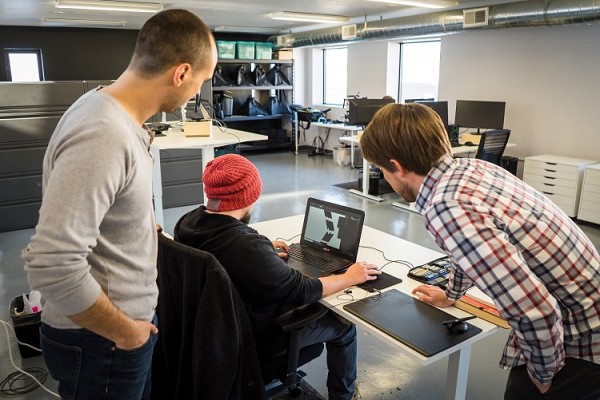 Members of the Aberro Creative team at the new Midland Tomorrow Innovation Center.
---
INNOVATE MIDLAND: Entrepreneurs Find Resources at New Business Center
February 20, 2018 Leave a Comment
By: Dave Rogers
Midland is historically a world center of entrepreneurship and innovation.
The Dow Chemical Company, now Dow-Dupont, established the former lumbering and coal mining center as a global innovator beginning in 1897 as the Industrial Age reached maturity in the United States.
In 1943, the nation's largest joint venture, the former Dow Corning Corporation, accelerated the innovation process during World War II.
Now an improved community resource center is poised to add to that legacy by helping spawn new ventures.
Becky Church, President of Midland Tomorrow, explains: "Eighty percent of businesses in the U.S. are considered small businesses, and statistically, a large majority of them fail in the first five years of operation.
"The world of entrepreneurship is tough and igniting an idea into reality takes preparation, a strong mentality, financial investment and a good amount of sweat equity. For entrepreneurs that have walked down this road, it can be tough and frustrating, but also tremendously rewarding.
"Fortunately for business owners in the Midland area, there are many opportunities to connect to platforms that not only provide resources but perhaps most importantly, the supportive community that is so essential in creating long-term success.
"The Midland Tomorrow Innovation Center (MTIC) is one such resource that aims to utilize innovation and creativity to serve members through workspaces, mentorship, virtual and physical programs and a community of like-minded individuals. To achieve this mission in a more holistic way, the Innovation Center recently changed locations to the Herbert D. Doan Midland County History Center on Main Street and also merged under the Midland Business Alliance.
"This was the perfect storm of events that allowed for the opportunity to step back and look at how we identify, incubate and foster new business start-ups in all sectors. It also gave us the chance to fully leverage resources across our Midland Chamber, SmartZone and Economic Development entities."
MTIC is currently undergoing a visioning process, researching similar organizations across the country. Currently, the vision for the future includes building a strong pipeline of innovators in the area, a culture of creativity, a focus on community, physical and virtual training and a wide array of technical resources for businesses at every phase of growth.
Partnering with them in this endeavor is the Michigan Small Business Development Center, working toward a communal vision to help small businesses flourish in the area. SBDC Consultant Patrick McElgunn says, "At the heart of the SBDC we help entrepreneurs start, run and grow small businesses through a variety of avenues."
One of these options the SBDC offers is one-on-one, no cost, business consulting. Aside from having graduate-level education, SBDC consultants are also entrepreneurs running businesses themselves. They're available to coach individuals at every phase of starting a business from real-life experience, bringing empathy to the conversation.
McElgunn comments: "We sit down with the entrepreneur and look at their idea completely. We identify the experiences that their idea stemmed from, how it has been shaped, where they are at today and where they need to go. We talk about their goals for short and long-term growth and how they can take their business to the next level."
The MTIC and the SBDC are brainstorming ideas to expand their training portfolio to provide workshops as well as webinar training for start-up and "serial entrepreneurs" alike. Topics will include basics of starting a business, market analysis, securing funds, marketing strategies, and financial guidance to set individual businesses up for long-term financial health. Leaders of these workshops will be industry experts who can provide wisdom from real life experiences.
One graduate who has already benefited from this ecosystem is Dustin Neumeyer, founding partner of Aberro Creative. Neumeyer and his founding partners learned about the Innovation Center through Northwood University. They took advantage of different programs offered such as innovator spotlights where entrepreneurs share the story of turning an idea into a business and how they became successful despite a variety of obstacles. Among other programs, the Innovation Center connected the team to mentors and resources. Neumeyer comments, "One of the biggest takeaways was the community and support."
Not only is the communal aspect beneficial for entrepreneurs like Neumeyer, but also through sharing different perspectives and challenges. Any new business will experience ebbs and flows, but it was helpful to gain the community aspect along the way. Neumeyer reiterated how impactful it was to see others who had been in his position previously speak about overcoming challenges he and his partners faced early on at Aberro Creative.
Additionally, the team was able to build long-term relationships with their clients that propelled their business forward. Having spent four years working out of the Innovation Center?s workspace, they recently stepped out into their own office.
"While we were there, it was really about building relationships to get our business off the ground from our start-up phase to where we are now," Neumeyer says. "The relationships we have with our clients have set us up for the success we're experiencing. Being a service business, it really is all about building up that clientele. We learned the value in this early on with the center, and we've since been able to take it a step further to continue to grow."
The newest member of the community, Energize Workspace is the most recent addition helping entrepreneurs get their ideas off the ground. In the process of transitioning to a nonprofit, Energize aims to foster a thriving location where collaboration, experimentation and meaningful relationships all take place.
Guided by the mantra, "Community Led, Community Powered, Community Funded," Energize Workspace curates courses as well as events to meet the needs of the community they serve. Co-founder Nic Von Schneider explains their approach, "We want to create events where people are actually learning. Our workshops provide information that people can take home with them and apply immediately. Everything from branding, design, investing, and tips on maximizing websites through typography and content. We also host business battles where people learn about "ideation," pitch a business, collaborate and create a positive community."
---
---

Dave Rogers




Dave Rogers is a former editorial writer for the Bay City Times and a widely read,
respected journalist/writer in and around Bay City.
(Contact Dave Via Email at carraroe@aol.com)

More from Dave Rogers
---
Send This Story to a Friend!
Letter to the editor
Link to this Story
Printer-Friendly Story View
---
--- Advertisments ---