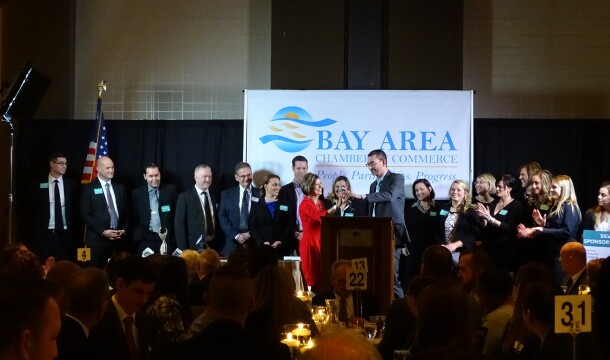 CHAMBER SUCCESS:2018 Leadership Class Raises $8,000 For Camp Fish Tales
March 23, 2018 Leave a Comment
By: Dave Rogers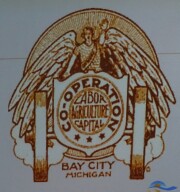 Original 1882 Seal
The 400 plus members of the
Bay Area Chamber of Commerce
who attended the 135th Annual Meeting dug deep in their pockets last Tuesday night to help campers with autism.
The meeting was opened by
Barb Engelhardt-Carter
and featured remarks by
Ryan Tarrant
, president & CEO.
Featured sponsors included
Dick Fortin
of Blue Cross/Blue Shield who noted programs of the firm such as Building Healthy Communities and Stepping Up for Fitness, aiming to teach young people healthy habits for life; and
Chris Velasquez
, representing
Heather Gallegos
, Dow/Dupont community relations associate director. Velasquez stated Dow/Dupont will be divided into three branches, material sciences -Dow; specialty chemicals, Dupont; and a new branch, Corteva, agriculture (Corteva means heart and nature).
Velasquez also noted the retirement of
Andrew Liveris
aftr 14 years at the helm of Dow, and the appointment of
Jim Fitterling
as CEO succeeding Liveris.
The Chamber prsented awards: Ambassador of the Year,
Kendra Christensen
, COPOCO Community Credit Union; Ambassador All Stars,
Jan Shaffer
, Future Insurance Agency;
John Mueller
, Choice Office Products;
Mark Delestowicz
, Team One Credit Union;
Mike Espinoza
, Yeo & Yeo;
Scott Trepkowski
, Chemical Bank;
Terri Scheuerlein
, L & M Scheuerlein, Inc.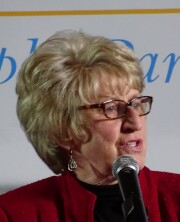 Dr. Jean Goodnow
Energize Bay Area Young Professionals Network Award, Tera Szeliga, United Way of Bay County; ATHENA Award,
Dr. Jean Goodnow
, Delta College; Leadrship Alumni Community Service Award,
Tara Welch
, Studio 23/The Arts Center; Business Hall of Fame,
David Mikolajczak
, Andrews Hooper Pavlik PLC;
Fred Cook
, Jim White Group.
Leadership Bay County Class of 2018
sponsored a silent auction and worked the room to make the auction the huge success it was.
Said
Lindsay Rotarius
, director of programs:
"Our class would like to thank all the Bay Area Chamber of Commerce members who have supported the development of the sensory cabin at Camp Fish Tales. Last night's silent auction received an overwhelming response, helping us raise more than $8,000 toward the project! Thank you to all the businesses who donated items to the auction and to all the generous bidders who attended the annual meeting. Your support will not be forgotten, and we are excited to start building the sensory cabin and make you proud!"
With the help of the Leadership Bay County class of 2018,
Camp Fish Tales
is looking forward to the addition of a new sensory room this spring.
Leadership Bay County, a program of the Bay Area Chamber of Commerce, includes a nine-month curriculum designed to help participants better understand the community. The average class size is 20 people, who are also challenged to select and complete a class project.
"We were presented with a number of options for our class project, including a proposal from Camp Fish Tales to develop a sensory room specially designed for campers with autism," said Leadership Bay County participant
Kate Hofmann
. "It quickly became apparent to our group that this project would have a lasting impact on our community, and we jumped at the chance to get started."
In the proposal, Camp Fish Tales describes the discomfort and anxiety campers with autism sometimes feel when introduced to a new environment. "Though each person with autism is an individual, many have difficulty processing sensory information," said
Rachel Bartlett
, Executive Director at Camp Fish Tales.
"Though camp can be an overall enjoyable experience, some campers with autism have trouble processing their new sensory environment, which may make them uncomfortable and act out."
A sensory room is a space designed with special elements to help engage the senses. Sensory rooms often include lights, colors, calming sounds, sensory play objects and aromas all within a safe environment that allows a person to explore without risk. Camp Fish Tales looks forward to having a space to serve as therapy for those with sensory issues.
The addition of a sensory room may also help the camp expand the number of individuals with autism they are able to serve.
"I am so impressed with the Leadership Bay County class, and am grateful for all they have done," Bartlett said. "They have done their homework, and you can tell time and thought were really put into this project. We just can't thank them enough, and the parents of our campers are so excited."
The completion of the project is anticipated for June of 2018, which means campers will be able to use the room this summer.
"Most people do not understand the sensory issues that come with autism," said
Tonya Asbury
, whose son Tristan has autism. "I would feel confident sending my son to a camp with a sensory room to help him during the times he is over-stimulated and overwhelmed. It would put my mind at ease to know sensory tools are available to help calm him."
Bartlett is eager to see the sensory room in action and is proud to be able to offer the space to families and campers who need it. "They feel like this is an 'aha' moment -- that people are finally paying attention to their needs on the disability spectrum," Bartlett said.
"We are working to provide a people-first, person-centered unique camping experience, and the Leadership Bay County class is helping us make that happen."
Leadership Bay County Class of 2018 is comprised of Stephen Bigelow, Michael Ciaciuch, AmyLou Gage Douglas, Sarah Dufresne, Alyssa Gulvas, Kate Hofmann, Melissa Jo Horn, Jessica Jacobs, Sean Kelly, Jena Lowell, Molly Neymeiyer, Alan Nicholls, Mike O'Hearn, Melissa Pashak, Amber Phillips, Emily Radlinski, Josh Rappuhn, Chris Sheridan and Melissa Vrable.
###
---
---

Dave Rogers




Dave Rogers is a former editorial writer for the Bay City Times and a widely read,
respected journalist/writer in and around Bay City.
(Contact Dave Via Email at carraroe@aol.com)

More from Dave Rogers
---
Send This Story to a Friend!
Letter to the editor
Link to this Story
Printer-Friendly Story View
---
--- Advertisments ---