DOLLARS FOR KIDS? Legislators Asked to Prioritize Child Poverty
Michigan League for Public Policy Issues Funding Challenge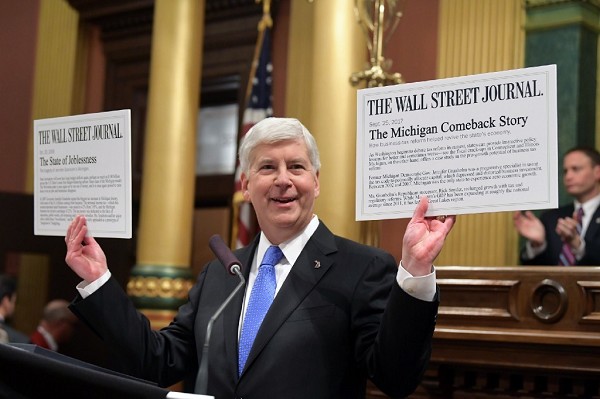 Gov. Rick Snyder touts state successes after seven years in office. (Michigan Radio)
The state has announced it has more revenue. So one policy agency wonders why it is not being used to reduce child poverty and support education.
Estimates are that state revenues will increase by about $500 million in the next year.
The revision to the revenue forecast is driven by strong income tax collections in FY 2018, which the forecasting committee attributes to one-time growth and believes will slow in FY 2019. The higher school aid fund results from higher sales tax, income tax, lottery and state education property tax forecasts.
The Michigan League for Public Policy issued the following statement on the revenue projections being announced at the recent Consensus Revenue Estimating Conference. Michigan League for Public Policy President & CEO Gilda Z. Jacobs said:
"Learning that there is more revenue available in the budget gives us hope that lawmakers will take this opportunity to invest in what they've failed to adequately support in recent years: our kids.
State officials have reached consensus on economic and revenue figures for the remainder of Fiscal Year (FY) 2018 and for the upcoming 2019 and 2020 fiscal years.
Following the Consensus Revenue Estimating Conference, net FY 2018 General Fund-General Purpose (GF-GP) revenue is projected at $10.46 billion, up $155.9 million from estimates agreed to in January. Net FY 2018 School Aid Fund (SAF) revenue is now estimated at $13.24 billion, up $159.5 million from January. Combined, GF-GP and SAF estimates are up approximately $315 million for FY 2018.
"Today's agreement is another indication of the continued progress of the Michigan economy. Revenues are up because unemployment is down and incomes are rising," State Treasurer Nick Khouri said. "The policies of the last seven years have created a framework for economic growth, budget surpluses and paying down long-term debt. Michiganders should feel good about the direction the state is headed."
"With the revenues that were agreed upon today, we now have an accurate and agreed upon revenue forecast on which to enter into target setting to finish our work on the 2019 budget," State Budget Director John Walsh said. "I have no doubt that this budget will be signed in early June, making it 8 for 8 when it comes to getting budgets done early during the Snyder administration."
"These revenue estimates are based on the most recent economic projections and forecasting models. As with any economic and revenue forecasts, there are potential risks to the estimates agreed to today, including national economic trends, international economic issues, and a significant change in oil and gasoline prices.
Gov. Rick Snyder issued the following statement on the consensus reached by the Michigan Department of Treasury, Budget Office, and House and Senate Fiscal Agencies on the economic and revenue figures for the remainder of the Fiscal Year 2018 and the upcoming 2019 and 2020 Fiscal Years:
"Projected increases in revenue for both the General Fund and School Aid Fund demonstrate Michigan's continued economic growth and our fiscal responsibility over the past seven years," Gov. Snyder said. "We should be encouraged by the state's progress and positive economic outlook while remembering the importance of showing financial responsibility to current and future generations.
"I look forward to working with my legislative partners to get the budget done responsibly by next month, giving municipalities and schools ample time to plan their own budgets. As we finalize spending decisions, I plan to remain focused on sustaining record investments in K-12 education, improving our roads, building up the Rainy Day Fund, and implementing the Marshall Plan for Talent."
Said Ms. Jacobs: "The false notion that everyone in our state has rebounded from the great recession continues to keep Michigan's children behind. Kids living in poverty are more likely to have poor nutrition, live in unsafe conditions and have less success in school. The 2019 budget proposals seem to ignore these facts and will cause our children to lose even more potential.
"Family Independence Program (FIP) grants have not seen a significant increase since 1996 and we were pleased that the governor was willing to make a small inflationary increase. But that increase was entirely inadequate given the erosion of purchasing power for families receiving FIP.
"The Legislature couldn't even agree to that small increase. Eight out of 10 FIP recipients are kids. Refusing to set aside additional funding for children and families shows us where the Legislature's priorities are--or where they are not. According to our Kids Count report, 1 in 5 kids in Michigan lives in poverty. Instead of helping these children thrive, the Legislature has pushed strict lifetime limits on FIP and created sanctions for entire families based on just one child's absences. Fewer kids are getting help today with basic needs like food, shelter, and clothing than they were in the late 1950s.
"We know that education is key to helping kids thrive, so we also hope this increased revenue will result in more funding for early literacy programs to improve third-grade reading proficiency. No new significant funding is being directed to early literacy programs despite the state's third-grade reading law. Instead of holding kids back in third grade, why can't we help lift them up when they are young and developing the skills they need to learn to read."
"The At-Risk School Aid program, which has received increases in recent years, is still not fully funded, and Kids Count data show that children are being held back from academic success because of their economic situation, inadequate housing, poor nutrition and struggling schools. The consequences of this lack of funding further threaten children of color, who already face inequities resulting from years of limited opportunities.
"We are hopeful that our leaders will reflect on the options they have with this revenue and make the right investments for Michigan."
###
---
---

Dave Rogers




Dave Rogers is a former editorial writer for the Bay City Times and a widely read,
respected journalist/writer in and around Bay City.
(Contact Dave Via Email at carraroe@aol.com)

More from Dave Rogers
---
Send This Story to a Friend!
Letter to the editor
Link to this Story
Printer-Friendly Story View
---
--- Advertisments ---