Rotary Hears About The Purple Gang In Small Town Michigan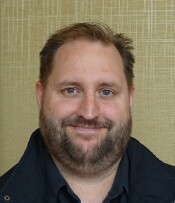 Benjamin Tigner
Tuesday's program featured
Benjamin Tigner M.S.
, Adjunct Professor at Alma College, who talked about his 2008 movie documenting the infamous Purple Gand and their impact on the small town of Clare, Michigan.
"Purple Gang" is a well-known name to Michigan natives. The gang was active in the 20's and 30's. Although known primarily for their presence in the Detroit area, in fact, they also reached into the small towns and communities north of that famous city.
The Purple's, said to be a mostly Jewish gang, were known for their brutality and just "meanness". According to Tigner, their approach was to "beat you up and take your stuff". Some theories say that Al Capone hired Purples as the muscle in the Saint Valentines Day Massacre.
Tigner's movie focused on the gang's influence in the small towns like Clare, which at that time, was the oil capital of Michigan. Without today's technology, exploration was a seat of the pants method of finding a likely looking spot and drilling a hole. That took money and the easiest way to get money was through organized crime.
Several prominent Clare oil men were suspected of being affiliated with the Purples. They did well in the oil business and built some structures that still stand today. Tigner's movie tells their story and the story of the gang outside their famous Detroit home.
For more information visit
www.PurpleGangMovie.com
---
MAY IS MEMBERSHIP MONTH




Rotary is an intimate affiliation of carefully selected business and professional people, having as its objective the promotion of high ethical standards in private, commercial and civic life, and dedicated to the ideal that the basis of all worthy endeavor is unselfish service.
Rotary Induction Rite

Rotary International is the oldest, and one of the largest service clubs in the world. Rotary Club members are part of a diverse group of professional leaders working to address various community and international service needs. Through community service and other means, Rotary Club members help promote peace and understanding throughout the world.

Members are a club's most important asset. They are the force that allows Rotary to carry out its many humanitarian efforts and achieve its mission.

Rotary membership is by invitation of local clubs. At a recent meeting, the Bay City Noon Rotary membership gathered around tables for a brainstorming session to discuss potential new members.

The Membership Committee, after reviewing the names and removing duplicates, developed a consolidated list of prospects. That list was presented in subsequent weeks and members were asked to review the names and identify prospects that they could invite to a meeting during May, the club's membership month.

Anyone living or working in the Bay City area who would like to be considered for membership in the Bay City club is invited to contact any club member for more information.

For information on membership in any Rotary club, visit www.Rotary.org and complete a Prospective Member Contact form on the "About Us" page. Rotary International (RI) will forward your information to clubs in your area.

For full membership information visit
www.rotarybaycity.org
.
---
CLUB NEWS and ANNOUNCEMENTS
A signup sheet was passed around for people who plan to attend the next
CLUB SOCIAL
, which will be held at the Saginaw Bay Yacht Club on May 30 from 5:15 to 7:30ish. Hor d'oeuvres and a cash bar will be featured. Tickets are $20 each. Plan to sign up and plan to bring a guest!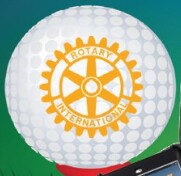 Cindy Chadwick
brought attention to the Golf Outing flyers, which were on the tables. The Outing will be on
June 25, 2018
, at Maple Leaf Golf Course again this year.
This year's plan is for each PLAYER to select a non-profit organization that has a team playing that day. The names will go in a pot and, at the end of the outing, one name will be drawn from the pot. That organization will receive $1,000 to use as they see fit.
President Bob
gave each member a packet of 20 raffle tickets for the event. Sell these ($5 each / 5 for $20) or buy them yourself. Prizes sponsored by
Wildfire Credit Union
. 1st price is a 9.7" iPad. Second prize is $100 cash.
Full details and a downloadable copy of the brochure is on the club web site at
rotarybaycity.org
.
Next summer's
International Convention
will be in Toronto, an easy trip for many of us. Be sure you sign up with her to attend this life-changing Rotary experience. The fee for that event will go up by $80 on the first of April. If you plan to go the time to make your reservation is now.
The July to December, 2018 dues cycle is about to start.

Dues notices will be delivered by E-MAIL this time.

If the e-mail bounces back, or we have no e-mail address, a paper invoice will be mailed.

If you don't see an invoice by mid-June, please inform the Secretary!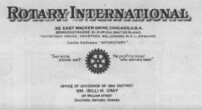 click picture for details
MEMORIES

Dig out your favorite Rotary memory photos and
let Brenda Scramlin use them for the weekly
Club slide show. It'll be fun for everyone!



---
---- DATES TO REMEMBER ----
June 5, 2017
Meet at the Marriott
June 12, 2017
Off site meeting. Location to be announced.
June 25, 2018 - Club Golf Outing
Maple Leaf Golf Course
June 23-27, 2018 Rotary International Convention
Toronto
---
Upcoming Programs
(See the official schedule at RotaryBayCity.org )
May 29, 2018: Rotary ROSE Award
.
June 5, 2018: Bay Area's Women's Center
presented by Jessica Gregory
June 12, 2018: Saginaw Bay Nature Festival.
Mike Stoner will report on the Standish/Pinconning Club's fundraiser festival: how it went and what they did.
July 17, 2018: International University of Shanghai
presented by Dom Monastiere. 25 students from the International University in Shanghai will visit SVSU. They will tour the campus and have lunch with Rotary. The program will describe the partnership between the two universities.

Rotary
is an intimate affiliation of carefully selected business and professional people,
having as its objective the promotion of high ethical standards in private, commercial
and civic life, and dedicated to the ideal that the basis of all worthy endeavor is unselfish service.
---
Current and past
DISTRICT DISPATCH
newsletters are available on the District site shown in the LINKS section below.


Rotary Bay City on Facebook!
Click on the Blue Facebook to visit us there.

Remember! Check attendance sheets at the front desk.
---
LINKS
---
---

Stephen Kent




Steve Kent and his family have lived in Bay City for 40 years. He is VP of Technical Services at MMCC which produces MyBayCity.Com. Kent is active in many Bay City civic organizations.

More from Stephen Kent
---
Send This Story to a Friend!
Letter to the editor
Link to this Story
Printer-Friendly Story View
---
--- Advertisments ---