Report on Recent Pinconning/Standish Rotary Saginaw Bay Nature Festival
June 12, 2018 Leave a Comment
By: Stephen Kent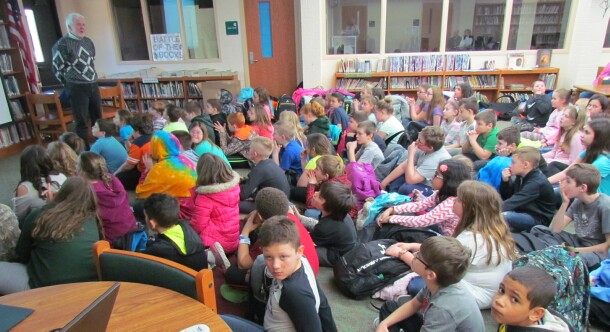 Mike Stoner presents Birds of Prey program for Pinconning elementary 4th graders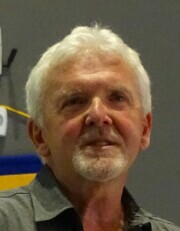 Mike Stoner
Mike Stoner
of the Pinconning/Standish Rotary Rotary Club, and former President of this club, presented highlights of the recently completed
Saginaw Bay Nature Festival
, which that club organized and held in the Pinconning area.
The Nature Festival was conceived in 2015 as a signature event that would concentrate on the region's most prominent feature - the Saginaw Bay. The event would address several goals:
Public awareness of Rotary
Economic development & Tourism
Student involvement
Member involvement
Community involvement
Involving new partners
Potential fundraiser toward dictionaries/thesauruses, leadership camp sponsorships, college scholarships, miscellaneous expenses.
Since 2015, the annual Festival has met all its goals with great success. That first year the club was asked to provide a weekly local bird article for the Pinconning Journal newspaper. That was so popular that it never stopped; over 100 "Birding Bits" have now appeared.
Initially presented to fourth graders, the festival has now expanded to other age groups. Activities include classroom presentations, field trips, tree planting, fishing (including free gear for each student donated by Northwood Wholesale, art contests, and the wrap-up banquet and awards.
The festival has met all of its goals and is developing into a major event for the entire area. The event has been fully embraced by partners including the Saginaw Basin Land Conservancy, SVSU, State and local DNR, Ducks Unlimited, Chippewa Nature Center, Arenac Conservation District, Archangel Ancient Tree Archive, Saginaw Chippewa Indian Tribe, MSU Extension, Studio 23, local school districts and area businesses.
The festival is considered to be a great success. The original goal to raise $3,700 achieved about $6,000 this year. The community awareness of Rotary has resulted in the club adding corporate and family membership categories. Where the club began the year with 24 members, it will have almost 40 by year-end.
Stoner closed by saying "Paul Harris said a Rotary club ought to have a significant impact on the town where it is located. We feel we are doing so."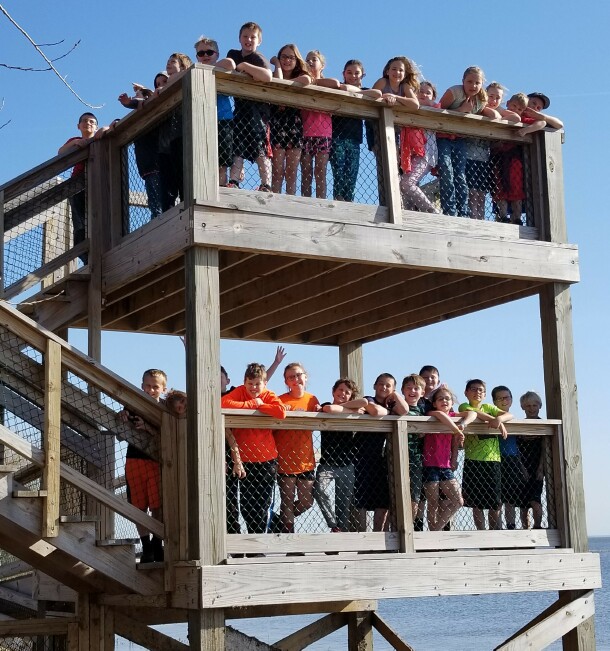 Standish elementary kids on tower at Pinconning Park
---
CLUB NEWS and ANNOUNCEMENTS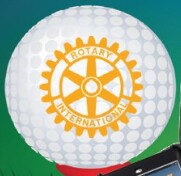 Tim Holsworth
reminded members of the upcoming Golf Outing to be held
June 25, 2018,
, at Maple Leaf Golf Course again this year.
This year's plan is for each PLAYER to select a non-profit organization that has a team playing that day. The names will go in a pot and, at the end of the outing, one name will be drawn from the pot. That organization will receive $1,000 to use as they see fit.
Cindy Chadwick
asked all members to be sure they have their packets of 20 raffle tickets to sell (or buy) for the event. Tickets are $5 each or 5 for $20. Prizes are sponsored by
Wildfire Credit Union
. 1st price is a 9.7" iPad. Second prize is $100 cash.
Full details and a downloadable copy of the brochure is on the club web site at
rotarybaycity.org
.

The club will celebrate RI's tree planting initiative by donating a professionally planted Red Maple to the Kantzler Memorial Arboretum. This is a true Red Maple which means it has green leaves that turn brilliant red in the in the fall. This will be a native tree, not the variety that has purple/wine red leaves all year.
Tree Planting Monday, June 18, 2018, at 5:30 P. M.
We hope to see many Rotarians in attendance.
Next summer's
International Convention
will be in Toronto, an easy trip for many of us. Be sure you sign up with her to attend this life-changing Rotary experience. The fee for that event will go up by $80 on the first of April. If you plan to go the time to make your reservation is now.
The July to December, 2018 dues cycle is under way.

Dues notices were delivered by E-MAIL on June 6.

If you don't see an invoice by mid-June, please inform the Secretary!

You may mail your dues as usual, or deliver them to the Secretary at a meeting.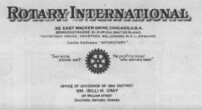 click picture for details
MEMORIES

Dig out your favorite Rotary memory photos and
let Brenda Scramlin use them for the weekly
Club slide show. It'll be fun for everyone!



---
---- DATES TO REMEMBER ----

June 18, 2018 - 5:30 P. M.

Club Tree Planting

at Kantzler Memorial Arboretum

In response to Rotary International's tree planting initiative, the Club has arranged professional planting of a Red Point Maple in Kantzler Memorial Arboretum on the River. This true, native Red Maple will have green leaves that turn brilliant red in the in the fall as opposed to the maple that has purple/wine red leaves all year.

June 25, 2018 - Club Golf Outing

Maple Leaf Golf Course

June 23-27, 2018 Rotary International Convention

Toronto
---
Upcoming Programs
(See the official schedule at RotaryBayCity.org )
June 19, 2018: Mid-Michigan Health
Cheryl Yesney will provide an update on their new location and construction.
June 26, 2018: The Bay City Recycling Program
presented by Sarah Archer.
July 17, 2018: International University of Shanghai
presented by Dom Monastiere. 25 students from the International University in Shanghai will visit SVSU. They will tour the campus and have lunch with Rotary. The program will describe the partnership between the two universities.

Rotary
is an intimate affiliation of carefully selected business and professional people,
having as its objective the promotion of high ethical standards in private, commercial
and civic life, and dedicated to the ideal that the basis of all worthy endeavor is unselfish service.
---
Current and past
DISTRICT DISPATCH
newsletters are available on the District site shown in the LINKS section below.


Rotary Bay City on Facebook!
Click on the Blue Facebook to visit us there.

Remember! Check attendance sheets at the front desk.
---
LINKS
---
---

Stephen Kent




Steve Kent and his family have lived in Bay City for 40 years. He is VP of Technical Services at MMCC which produces MyBayCity.Com. Kent is active in many Bay City civic organizations.

More from Stephen Kent
---
Send This Story to a Friend!
Letter to the editor
Link to this Story
Printer-Friendly Story View
---
--- Advertisments ---